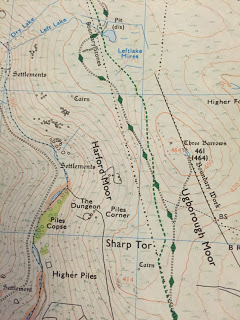 You know the way it works: you get into Fairport Convention's 1969 album 'Liege And Lief', then someone annoying like me who owns too many records tells you about 'On The Shore', the second album by the little-known acid folk band The Trees, which came out the following year. "Oh, of course Fairport Convention are great," they tell you a bit smugly. "But in a way The Trees are even better, more mysterious, and almost nobody ever talks about them." I've been on the other side of a similar conversation a few times recently where Wistman's Wood and Piles Copse are concerned. All connoisseurs of the Devon landscape know about Wistman's Wood, the ancient dwarf oak woodland near Two Bridges on Dartmoor, where the furred lichen hangs off the trees like folk tinsel, but it's only when you talk to people who really know their OS maps inside out that you start hearing about Piles Copse. "It's the real deal," one told me a month ago. "Go! Camp there! But now I've told you about it you have to promise not to mention it in a newspaper."
Actually, it's not like Piles Copse is suffering from some kind of unfair underexposure; it's mentioned in four of the nine old Dartmoor books I've bought from charity shops in the last year and clearly marked on maps. Part of me feels bad for recommending it here, but if you've got time to read an esoteric and unimportant blog like this, you're probably not the kind of person who's going to descend on it in a coach party of 50 and shit up the place with Tunnock's tea cake wrappers and empty Campari bottles. The main reason for its obscurity is probably simply the fact that it's pretty difficult to get to and, unlike Wistman's Wood, its existence is not signposted. There is a fairly easy way to get to it, but I was in one of my more sado-masochistic walking moods on Wednesday, so decided to walk all the way from the western edge of Ivybridge which, if you get lost twice, and take the curvy route along the River Erme, as I did, makes for a round trip of around fifteen miles. In 1993 my then girlfriend Ellen and I walked half that far home from a party in Nottingham and thought it qualified us as robust. We didn't even have to walk up a hill, let alone sixteen – some of which will probably have snow on in about two months.
As I followed the river then made the steep climb past Harford Church, a fact occurred to me: I had walked on the moor dozens of times but had never truly walked to the moor. Hiking up from close to the A38 on the south side to one of Dartmoor's higher points is the only way to get a real sense of the change in altitude you get on the moor. As I reached the summit of Sharp Tor, wind-wrecked and clicky-hipped, I was able to look back six miles across the hilltops with the satisfaction of being able to say, "I just went across all of that, using my legs and a map." As someone who grew up measuring all his excercise in terms of sporting prowess, the rebel pointlessness of these moments encapsulates a major part of what I love about walking: achievements not measured out by committee or convention or the rewarding of a badge or trophy. Essentially: nobody gives a crud about them but me and I am delighted to discover that I'm repeatedly fine with that.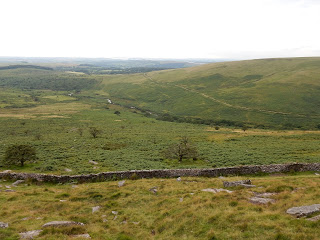 The weather, which had been balmy all the way on the climb from town, had a bit of a moment there at the top of Sharp Tor. The sky is like that in Devon: even when it looks like it's not planning something, it usually is. This time, it raged for a bit, then said "Neh" and by the time I'd descended to Piles Copse, weaving between a group of toothy rocks ominously known as 'The Dungeon', the roof of the world had become blue, vaporous and soft again: it was the kind of sky you might expect to find a blonde Swiss lady in a peasant blouse singing beneath.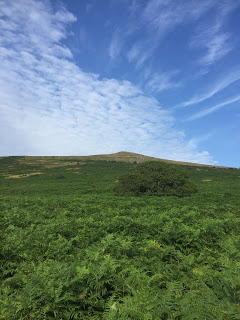 There was only one path into the copse and it was a little hard to find, from the detour I'd taken to look for what I'd read was a popular spot for fox dens, but I was struck by how welcoming the copse was, compared to Wistman's Wood. Both places seem to come straight out of fairy tales, but Piles Copse, despite its clandestine nature, is evocative of a greener, more sparkly story: the kind a band of whimsical, well educated young Englishmen with middle partings might have based a psychedelic concept album on in 1966. As in Wistman's Wood, there is plenty of clitter here, which, as I found out earlier this year, is the Devon word for the moss-caked boulders you often find below tors, and also, as Urban Dictionary had originally informed me, the modern term for vaginal glitter*. This clitter almost was glittery, though: somehow sharper and more luminous than Wistman's folk horror boulders. This landscape is more Lewis Carroll picnic, less Satanic Alan Garner owl terror.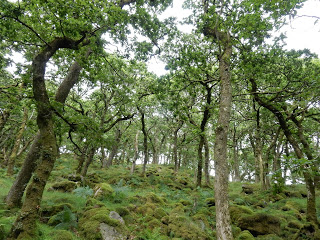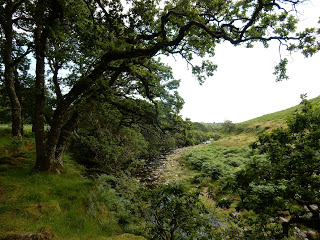 A few minutes later, I was in the fairy tale itself. As I paddled in the River Erme, at the bottom of the copse, the biggest southern migrant hawker dragonfly I've ever seen fluttered by: a truly giant thing, from a magical land before time. How could Britain not produce amazing fantasy writers, when it still contained stuff like this? It was all I could do not to write a psychedelic young adult horror trilogy right here, now, sitting on the moss with my new notebook, but it was late in the day, and the walk back was long. I was dehydrated from the climb and I knelt towards the river, instinctively, intending to drink the clear water, but then recalled something my friend Ralph once told me: "If you're ever tempted to do that, just remember: the water might look clear, but there could easily be a dead sheep in it a few hundred yards upstream."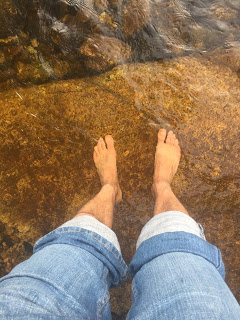 We're spoilt for rivers in Devon: I've become evangelical about the Dart since living here but I too often forget the Erme. It looked wonderfully coppery and clear as I followed it back towards Ivybridge, feeling the stress of the earlier climb on my joints but also the pleasant sensation of being rolled downhill. With this came a bittersweet feeling, since home contained neglected admin, bills, invoicing and technological chaos, and I got the sense that if I could just here forever, none of it could touch me. As I neared the town, children splashed and chuckled in one of the river's secret deep pools, a Japanese lady meditated on a rock, the sun winked low through mossy oak branches, illuminating upturned roots, and couples strolled lazily with pushchairs under the old railway arches. But none of this was in any of the walking guides or "best places to visit" books I owned about the county. This was not hip Devon, not one of the places people told you to live when you tabled the notion of moving here, yet if you found a rural summer's scene as idyllic as this in most other places in Britain you'd be running up to strangers, getting all up in their grill and shouting rhapsodically about it. It underlined something I have learned about my still relatively new home county: thinking you've come close to having seen the best of it is hubris, and a mistake. Of all of Devon's great qualities, this is perhaps the greatest: the fact that you'll never do all the Devon. There will always be more out there, waiting for you.
* I recently announced this fact over a microphone to a medieval hall containing around 300 pensioners. It might have been a mistake.