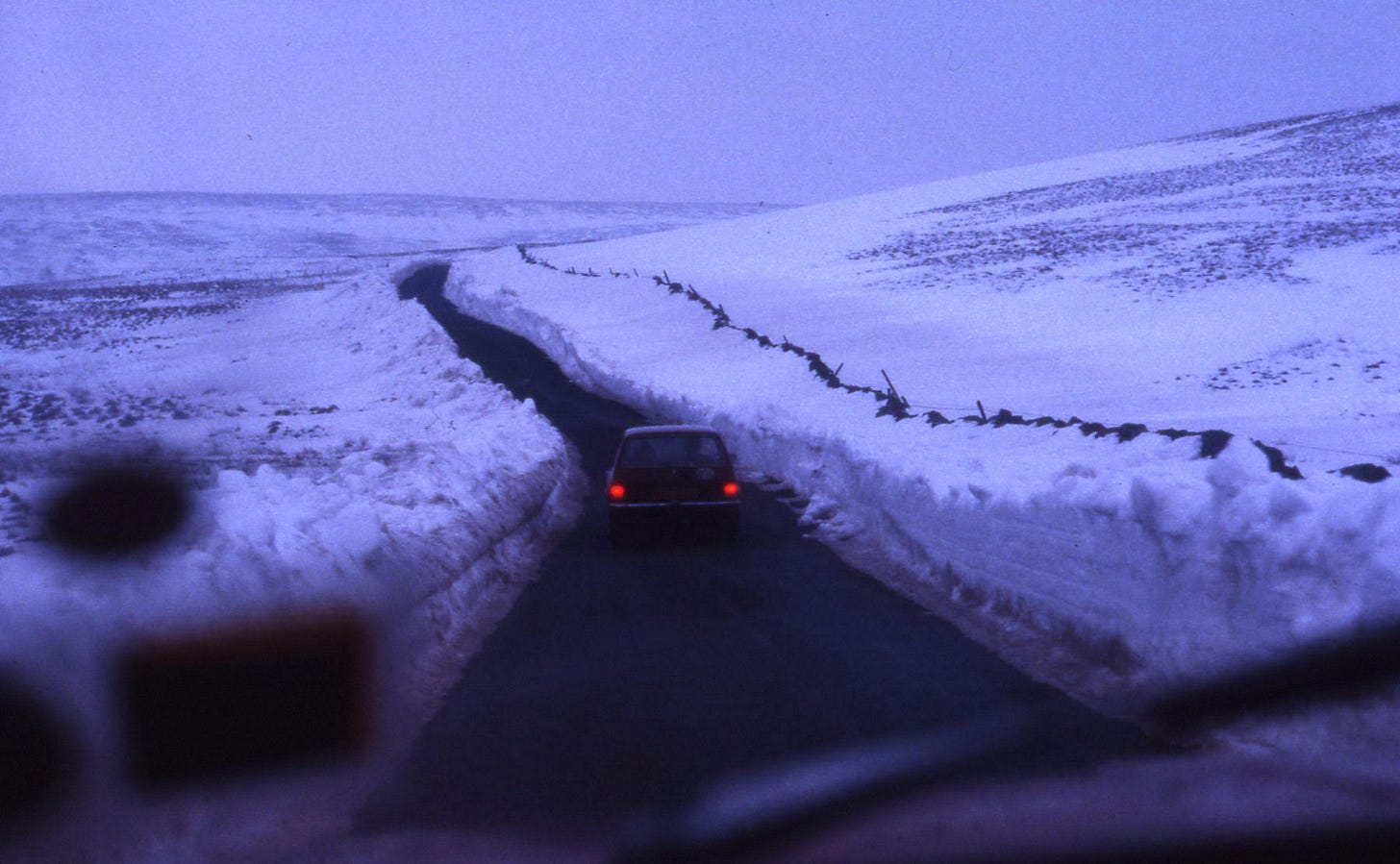 I sometimes forget that in a pre-smartphone age most people didn't take a lot of photos of their everyday life. My family did, and I am thankful for that, especially as I get further into the researching and writing of my new novel, which is set in the early 1980s in the mining country of north west Nottinghamshire, where I grew up. As I go through my mum and dad's old albums, I fall down holes in time and little cupboard doors that have been closed for years creak open, revealing more about the way my life once was: innate events that are part of me but nonetheless seem revelatory as they return. The photo above might not seem like anything very special, but it's one I keep coming back to. I am conscious of a lot of the reasons I like it but not all of them, and I think that makes me like it even more. It was taken by my mum in early February 1983 and I doubt she would have imagined anyone looking at it 40 years later and pondering its meaning or significance. My dad was driving, my mum was in the passenger seat, and I was in the back. The car in front of us is a mid 70s Opel Kadett C estate which contains my mum and dad's friends Malcolm and Cheryl and their very young daughter, Rachel. It was early in the morning and – at Malcolm's insistence – we were on the way to the cave near Knaresborough where Ursula Southeil, more commonly known as Mother Shipton, the most famous prophetess of the Tudor period, was born during a violent thunderstorm in 1488. You can see from the snowdrifts at the side of the road just how cold it is. At the time we staying in a white cottage high on a hill in Dentdale, just over the border from Yorkshire into Cumbria. The cottage had cold York flagstone floors and Breakfast TV and TV-am had just started broadcasting. One day we drove north and walked over the border, just so I could touch Scotland for the first time, but most of the time we did very little, because my dad had flu. He sweated copiously, as a result of the illness, and his sweat froze, leaving the bedsheets covered in icicles.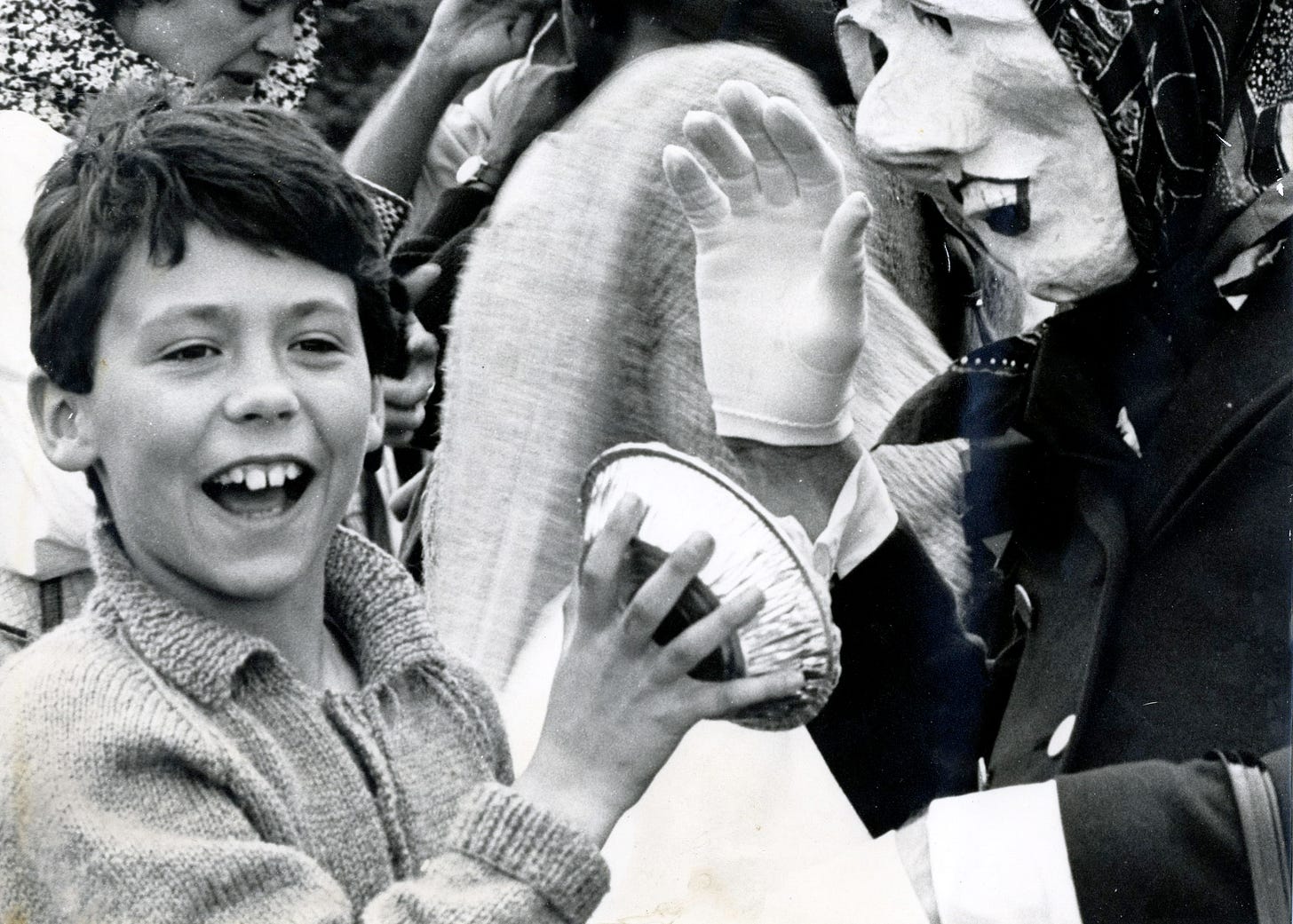 I would guess this is 1985. I am around ten and about to smash a man dressed as Margaret Thatcher in the face with a custard pie at a CND funfair somewhere near the River Trent, not far from an area called The Meadows, which hadn't been meadows for a long time, even then. The thing I remember most about this CND funfair is that it had a vast inflatable which you could actually go inside, which made the children there feel like they had suddenly stepped directly into the future. I don't remember precisely which of my friends were at the event, but I know one would have been Danny McGuire, who had long orange hair, had a mum who went to protests at Greenham Common, brought very thick brown bread sandwiches to school, always had salted popcorn at his birthday parties and had already told me lots of cold hard facts about life by the time we were seven, such as about the government hating all poor people, and Santa Claus and Christianity being bullshit that nobody sensible or grown-up believed in.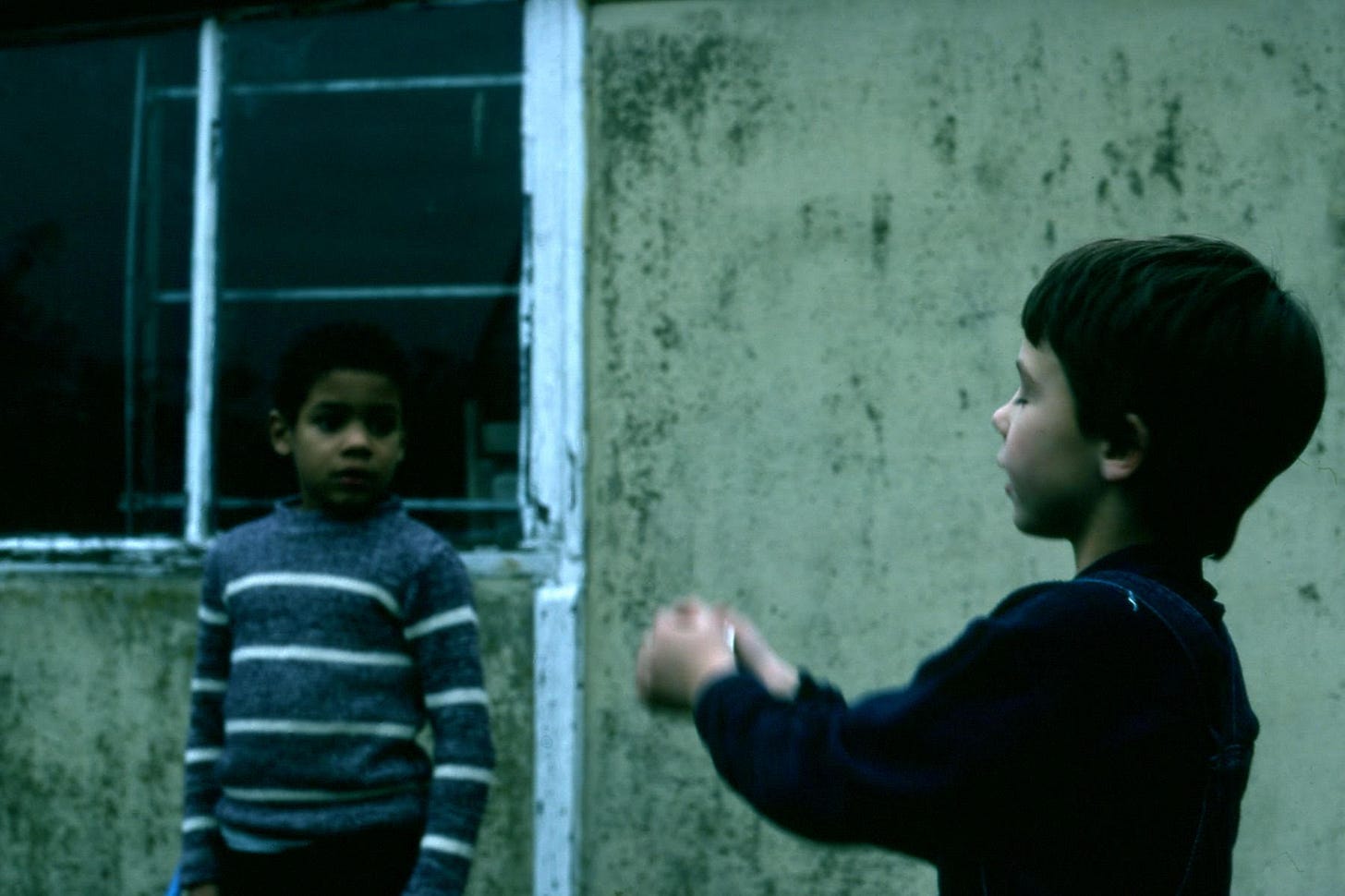 This is me and my friend Edward in my garden in Brinsley, Nottinghamshire. Between the ages of five and eight, Edward was probably my closest schoolfriend. He lived many miles away, with his adopted family, in a chaotic exciting house in central Nottingham full of shoes and toys. Like me, he was quite boisterous and imaginative and loved being outdoors. I can't remember why we drifted apart in the final years of primary school but it might have been something to do with the fact that I let him down by throwing a sickie on the day Playschool came to film the school's Harvest Festival, which we'd been scheduled to be partners for. If he is out there reading this, I would like him to know it was nothing personal, and merely the first instance of what has become a lifelong aversion to TV cameras. I can't help noticing the two of us have gone against my mum and dad's warnings and got perilously close to my mum and dad's asbestos garage here.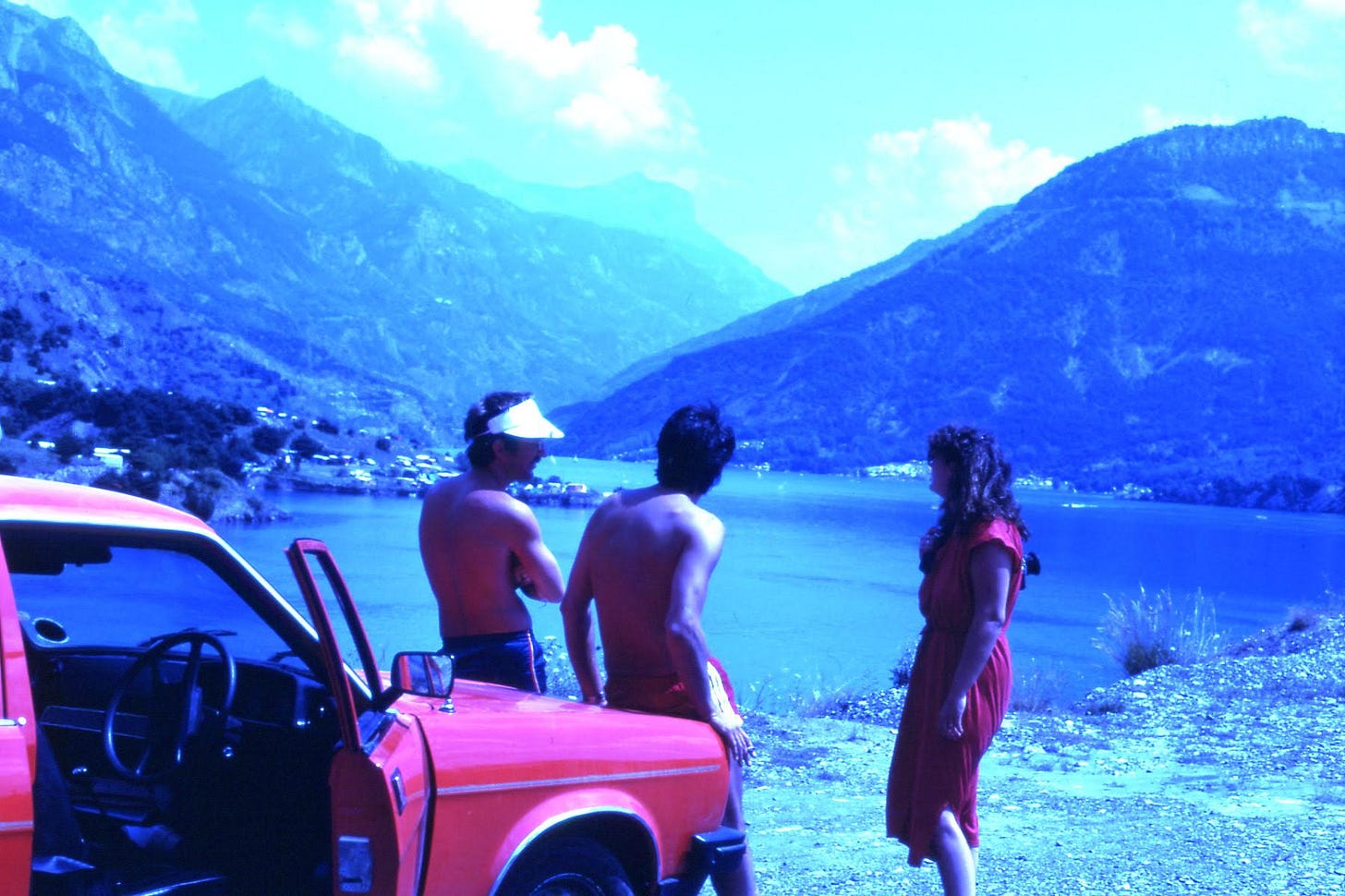 I think this is from summer, 1982. The people in it are my dad (visor), my uncle Tony and my aunt Marilyn and, again, my mum is behind the camera. My cousin Fay and I are somewhere nearby, out of shot. The six of us have stopped at Lake Geneva – unless it is Lake Como, nobody in the family can tell me and I can't quite match it up from photos online – on the way to camp near our relatives' house close to the west coast of Italy, which we did every summer in the early 80s. The car my dad and my uncle Tony are leaning on is a Morris Marina estate, which my parents had bought to replace their maroon Morris Marina saloon, and which – after I'd been to see it with my dad – I thought about every day, sure it would change my life in myriad ways and only for the better. In fact, it might even be said that, much as I had looked forward to camping in Italy, I had looked forward to travelling in the Morris Marina estate to Italy even more. The holiday was very doable, despite being quite exotic and far away and my family not being comfortable for money: petrol was cheap and the campsite was cheap, as were the others we stayed at on our route. We ate on a budget, barbecueing shop-bought food outside the tent or eating pasta dishes made by our relatives using produce grown on the land behind their car repair business in the nearest town. At night, wild dogs howled in the hills above the campsite. In the day, I walked around barefoot, studying lizards, huge red toads and the fat-bodied inky-looking ants who carried off baguette crumbs multiple times their body weight to a mysterious destination, and looking into the sunworn faces of Italian people near the end of impossibly long healthy lives and realising, properly, for the first time, that one day in the future I would no longer be here on earth, existing as the small but very definite and palpable thing I had become.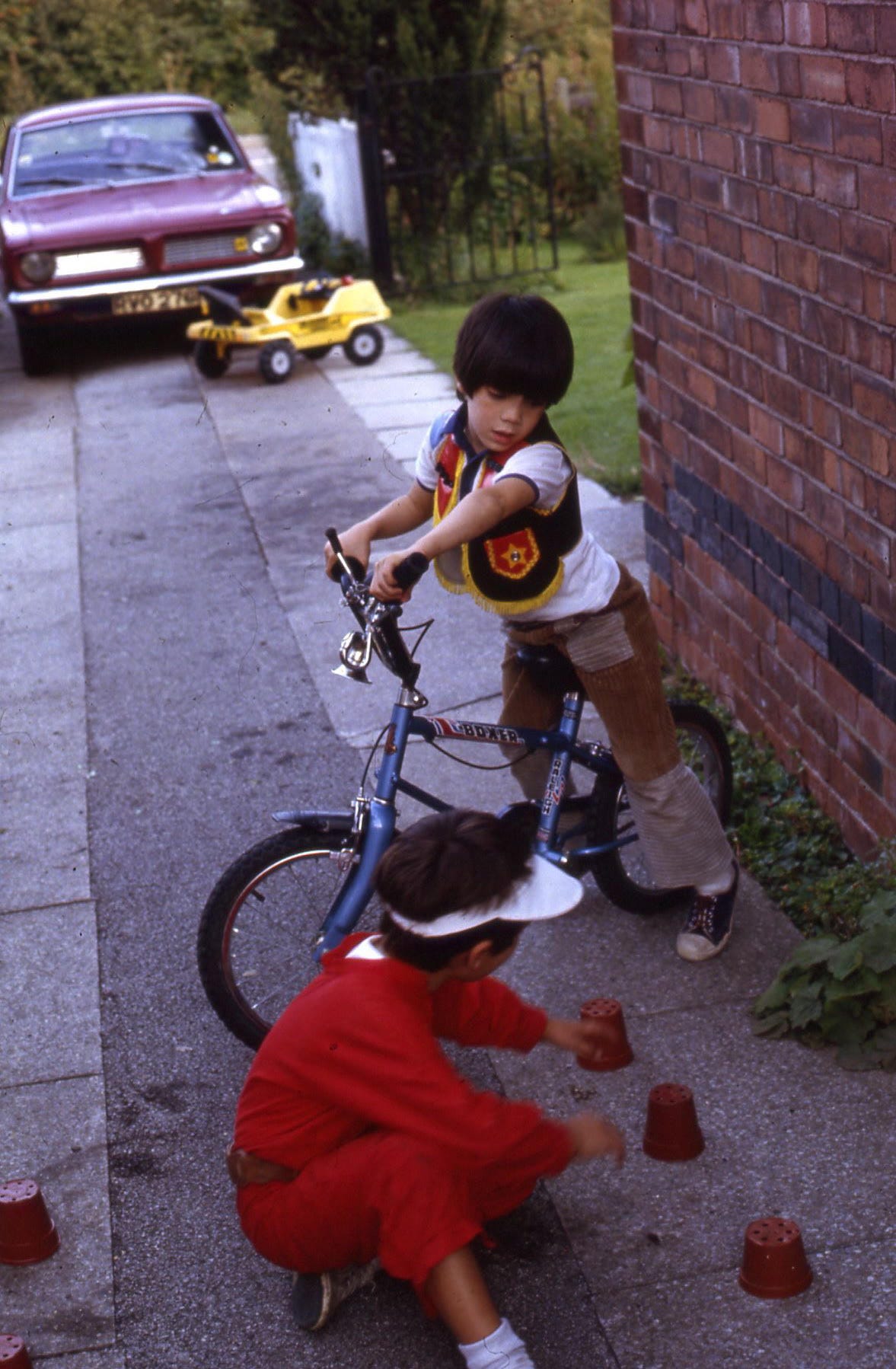 In this photo I'm setting out an obstacle course in our driveaway here for my schoolfriend Julian Kashdan, whose house was brown and whose parents owned the first Betamax video recorder I ever saw. Julian had very nice shiny hair which he used to very compliantly allow me to twiddle while we sat in class, although I had probably grown out of that phase by the time this photo was taken. Our teacher Miss Needham would bring all the tables together, spread a huge piece of paper on them, and encourage the whole class to tell an epic story by drawing on it. During these occasions, I would invariably have a felt-tip in one hand and some of Julian's hair in the other. You can see I am being a bit harsh here, in terms of the distance I have left between the plantpots, or maybe I just have very high expectations of Julian's cycling ability. The Morris Marina in the background broke down a lot, and the yellow miniature AA vehicle had malfunctioning pedals, meaning I never got even close to providing roadside assistance for anyone while using it.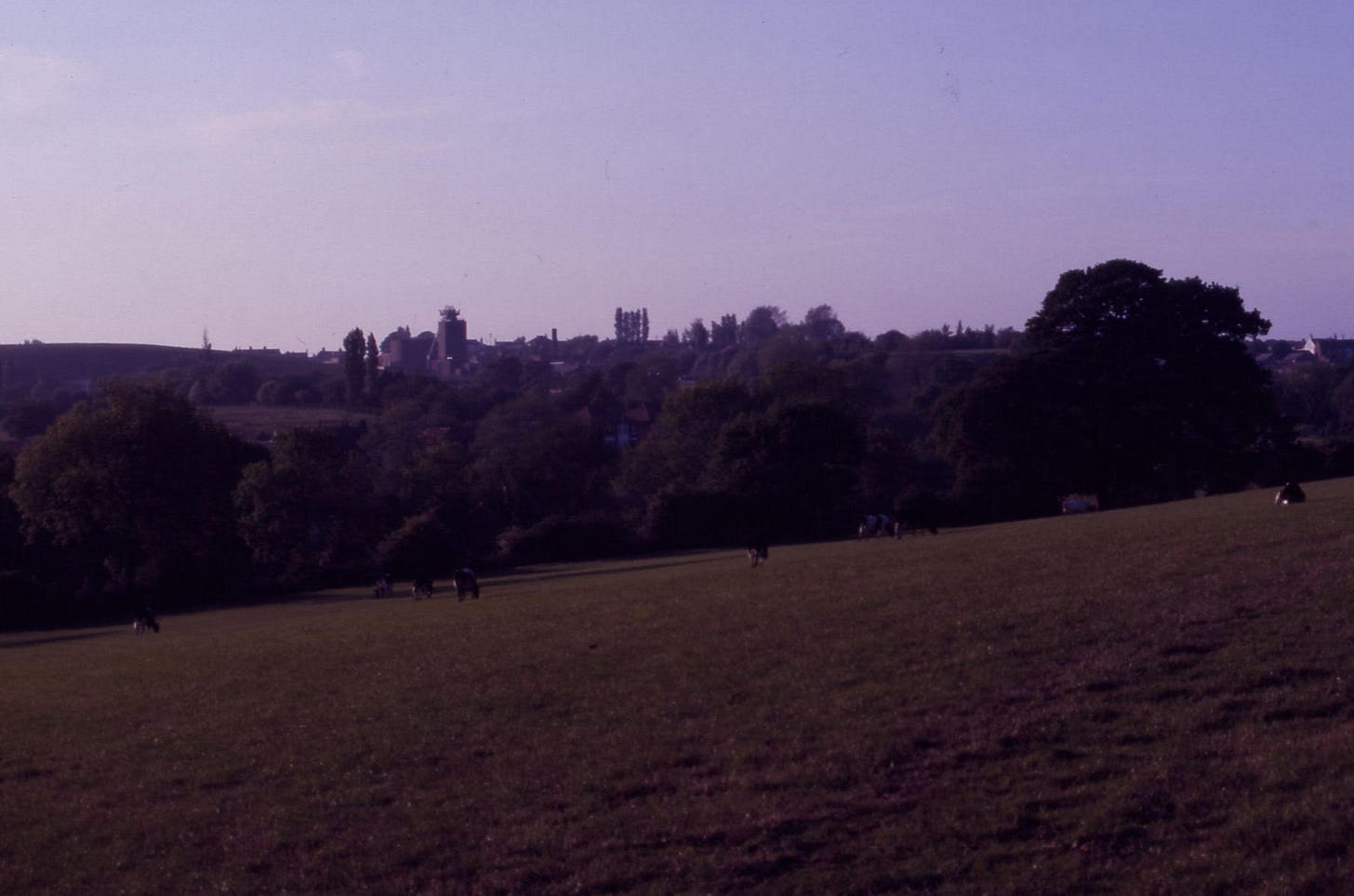 This is not a great photo but I like it because it's the one which accords mostly closely with the way I see the landscape of my childhood in my mind: Nottinghamshire pit country, a little bitter and grim, but with plenty of green space around to suit my exploratory needs. It's taken from Willey Lane and the headstocks in the background are those of the Pye Hill Number 1 Colliery at Underwood. The highest hill in the background is actually a spoil heap, made with waste from the mine. In the field beneath it lived a horse I was very scared of. Willey Lane – whose name I was always amazed more people didn't find hilarious – was where my mum and I caught the bus to my primary school (where my mum taught English As A Second Language) on the days when my dad wasn't able to give us a lift: a red double-decker that always smelt overpoweringly of stale cigarette smoke and on whose upper floor I always insisted on sitting, right at the front, so I could pretend I was steering us from a great and imperious height. My steering necessitated a lot of concentration and took us past the reservoir from DH Lawrence's Women In Love and a pub that my dad never wanted to because he said the garden was full of dog shit, past my aunt Jayne's house opposite the smelly bread factory in Watnall, through Nuthall past the three-legged dog who often got walked near the bypass and Basford and up past the mosque which we had visited in our socks on a school trip and finally to the entirely different planet that was central Nottingham.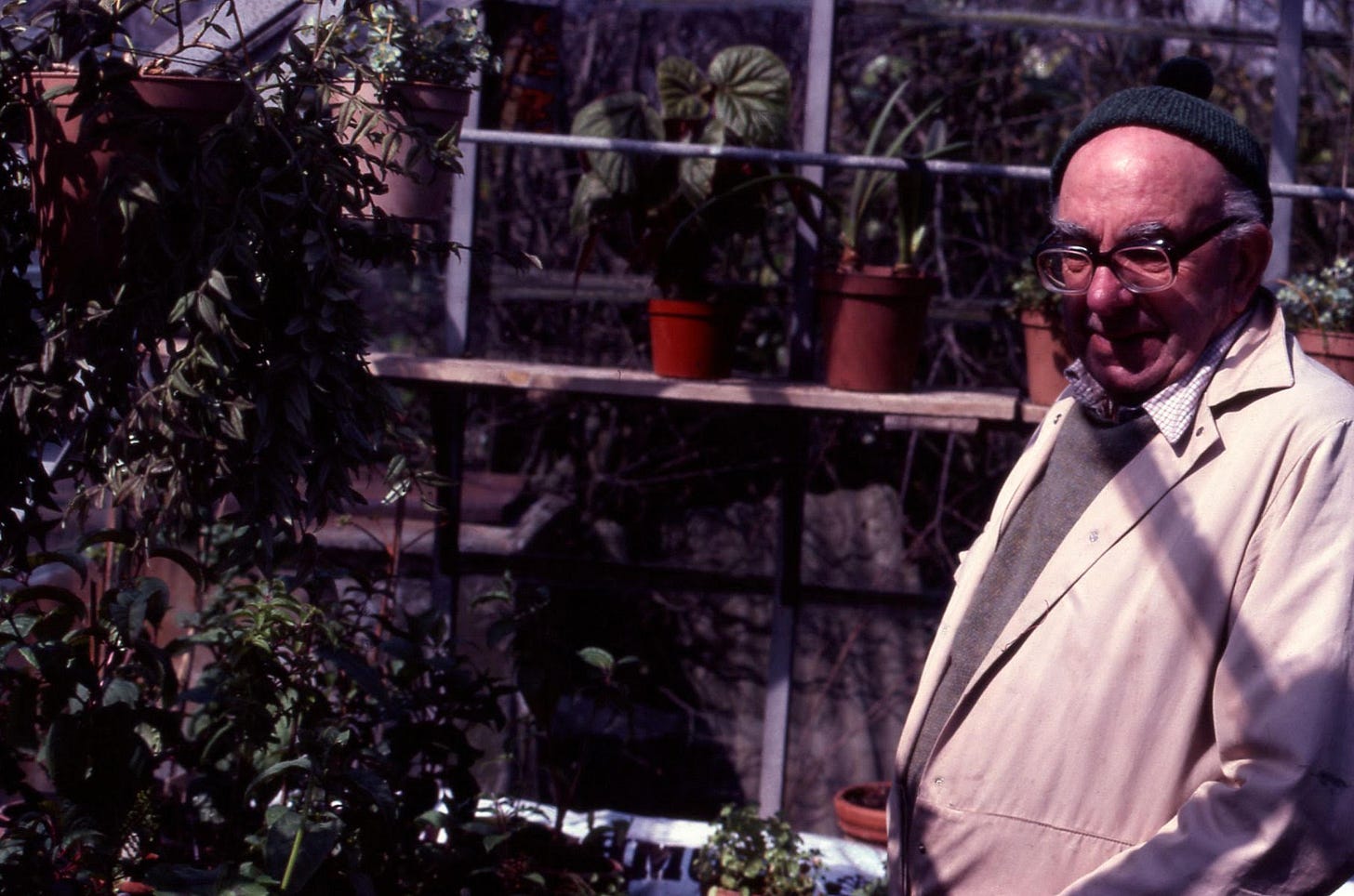 Mr Riley. He lived four doors up from us in Brinsley, the Nottinghamshire village where I spent the first decade of my life. He'd been a miner, suffered from emphysema as a result, and now, alongside his wife, spent most of his time gardening and, like pretty much every adult I spent time with as a pre-teen, getting angry about Margaret Thatcher. He was permanently dressed in a boiler suit stained with compost and pollen and seemed to carry the strong pungent smell of his greenhouse with him everywhere he travelled, which wasn't far. Once you got beyond the Rileys' house, you were pretty much at the pit road, and during the miner's strike in 1984 he was constantly popping up to the picket line with flasks of tea. Next to the pit road was also the spoil heap where I made dens using old mattresses and the many other dumped household items I found in the vicinity, sometimes stopping at the Rileys en route. One time – an occasion when, probably uncoincidentally, I happened to be chewing some Wrigley's Juicy Fruit – they told me that all children who swallow their chewing gum instantly die and that if I didn't believe them I just needed to check in St Mary's churchyard, up the road at Greasley, because there was plenty of proof.
All the writing on this site appears free of charge but you can subscribe to it and help support it via the homepage, if you choose. Every donation is much appreciated, and helps keep writing appearing here more regularly.
I also now have a Substack newsletter and podcast, which you can subscribe to here.
My latest book Villager is out now in hardback or if you would prefer the paperback, you can pre-order that for March here.