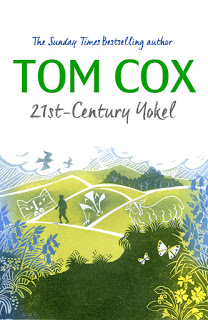 21st-Century Yokel explores the way we can be tied inescapably to landscape, whether we like it or not, often through our family and our past. It's not quite a nature book, not quite a humour book, not quite a family memoir, not quite folklore, not quite social history, not quite a collection of essays, but a bit of all six.
It contains owls, badgers, ponies, beavers, otters, bats, bees, scarecrows, dogs, ghosts, Tom's loud and excitable dad and, yes, even a few cats. It's full of Devon's local folklore – the ancient kind, and the everyday kind – and provincial places and small things. But what emerges from this focus on the small are themes that are broader and bigger and more definitive.
The book's language is colloquial and easy and its eleven chapters are discursive and wide-ranging, rambling even. The feel of the book has a lot in common with the country walks Tom Cox was on when he composed much of it: it's bewitched by fresh air, intrepid in minor ways, haunted by weather and old stories and the spooky edges of the outdoors, restless, sometimes foolish, and prone to a few detours… but it always reaches its intended destination.
21st Century Yokel was the fastest-ever crowdfunded book with the publisher Unbound and features linocut illustrations from Tom's mum, Jo.
'Tom Cox is an enchanting companion in this modern romp through treasured landscapes. I laughed and learned on every page' Tristan Gooley, author of The Natural Navigator and The Walker's Guide to Outdoor Clues and Signs
'21st-Century Yokel is simultaneously the funniest and saddest book about the modern countryside that I know. But no surprise there, because Tom Cox is THE soulman of British literature' John Lewis-Stempel, author of The Running Hare
'A wonderful, witty and moving collection of essays that, together, meander somewhere between nature writing, memoir and quiet polemic. As ever, Tom Cox's musing and meditations are profound and playful, reflective and seriously readable, riffing on the difficulties of locating bat detectors in Argos one moment and painting heartbreaking eulogies to his Nan the next. A storyteller in entrancing form' Rob Cowen, author of Common Ground
Support independent bookshops and order 21st Century Yokel, with free delivery, from Big Green Bookshop.
Support independent bookshops and order 21st Century Yokel from hive.co.uk.
Order 21st Century Yokel from Waterstones.
Order 21st Century Yokel from Wordery with free international delivery.
Order 21st Century Yokel from The Book Depository with free international delivery.
Order 21st Century Yokel from Amazon.
Order the kindle version of 21st Century Yokel in the US.
Order the audiobook of 21st Century Yokel here.
The hardback of 21st Century Yokel will be available in the US on February 1st and can be pre-ordered here.
I do have a very limited number of signed and badger-stamped copies here which you can purchase directly from me (although postage will make the cost a little extra than at the above links). Please email me for info.