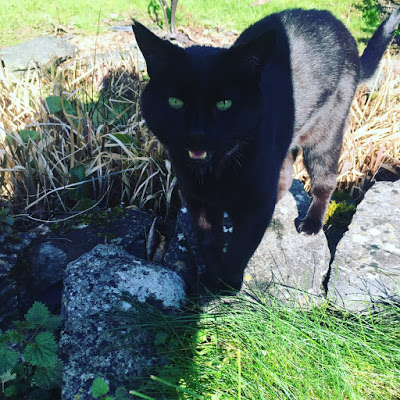 I have had a tough year and a quarter as far as cats are concerned. Cats get old, cats get ill, cats are vulnerable to the dangers of their natural UK outdoor environment and the actions of irresponsible humans. As someone who has been living with four cats in recent times, I am far from unique in being exposed to the heartache that goes with this. But over the last fifteen months I have at times wondered if my cats have been passing an invisible sickness baton to one another, as if competing in an ill health relay. In early December, 2015, my cat Roscoe was attacked by a dog. After a long and agonising wait and two costly lifesaving operations, she was signed off by the vet, at which point my cat Shipley got cat flu and was put on dialysis, having been additionally diagnosed with kidney failure. With the help of the fluids and a course of medication, Shipley was looking amazingly strong and fit again by the summer, not long after which my very elderly cat The Bear began the decline that ended in his death, in mid-December. Almost as soon as The Bear died, Shipley began to look very thin and poorly again and went off his food, contracting another cold at the beginning of this month. 
On Saturday afternoon, I returned home from a walk in Dorset to find Shipley looking unsettled and agitated, at times seemingly unable to support his back end. Always a potty mouth, he managed to greet me 
in spite of his obvious discomfort
 with a customary meow-shout, which sounded to my mind very much like "All right, fanny legs?" I fed him, gave him two of the five pills the vet had advised that he should take every day, treated him to a cuddle in his favourite position, on his back, on my lap. He purred, and air padded in a vague way but seemed a little limp. Half an hour later he vomited and started to act more unusually, walking in constant circles, unable to settle. While I was on the phone to the vet's emergency line, he collapsed on his right hand side on the carpet in front of me, his eyes glazing over. I placed him gently in a cat carrier on a blanket and rushed him to the surgery, fearing he might no longer be alive by the time he arrived there. The nurse attached a catheter to him and got him settled in a kennel and we waited for the vet to arrive, which took just over twenty minutes, although at this point I had lost almost all sense of time as a concept. The vet told me that Shipley was still alive, but his heart rate was very fast, his temperature was very low and he was unable to get up. 
There were two options, the vet said: treat Shipley's condition very aggressively with fluids and medication and hope it might help, or put him to sleep. The vet asked me about Shipley's behaviour before his collapse and, with the extra evidence of my answers, said it was likely he had suffered an embolism. I asked the vet several questions about the likelihood of Shipley having a good and comfortable life, if they were able to lift him out of his current pain. Upon hearing the answers, I made the choice to have him put to sleep. He was brought into the examining room so I could say my last goodbye to him. I kissed him on the head several times and told him how much I loved him. He looked directly at me with apparent recognition and seemed far more aware of his surroundings than he had half an hour earlier, which made what was happening worse and better: worse because I suddenly questioned, again, whether I was doing the right thing, and better because I wanted him to be conscious enough to be aware of just how much he meant to me. I wanted what he saw at the very end to be someone who'd adored him every day since he first saw him leaping boisterously over a garden pond in Essex in autumn 2001. He died at pretty much the exact moment that dusk turned to dark. As I left the surgery, I burst into proper tears – full, uncontrollable tears – for the first time in years. 
A vet in the situation that my vet was in with Shipley knows that to end the pet's life is the right course of action, but cannot emphatically advise that, when he or she is with a person who desperately does not want to lose their pet. The delicately balanced sensitivity required in these situations is a great vet skill, along with all the other great vet skills, such as perceptive diagnosis, kindness, calmness, emotional stamina. This shows that a vet's job is immeasurably harder than mine, but I'm not feeling especially wonderful right now about the part of my job description which necessitates writing about the death of my cat. I've written four books centred around my cats – though not always just about them – and that means I have given myself the additional job of letting people who've read the books know when one of those cats have died. It is only fair. And that is why this piece of writing is here: it is for the people who knew Shipley through the books, or in real life, and most of all it is for Shipley himself. I owe it to him. I owe it to him additionally because Shipley got a raw deal, a lot of the time – not in real life, where he was spoiled rotten, and not in my books, where he got plenty of air time, but certainly on the Internet, where this piece of writing is appearing, and where it will be read by some people who knew him solely through the Internet.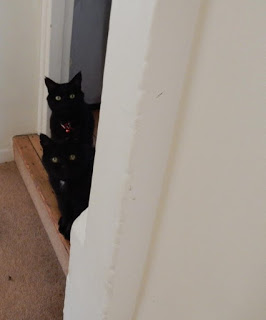 Online, Shipley had the ignominious status of being My Other Black Cat. "The Bear looks odd in this photo," people would often comment when I posted a photo of him, or "Ooh, hello Bear" and even though he looked nothing like The Bear and what I witnessing was tantamount to cat racism I would resist the urge to put them right because… well, let's face it, there are not enough hours in the day, and how would it help humanity as a whole if I had gone ahead and done so? Because he was not as well-known as The Bear, he often fell into the shadows  – which is something he never did in real life. More recently, he was also known on Twitter as @MYSWEARYCAT, which, while perhaps painting him in an unrealistically bad-natured light, was at least verbally accurate: he had a monumentally foul mouth on him, which, as foul mouths so often do, doubled as a form of affection. People who've read my books knew Shipley just as well as they knew The Bear, and will know that I loved him not a fraction less. I have been made aware that he's the favourite of many readers. But online I am aware that there is a perception that he is somehow "lesser". Of course, that's just something the Internet excels at which is not the fault of any individual: placing a higher value on the lives of famous figures than on less famous figures, purely by dint of their fame. But I would at least like to take the opportunity here to put that perception right.
I had long anticipated that Shipley's death would hit me harder than The Bear's, and I was correct. I have loved all the cats I've lived with in varying powerful ways, and this isn't a competition, or something that can be measured mathematically. But the line separating Shipley in the period immediately before his death from Shipley not being here any more is much thicker than the line that separated The Bear in the period immediately before his death from The Bear not being here any more. The Bear was never very catlike, a little furry island of Almost Cat who did his own thing, and in his final months that island had drifted further out to sea. Shipley, though clearly in pain, was still shouty, demanding, boisterous, right up to the very end. He was a cat who seemed to need me much more than The Bear did. Much like his brother Ralph, Shipley would be always seeking you out in the house, wanting to know what you were doing and whether he could join in. The space he occupied was huge and I'm going to notice that space for a long time. We were also quite similar in several ways: we both liked jumping around a lot and shared a penchant for creative profanity that was not solely, or even mostly, associated with anger. I also relate to Shipley's problems with the distortion the Internet can create. When I look at the Internet right now, I see two different versions of myself fed back to me: me as I am, from people who know me personally or read my writing, and this other version of me that I don't recognise, which consists of fragments of a pigeonholed version of me combined with some blanks that have been hastily filled in. As I write more, and feel like I'm getting more down to the marrow of what I've always wanted to do as an writer, it leads to a feeling of being simultaneously more ferociously "got" and more ferociously "ungot" than ever before. That's probably very normal for anyone making art and striving for truth over watered down people pleasing, but the Internet exacerbates it. A chasm opens up between the person I am and the person someone who's seen a few of my tweets and that I've written four books about cats (not four other books, and one more almost complete one, on other subjects, because none of those exist in this alternative online dimension) wants to tell me I am. I'm sure I'm not even close to being the most irritated or extreme victim of this and I totally understand where it comes from; it's a collective technological phenomenon, happening to all sorts of people, on all sorts of levels, and it is not something you can rage against or change. But it does make me feel quite tired, and I have decided to find ways to do less to perpetuate it.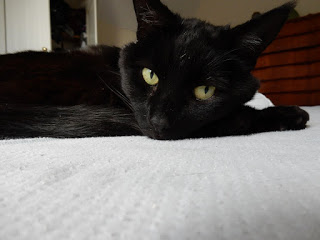 The way I have perpetuated it in the past is by tweeting – not loads, compared to some, but a fair bit. I think of a combination of words which sometimes people relate to or/and laugh at and retweet, and the combinations of words end up in the timelines of other people, who either also relate to and laugh at them, or are indifferent to them or get annoyed by them, sometimes in ways they choose to express, either passively or otherwise. If I am honest I have also tweeted a few more thoughts about cats because I would like cat lovers to read my books, what with the fact that the books centre around cats. The problem is that while this draws a few people to the books and an ultimate understanding of what they actually are, it draws more people, watching from a distance, into a swiftly formed perception that they are a very different kind of cat books, and that I'm a different kind of cat lover to the one I am. 
I'm old enough to know who I am and to realise that trying to be liked and understood by everyone is a loser's game but, at the same time I'm not especially up for seeing this character that has no resemblance to me being fed back to me on a constant basis. For a start, I'm not as young as I once was and sighing can be time consuming, as can mustering the restraint not to illuminate to someone exactly why they're being a snap-judgemental dickhead. Since Shipley died I've only logged in once and that's been enough to see two tweets and three messages in my inbox, all of which have been composed on the basis of a sweeping assumption on what my books – and by extension I – might be about. In addition I spotted another tweet complaining I'd been "a bit gloomy" recently: a reference to a photo of a broken footpath sign in Dorset containing several intriguingly ominous place names, which I'd posted in the belief that it was pretty much the opposite of gloomy. But, on reflection, I reconsidered: tweeting a photo of a broken footpath sign in Dorset containing several intriguingly ominous place names was pretty thoughtless of me. Could I have not considered the people who follow me purely for a stream of upbeat fragments of life, and who might not enjoy broken footpath signs containing ominous place names? Quite a lot of other people on Twitter weren't being gloomy. Maybe they also had in solitude gone through the death of two beloved pets in the space of two months. And maybe they were putting it aside to provide the finely honed stream of content that their followership deserved. Had I not thought of that?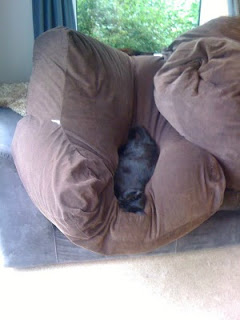 I saw these messages while freshly grieving a dead pet – a pet who, in his chattiness, was about as close to a human pal as any I've ever known – so I have to take that into account. And the messages were nothing, really: tip of the iceberg compared to some of the vicious and cranky shit I've been sent in the past. I'm not taking it personally and – in a classic example of the time-consuming pre-empting that social media prompts you to do, and that I want to do less of – I have already mentally pre-written the responses to this obituary from people who haven't understood it which say "Don't take it personally, Tom." It's not about me personally; it's about another me that people have invented in a rushed way. He hasn't even got a face. Neither am I going to be too reactionary: I'm not going to delete my Twitter account, I'm not going to go for a total social media shutdown, and I'm not going to stop posting photos of cats, because I love cats, and that is a part of who I am, along with the many other things I love. I realise this is a bit of rough that goes with some smooth. But I have had this thought a few times: "What if something more awful had happened to me, and what if the messages had been more offensive?" 
Yesterday I walked on Dartmoor with a good friend – this being in my real life, where I have plenty of friends to walk with, rather than the life of the person strangers sometimes tell me I am, whose only friends are cats and sheep. The friend had just experienced a much bigger, more shocking and traumatic loss than me. We talked about kindness: the way that it's the only choice. Life throws too much at people for it not to be. What happens – and you can guarantee this is happening, regularly – when there's a confluence of someone experiencing a huge and tragic life event and seeing a stranger saying something hideous to them on social media? How do people deal with that? What if I have to deal with it in the future? You don't necessarily open yourself up to this kind of awfulness just by being on Twitter, and even in these troubled times the site contains as much love as it does hate, but the more frequently you broadcast on it, the more chance you do have of opening yourself up to the awfulness. For a long time now I have been losing faith in it as a form of communication, feeling more and more faith in books, where sentences are cushioned and contextualised by lots of other sentences. And in a weird unexpected sort of way Shipley's death has confirmed this to me and prompted me to act a bit more on my faith, be a bit more disciplined about keeping my words where they will be less frequently jumped upon and misinterpreted. I'm grateful to him for that, but not half as grateful as I am for the years of affection and hilarity he gave me, with his innovative cussing tongue, his desperate need to be turned upside down on every possible occasion, the song he used to sing when he smelt raw chicken, his ease with being put to use regularly as a scarf, the way he used to race down the slope of my old garden clapping the back of legs with his paws in pure excitement that I'd come away from my work and joined him in the place where life truly happened – the outdoors, the place he only became reluctant to visit when he was critically, irreversibly ill.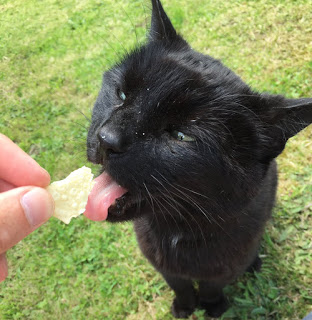 I have accepted that it was Shipley's time, even though a few factors made it seem that it was not: the great vintage of The Bear which made Shipley – an old cat, by any normal standards – seem younger than he was, the way that mouth of his never reduced its voluminous fuckstream of friendly abuse, even when he was ailing. I live in a rented house and have been pretty good at keeping it intact, with my deposit in mind, but one region of the interior that has taken an indelible hammering is the corner of the carpet outside my bedroom door. This was courtesy of Shipley. The hole in the carpet survives him as a reminder of the sheer, claw-happy gobshite force of his will. Each time I see it I will remember that there was no choice with Shipley: you could do what he said or wish you had done. If he wanted to come and march on top of your head and purr in your face when you were asleep, you could put all kinds of barricades in his path, but he'd get his way in the end. "Eat my furry fucktrousers!" he would shout at the door in cat language. Then, when I placed heavy books and laundry baskets against it: "Lick my bellstick!" If I hadn't let him in, I honestly think he would have ended up tunneling right beneath the threshold, given enough time. 
Shipley's attitude to death was not dissimilar. Last February, the vet said he thought it very unlikely Shipley would make it through to spring. I knew Shipley was tougher than that. "Shit on my tits, death!" said Shipley, powering through spring and and gaining strength throughout the summer. Even a week ago, as his kidneys became more and more chronically weak, you could hear him in the night, saying "Bastard kidneys shitpot twat willy!" or "Total eclipse of my arse" at a chair or plant. When I buried him, yesterday morning – in a spot many yards from the one The Bear occupies, for fear Shipley's spirit would pick on The Bear's, as it had done in life – I half expected him to claw his way up through the soil and back out into the bright day, with a defiant shout of "Piss whiskers!" 
Many cats love boxes but Shipley's love for them was more ardent and impatient than most, bordering on the fetishistic on occasion. Any time I brought one home and emptied it – and often before I'd had chance to empty it – he'd be inside it, swearing his head off, within seconds. Even if he'd been in a deep sleep somewhere in the bowels of the house when I opened the front door, his boxdar would kick in and he'd quickly locate the cardboard. "Flange attack! he'd shout joyfully, as he dived into the box, or "Urine party with cake!" Before I'd gone back to the vet's to collect his body, the vet nurse on duty, Catherine, had asked me over the phone if I wanted to bring his carrier to put him in. That might have seemed more dignified to some but I don't think Shipley would have viewed it that way. I asked her if, instead, she had a cardboard box she could put him inside. We probably tell ourselves all sorts of nonsense about our pets' thoughts in order to feel better in times of grief but I have a strong belief that, with his particular predilections, Shipley would have preferred this method of transport. 
After I refilled the hole with earth I noticed the slogan on this box: "Understanding your needs. Innovating the solutions." Black humour doesn't come much blacker, but I could not suppress an internal chuckle. If Shipley was a person, he'd no doubt have been the kind who wouldn't be able to resist remarking on the twattiness of a slogan like that. "Corporate cock sponge!" I could almost hear him meow, in typically punk disdain. I walked back to the house to give Roscoe and Ralph giant overbearing hugs and tidy up in readiness for the arrival of my friends Emily and Hayley. As I did I became acutely conscious of how much I was letting down all those people who skated across the Internet and decided stuff about who I was and the way I lived. Here I was, just some bloke with a couple of cats, waiting for a couple of friends to come over for a cup of tea.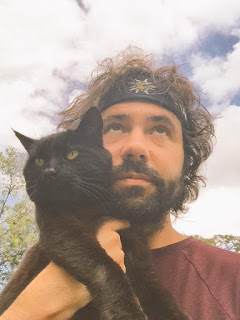 I would be honoured if you read my books featuring Shipley and found out who he truly was, as a cat. This is one and this is another and he also features in this.