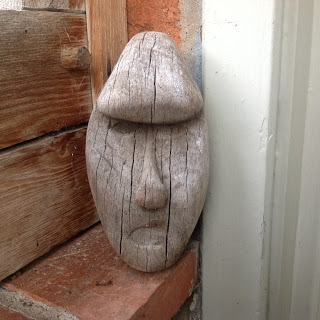 I always enjoy going to car boot sales with my mum but, because I don't have her amazing vision, my experience at them often ends up tarred by the brush of anticlimax. When I arrive at a boot sale, full of foolish hope, what I inevitably see is an impenetrable wall of 1990s computer parts and grubby children's toys. When my mum looks at the same scene, she is able to instantly zone in on the one exotic and interesting artefact amidst the worthless garbage. It's a rare talent, and one I have not inherited. Standing in the rain at our agreed hometime meeting point clutching a Georgie Fame 7" I've purchased for no other reason than to make the trip feel worthwhile, I'll see her emerge through the drizzle, weighed down by a variety of budget treasures: a couple of pieces of 1960s West Germany pottery, a lovingly made 1930s teddy bear, some William Morris pattern curtains, an art deco hot water bottle. I'll be envious, but I can't complain: I've done well out of her talent over the years. It's why, for example, that I only had to pay a few quid for the 1960s G Plan coffee table in my living room, rather than the £150 plus many retro furniture shops will now charge for the same item.
"I got this for you," my mum said a couple of summers ago, fresh from a boot sale in Lincolnshire, handing me a sharp-ended varnished stick of about a foot in length. "I don't like it but I know you're quite into weird stuff like that so I thought you might."
I looked more closely at the stick, and realised it was a letter opener: probably one made in the early-to-mid part of the last century. On the non pointy end had been carved a double-sided Devil's head. To be totally honest, I wasn't sure I liked it either, but it intrigued me, all the same, and I thanked her and carted it back home to Devon.
Over the next few months, I tried to find a comfortable place for the Devil's head letter opener but, wherever I put it, it never seemed quite right. I certainly didn't want it staring at me from on top of the chest of drawers in my bedroom at night and, when I placed it near my work desk, it seemed to send negative messages from its screwed up wooden eyes. Like all writers, I already have at least one invisible demon telling me what I do is a load of crap and I certainly didn't need an additional actual one doing the same thing.
By the following year I'd realised that the letter opener had crossed the line separating "occult artefact you keep purely due to historical interest" from "freaks me the fuck out and needs to go". Also, I could argue that its influence had not been a positive one: in the twelve months since I'd got it, I'd contracted a fairly serious and lengthy illness and experienced the break up of a long term relationship. But the process of getting rid of the letter opener wasn't as easy as you might think. I'm very careful about recycling and I certainly wasn't just going to just shove it in the kitchen bin. The idea of throwing it into the flames of the fire in my living room filled me with visions of vaporous ghouls materialising out of the smoke. I could have just gone and placed it in a field, but what if the crops caught fire the following day, the flames subsequently licking their way up to the

farmhouse and reducing it to cinders

? I would feel responsible. I didn't think of myself as a particularly superstitious person but whatever move I made next with the letter opener now seemed paramount to my future.
Alongside the letter opener, probably the spookiest object my mum has acquired at a car boot sale is a small, carved wooden head. This head has a monobrow frown that makes the countenances of its larger spiritual ancestors on Easter Island look like those of Blue Peter presenters who've overdosed on Lucozade. It is not in any way a benign object but my mum bought it because she is interested in sculpture and the different historical approaches to it around the world. She's a more rational person than me who would be even less willing to label herself as superstitious, but it is hard for her not to view the head with some sense of foreboding, and I can see why. For years, the head's home was wedged between the branches of a silver birch tree in her garden and it lived there in an innocuous and peace-loving way. But in late 2009, my dad fell out of a Eucalyptus tree opposite the willow and broke his spine, narrowly avoiding being paralyzed for life. My mum could not help noticing that the head's dark gaze was directed at the exact spot from which he fell.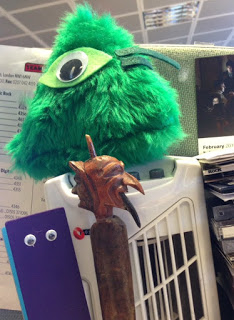 I found a new home for the letter opener last year, with Jo, a writer from Prog Magazine who came to my house to interview me about my record collection. Part of me worried about Jo's journey back to London from Devon with the double Devil head sticking out of her bag, but she arrived safely and sent me a photo the following day of the letter opener, whose dark powers she had neutralised by placing it in a pen pot on her desk, surrounded by happy-go-lucky stationery and a bright green plushy. My mum's monobrow head, meanwhile, underwent just a minor relocation, moving from the willow tree to my parents' open porch after my dad's accident. In March this year, though, my parents began to find the head lying mysteriously on the flagstones below its usual lookout point. Even more bafflingly, this would occur in all weather conditions, not just high winds. They'd always replace the head but, by the end of the day, it would usually be back on the ground. This went on for several weeks, and I was on the verge of asking Jo if she was willing to take in another occult desktop nicknack

when my mum called to tell me that they had solved the mystery.
"What happened?!" I said impatiently. "Does it speak? Did you find out that it's the reincarnation of an eleventh century Egyptian demon?"
"No, your dad caught next-door's cat throwing it at the door."
"He kind of scoops it up with his paw, then flicks it at the handle. I think he's just asking to be let in."
My mum and dad's neighbours' cat, who is all-white and named Casper, after the famous friendly animated ghost, has been a regular visitor to their house for years. Between 2012 and 2014 he was never happier than with the tongue of my mum and dad's last cat, Floyd, deep inside his ear. After Floyd was killed by a car the autumn before last, Casper began a new love affair with George, a ginger and white stray I'd rescued here in Devon then sent up to live in Nottinghamshire with my parents. Casper and George, who bears a startling resemblance to the Belgian international midfielder Kevin De Bruyne,
sleep with their limbs entwined at least once every day and gambol about my mum and dad's garden, playwrestling and chasing one another up trees. Both of them have been neutered, but my mum has walked into upstairs rooms on several occasions to find George taking Casper roughly from behind. Casper is the heavier cat, but it is generally George who plays the more dominant role in their relationship. Casper knows how to be assertive too, though. Before he started asking to be let in by throwing the wooden head at the door he had already worked out how to bang the brass door knocker on the door with his paw.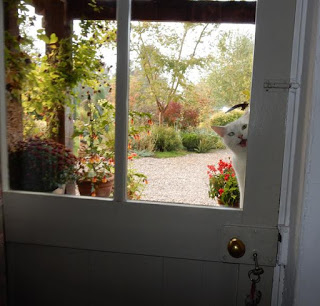 I visited my mum and dad earlier this week and one of the first things I saw, upon entering the house, was Casper sitting up in startlingly human fashion on their sofa. Missing only a can of Tennent's Extra and a remote control, his pose was one that brought to mind the term "catspreading". He gave me the most casual of glances then continued to watch the news. I wandered down to my parents' new wildlife pond, which has come on in leaps and bounds since the start of the year. Broad-bodied chaser dragonflies flitted about above the water's shiny surface and a little egret belted by overhead. My mum and dad have already had moorhens, ducks, water beetles, frogs and newts on or around the pond. I noticed, too, that the plants my dad had appropriated from my own pond were thriving.
My pond is a fraction of the size of my mum and dad's but was full of life in the summers of 2014 and 2015. At the start of spring it was somewhat weed choked and I'd begun to de-weed it, but not got all that far into the process by the time my mum and dad last visited me. My dad dipped an arm in to take some specimens for his pond then got a little carried away for the next fifteen minutes. I'd left him to it, said bye, and gone off for a walk on Dartmoor. Two hours later, a photo popped through onto my phone from my mum, showing my dad in the middle of my pond, topless, up to his waist in water. I returned home to find the pond entirely clear of weed and algae. Tired and keen to relax and refresh myself in a hot bath after my long walk, I thought about what a kind gesture this had been from my dad. The feeling of gratitude lasted all the way to the bathroom which, upon entering, I discovered now boasted much of the former contents of my pond, and subsequently took me over an hour to clean.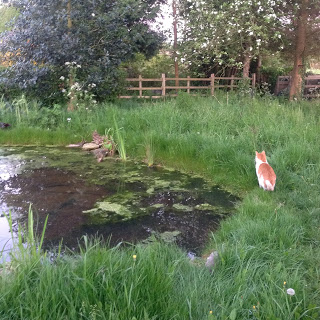 Despite visiting a couple of nearby large bodies of water with a jam jar in an attempt to restock it, my pond has been a bit bland and sleepy since then, so I was excited to see all the buzzing activity in my mum and dad's. As Casper and George did cat kung fu behind me, I tiptoed out onto a small rocky promontory in an attempt to see a water beetle.
"DON'T FALL IN!" said my dad, arriving behind me, and almost making me fall in.
We walked back up to the house, past a bed full of thriving spinach, a riot of stoned-looking bees on a giant scabious, the stump of the fateful eucalyptus and the wooden head which, reduced to a feline missile, seemed to have lost a little of its dark power. In the kitchen my dad picked up a piece of rock from on top of the plate cupboard. "KNOW WHAT THIS IS?" he asked.
My dad greeting me after several weeks apart by showing me an obscure object he's found in the

ground

is nothing new. Objects he's shown me in the past that he's found in the ground include some ancient dog teeth, a sea of some writhing, exotic worms, a sheep skull and an unusually large and bendy courgette. "Is it some kind of old-fashioned brick?" I said, evaluating his latest find.
"GOOD GUESS. I'M GOING TO TELL YOU EXACTLY WHAT IT IS LATER ON AND I WANT YOU TO LISTEN. HAVE YOU GOT TALLER?"
"Can you not just tell me now?"
"NO. DO AS YOU'RE TOLD, YOU BIG STREAK OF PISS. I NEED YOU TO SIT DOWN AND I NEED YOUR UNDIVIDED ATTENTION."
We watched the extended Brexit edition of Channel 4 News, and my dad pointed out some politicians he thought were fucking bastards and some other politicians he'd previously thought were just bastards but now thought were fucking bastards too. Then we went into the other room and my dad picked up the piece of stone again. "NOW THEN," he said. "SIT NEXT TO ME. AND LISTEN."
"I need to nip to the loo first," I said.
"IT'S ALWAYS THE SAME. PEOPLE ARE ALWAYS LEAVING ME," said my dad.
My dad had found the piece of stone while he was doing what he calls "fossicking". This is when, after very heavy rainfall, he walks down to the river to find good firewood that has been washed down it in the flood. After picking the stone out of the shallows, he took it to his local swimming pool to show his friend Pat, who used to work as a geologist for the National Coal Board.
"You took it to the actual swimming pool?"
"NO, JUST TO THE CHANGING ROOMS. I FORGOT MY TRUNKS THAT DAY AND HAD TO BORROW SOMEONE'S SPARE ONES. BUT THAT'S NOT WHAT I TOLD THE HAIRDRESSER THE OTHER DAY. I TOLD HER I SWAM NAKED BUT JUST KEPT MY LEGS REALLY TIGHT TOGETHER THE WHOLE TIME."
"And what did Pat say about the rock?"
"HE SAID 'It's just a bit of limestone, Mick' BUT I WASN'T SATISFIED WITH THAT. SO I SHOWED IT TO MY FRIEND PHILIP. HE USED TO BE AN ARCHAEOLOGY LECTURER. HE KNOWS ALL SORTS OF THINGS. HE'S SIX FOOT FOUR AND USED TO LIVE IN A THIRTY TWO ROOM HOUSE. HE LOOKED AT IT AND TOLD ME IT'S A BIT OF MASONRY THAT WAS MEANT TO BE ON A MEDIEVAL HOUSE. THIS BIT HERE WAS A JAMB AND THIS BIT WAS MEANT TO GO IN A WINDOW BUT WHEN THE MASON GOT TO THIS BIT, WHICH IS CALLED AN OOLITH, HE REALISED IT WAS THE WRONG SHAPE AND CHUCKED IT. AND NOW IT'S MINE. EVERYTHING IN THIS WORLD HAS GOT A STORY TO IT. GENGHIS KHAN DIED OF A NOSEBLEED ON HIS WEDDING NIGHT. NOT MANY PEOPLE KNOW THAT. SOME PEOPLE ARE INTERESTED IN OTHER PEOPLE'S STORIES AND SOME PEOPLE AREN'T."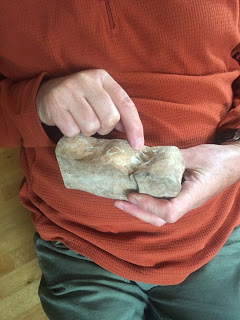 "Yeah, that reminds me – I was going to

the

…"
"NOW LISTEN CAREFULLY, YOU, BECAUSE THIS LEADS ONTO SOMETHING ELSE. DO YOU KNOW WILLIAM LEE? HE WAS FROM CALVERTON AND HE INVENTED THE FRAMEWORK KNITTING MACHINE. KNITTING HAS ALWAYS BEEN MASSIVE IN NOTTINGHAM. ALL THE HOUSES IN RUDDINGTON USED TO HAVE THREE FLOORS. THAT'S BECAUSE THE TOP FLOOR WAS FOR KNITTING. EVERYONE WAS KNITTING LIKE FUCK. AND THAT'S WHY HOSIERY WAS SO BIG IN NOTTINGHAM, AND WHY YOUR GREAT GRANDDAD AND YOUR GRANDDAD GOT JOBS IN HOSIERY FACTORIES."
Before he semi-retired a couple of years ago, my dad had worked as a teacher, a barman, a waiter, a desk clerk, a children's author, a milkman, a farmhand, a chef, a landscape painter, an insurance clerk and in a women's underwear factory. I stand out in my family, as I'm the first in a century-long line of men on my dad's side never to have worked in a women's underwear factory. I feel that I'm in some way letting the side down here, but I suppose I'm not all that old, and the publishing industry is struggling, so perhaps there's still time. The legend is that, during the 1930s, my great granddad designed the part of a knitting machine that made women's stockings fit more snugly to the heel, but then made the mistake of telling his boss, who went ahead and patented the idea. Apparently the boss was always sure to send my great granddad a turkey at Christmas after that, though, which my great granddad was very content with. My granddad, too, though infamously dozy and clumsy, was a talented tweaker of knitting machinery.
"HE WENT TO LIVE IN BELGIUM FOR A WHILE BECAUSE A FACTORY OVER THERE WANTED HIM TO LOOK AFTER THEIR MACHINES," my dad continued. "THEY OFFERED HIM A FULL TIME JOB BUT YOUR GRANDMA WOULDN'T MOVE TO BELGIUM BECAUSE SHE SAID IT HAD WEIRD TOILETS. A GERMAN BLOKE CALLED KURT USED TO FOLLOW HIM AROUND AND WANTED TO KNOCK HIM OFF. YOUR GRANDDAD LIVED WITH A BELGIAN FAMILY FOR A WHILE AND SLEEPWALKED THROUGH A FRENCH WINDOW. WELL, I SUPPOSE IT WAS A BELGIAN WINDOW REALLY. ISN'T HUMAN LIFE FASCINATING?"

"But how does this link up with the piece of masonry you found?"
"I'VE FORGOTTEN THAT AT THE MOMENT BECAUSE YOU MADE ME LOSE MY THREAD BUT I'LL COME TO IT. GIVE ME A MOMENT."
My mum and I stepped back outside into the garden. It had been a unseasonably chilly, wet day but now a fuzzy blanket of dark invisible warmth hung over my mum's plants. Everything seemed four times as fragrant as it had a few hours ago. The light had almost completely faded but the stoned bees still clung to the giant scabious in cuddly gangs. Below it were three pots of lager: my mum and dad's attempt to control the garden's destructive current slug population. My dad had offered me some of the same lager – which, bought in bulk, worked out at around 20p a can from Asda – and I'd declined. I asked my mum if my dad was still shouting in his sleep.
"Not as much. But he did wake me up by saying 'A FORTY HOUR WEEK AT FOUR POUNDS AN HOUR? WHAT'S THAT' the other night."
My dad has only been regularly shouting – and sometimes playing energetic and eclectic sports matches – in his sleep for around twelve years. Prior to that a greater characteristic of his nocturnal life was premonitions. He dreamt about a woman who was in a phone box that was hit by a careening car. Not long afterwards an out-of-control Vauxhall Viva in central Nottingham totally destroyed a phone box containing my parents' friend Jean: an incident from which she stepped away miraculously unhurt. He also dreamt about a new gate on the lane very near our old house near Eastwood just before someone unexpectedly built a new gate on the lane very near our old house near Eastwood. The other two members of the family to be noted for their premonitions were my granddad, who, when recovering from a heart attack in the mid-80s, dreamt about his sister-in-law Irene beckoning to him on the night she died (he didn't know she'd died, or was even ill, at the time), and his spiritualist uncle Harry, who, using only the power of his mind, once pinpointed the exact place on his shelf where my granddad had stored an issue of Reader's Digest that he wanted to borrow. I have a vague memory of once having had a premonition but I've forgotten what it was so I suppose it can't have been all that important.
George bounded up behind my mum and me, then cut in front, and thwacked his strong tail possessively against our shins. I spotted a metal grass roller, passed down first to my granddad and then my dad, that my great granddad had made – when? During the 1920s? 30s? I'd never given it much thought before and now I felt like a blind ingrate for never having done so since clearly this was one of the most amazing and precious things on my life's periphery. A few yards from it, I spotted a familiar steel dish, with a duckling pattern moulded into the outside. In it were a few chunks of leftover catfood.
"I remember that dish!" I told my mum. "Did you used to feed the cat from it when I was a kid?"
"It was actually your baby dish," she said. "I use it to feed the hedgehogs now."
I went through a little phase a few years ago when I wanted to get rid of all my possessions and live an entirely unencumbered life. That's changed now and, even before it had, I'm not sure I was ever fully down with the idea of getting rid of my books and LPs
. I still understand the whole "you can't take it with you" philosophy but I'm not quite as emphatic about the way I subscribe to it. I can see how stuff can be a burden, but I like some stuff. It's just different stuff to the stuff I used to like. I found a horseshoe on Dartmoor and attached it to my house late last year. It's just an old rusty horseshoe, but I'd be pretty pissed off if somebody nicked it. Originally, out of pure laziness, I had the horseshoe upside down, and shortly after I fixed it to the granite stones on my house one of my cats was attacked by a dog and almost died. I turned it the other way around a couple of months ago, and nothing terrible has happened to me since then. I'm sure the events of my life are not directly connected to a horseshoe from near the village of Didworthy, but there is no way in a million years I'm turning it back the other way around.
"Your nan used to say that if you hang them upside down your luck falls out the bottom, but I think it's nonsense," my mum told me.
We returned to the house, and, although we'd only been outside for ten minutes, I felt refreshed. Every time I see my dad, he tells me dozens of great new stories – about Nottinghamshire, about history, about who he is, about who I am – but the narrative is of such a loud and experimental jazz nature that I get easily tired. The theory has been put forward before by those close to him that my dad does not speak words; he haemorrhages them. I don't need a long breather from his lectures, but small breaks help, as they would anyone who was listening to someone holding six conversations at the same time, all on their own. Now I was ready again. I sat in the perfect place to absorb the next part of the story. I was keen to find out how the two subjects from earlier were linked, and also to ask him more about the little-discussed history of premonitions in the family.
"Okay, I'm all ears," I told him. "Go for it."
But he did not reply and when I looked more closely at him spread out there on the sofa, I noticed he was fast asleep.
For the first time that day, he looked totally serene.
Beside him on the arm of the sofa was the novel he was reading, its spine bent back on itself, like every book he enjoys. H
eld tight in his arms, like a favourite teddy bear, was the chunk of medieval limestone.