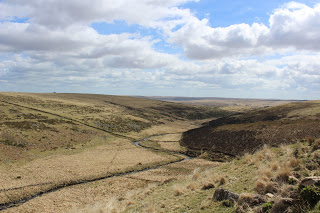 One socially awkward problem with being of a somewhat dozy nature, having poor eyesight and living near a friendly small town is that people you know often see you long before you see them. That is, if you see them at all. I'm always worried about being perceived to be ignoring acquaintances when really I'm just being slightly blind and off in my own dream world, so today when I spot a well-dressed woman in late middle age walking towards me down the footpath near Totnes Morrisons with open arms I ready myself to say hello. Is it a friend's mum I was introduced to at the pub a few weeks ago? Or a cheerful widow I volunteered for stone row conservation alongside up on the moor last winter? As she gets within a few feet of my face I realise that the answer is an emphatic "No" to both questions. I have definitely never met this person before.
"Can you tell me," asks the woman, arms still open, then pauses, and I get my geographical head on, poised to succinctly offer directions – perhaps to the castle, or the wharf, or the medieval hall a couple of miles up the river. "… whether Nietzsche was Russian or German?"
"Well done!" she says, and walks briskly on.
I'm like lots of people in the sense that birds are something I have come to appreciate more as I've got older. I didn't really notice them for the first three and a bit decades of my life, but now I'm keen to learn what they are, and what makes them tick – especially at this time of the year, when the dawn chorus is really starting to take off. This morning it was like some kind of classic jazz-funk workout: lots of new talented session guys chipping in, trying out new ideas. In this scenario, my local pheasant adopts the role of a notoriously unreliable bagpipe player who stumbles in, still drunk from the night before, blows a couple of off-kilter notes, then leaves, but even this kind of works.
Just back from a walk in the Avon Valley with some folk from Devon Wildlife Trust who are working to create a better environment for Devon's horseshoe bats. This includes encouraging more dense, hedge-based "commuting tunnels" for horseshoes to take to their jobs. Horseshoe jobs don't vary much, generally falling into one of two categories: Head Dungbeetle Destroyer, or Chief Messer Up Of Moths. The bats are still in hibernation for a few weeks yet, so we don't see any today, but we do manage to find and identify some of their prey: this includes a blood-nosed beetle, who helpfully walks on our beetle identification sheet to enable us to easily classify its exact type – or perhaps because he's checking that whoever put it together got the illustrations right. As we descend a steep green lane thick with wild garlic, at the foot of the intriguingly named Bedtime Hill, a member of our party of a dozen or so walkers, a man whose name I don't catch but who has a black labrador called Frank, runs off, deeper and deeper into some tussocky grass and gorse, finally vanishing altogether. The rest of us – and Frank – all stop, wondering what he is doing, exchanging increasingly fearful looks. After about seven minutes, he finally re-emerges. "Sorry," he says. "I set up a camera over there last night to try to catch some rare deer and wanted to change its position."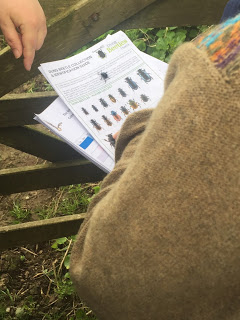 Text from my mum: "Your dad asked the plumber yesterday if there was any gossip in the village. The plumber said 'YES! Pete Wilton's bull got out and mounted one of John Michael's cows and now she's pregnant!'."
I've often wished to be able to properly communicate to my cats. I like to think about all the stuff I'd want to ask them: what sort of music they enjoy, say, whether they are intermittently nice to me because I give them food or because they actually like my personality, or where they sometimes sod off to at night. But I think if I was given the opportunity to say only one sentence to them in a language they'd understand, all that would quickly go out of the window. What I'd probably say to them would be: "If you're going to puke, please do so on a hard surface."
Conversation with my dad, who is staying at my house this week:
Dad, knocking on bedroom door: "WHERE IS YOUR COFFEE CARAFE?"
Me: "You mean the cafetiere?"
Me: "It's in here with me. I thought I'd use it quickly before you had your coffee, as I know you think mine's too weak."
Dad: "GIVE IT HERE. IF YOU'RE A VEGETARIAN, WHY HAS YOUR FRIDGE GOT POSH CHICKEN DRUMSTICKS IN IT?"
Me: "They're for the cats."
Dad: "THAT'S GOOD 'CAUSE I JUST GAVE THEM FOUR."
This morning I quiz my dad about his memories of my great grandma, who used to live on Dartmoor, before her family relocated to Nottinghamshire around the time of The Great War. "THEY WERE VERY POOR UNTIL YOUR GREAT GRANDDAD GOT A JOB IN THE UNDERWEAR FACTORY," my dad tells me. "IT WAS THE GREAT DEPRESSION AND EVERYONE LOOKED LIKE A FILM STAR 'CAUSE THEY DIDN'T EAT MUCH. YOUR GRANDDAD AND MY UNCLE KEN USED TO SHARE ONE PAIR OF SHOES WHEN THEY WERE KIDS. MY AUNTIE IRENE USED TO TAKE A PRAM UP TO THE OPEN CAST MINE AND PRETEND SHE HAD A BABY, THEN USE THE PRAM TO STEAL COAL. SHE GOT ARRESTED FOR IT."
Today my parents are back off up to Nottinghamshire, and I'm off to walk on the high part of Dartmoor, not far from where my great grandma used to live. Before I leave, I tell my dad off for using a cat dish to store some leftover crisps and throwing his plastic water bottles away in the food and garden waste bin then instantly feel bad, like I've just kicked a loud and tiring but ultimately well-meaning puppy. My dad wants to get some bits out of my pond for his pond before they depart, so I leave him to it, say bye, and hand them my spare key with which to lock up. There's a cold breeze here, which is significantly colder on the moor. Two hours into my walk in a rare spot with 3G reception a photograph pops through on my phone from my mum. It shows my dad in the middle of my pond, topless, and up to his waist in water. When I arrive home the pond is beautifully clear of weeds and algae. This is far less than I can say for the bath, which takes me almost an hour to clean.
A walk with my friend Lucy to and around The Cerne Abbas Giant, the famously phallic Dorset hill figure which, in Lucy's words, "looks a bit like it could do with a good pressure wash" right now – or at least an extra layer or six of chalk. I can't help noting, while evaluating the giant from the favoured viewing spot in a layby off the A352, that the chalk remains most vivid in the schlong area. There is an argument that the solid erection reaching up to the giant's belly button area was a later addition to the figure, since early sketches of him from the 1700s depict either a smaller, more flaccid-looking penis or no penis at all. But perhaps that was just the censorship of the age. Whatever the case, he's a far more virile figure than his rather tame and humourless rival, The Long Man Of Wilmington, a hundred miles or so east along the south coast. Legendarily, if you're childless and spend a night in the giant's lap, it can imbue you with magic fertility, but, though childless, neither Lucy nor I have any particular wish for magic fertility right now. Besides, the structure itself is fenced off, and – though you wouldn't know it from looking at the giant's nob – it's very cold and windy up on Giant Hill this afternoon. Before following the steep path to the top of Giant Hill, which looks pleasingly like actual giant's footprints, Lucy and I visit the pub in Cerne Abbas village, where the only customers are the two of us and an unlikely hen party, whose members all look fatigued and disorientated. There is a slightly uneasy and emotional atmosphere around the group, redolent of the aftermath of an argument. Have they ended up here by mistake? Or perhaps their presence is less unlikely, and the weekend is in fact giant-themed? What did happen to them last night? Perhaps they hopped the fence and slept in the chalk crotch, and what at first seemed a laugh became genuinely competitive and fraught? Maybe harsh words were exchanged on the hill as the sun came up, and tears ensued? These are all questions to which Lucy and I will never know the answer and which will ring in our heads for the rest of the day.