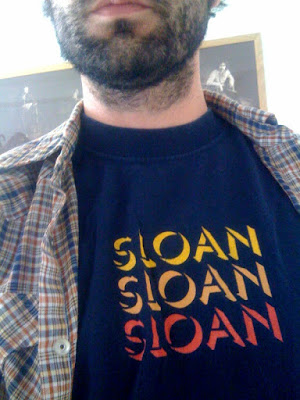 All writers have an early turning point or moment of encouragement that kicks off their career in earnest, gives them that little extra push to makes them believe they are capable of doing what they love well enough to be paid for it. I think I have a few, but a couple particularly stand out. The first was the day in March 1996 when I drove my battered 1970s Toyota home from my girlfriend's house and found my dad waiting in the kitchen.
"YOU'VE HAD A COUPLE OF PHONE CALLS," he said. "MATT WANTS TO KNOW IF YOU'RE GOING TO NOTTS THIS WEEKEND. YOU SHOULD TELL HIM THAT 'NOTTS' IS SHORT FOR THE COUNTY OF NOTTINGHAMSHIRE, NOT THE CITY OF NOTTINGHAM. PEOPLE MISUSE THAT TOO OFTEN."
"Right. Ok. I'll be sure to inform him of that as soon as possible. Who else?" I asked. "OH YEAH. SOME BLOKE FROM THE NME. SAYS HIS NAME IS TED AND HE WANTS TO KNOW IF YOU WANT TO WORK FOR THEM. IT'S BLOODY ALL RIGHT FOR SOME, ISN'T IT? NO MAGAZINES CALL ME AND ASK ME IF I WANT TO WRITE FOR THEM."
The night before, after two months of working night and day on my self-edited music fanzine, I'd rushed from the Nottingham Maid Marian Way branch of Pronta-Print to the post-box, just catching the last post. And I mean just. I'd breathlessly thrust four envelopes, each containing a copy of the sometimes monthly lo-fi indie rock fanzine Words I Might Have Ate, each addressed to a different editor at the NME or Melody Maker, into the hands of the postman himself.
Pretty much everything I've achieved as a writer ostensibly dates from the intertwining fortunes of that day: the fact, as a university dropout and failed sportsman, being threatened with eviction by his parents, I'd worked so unusually hard on that sixth issue of Words I Might Have Ate; the fact that I'd chosen Ted Kessler as one of its recipients; the fact that he'd picked it up and actually read it, and not put it straight on the slush pile, as most of the NME editors probably did with the hundreds of DIY publications they received from wannabe writers; the fact, probably, that I happened to have given a rave review to the new album by The Afghan Whigs, Kessler's favourite band of the minute, and published it just days after the CD had been released. Kessler did not go on to become my mentor in any fairy-tale fashion, and I soon found other outlets to which my writing was more suited, but I will always be hugely grateful to him for thinking outside the box of Journalism graduates and Oxbridge-educated interns and offering that first break to a Northernish hick who didn't then and has never had to explain since to any employer that he hasn't got any better academic qualification than 5 GCSEs at C grade and a shoddy BTEC National Diploma.
On the other hand, by then, I'd been pretty sure I'd get a job at the NME for a year or more. This seems a rather bold conviction, considering the poor grasp of grammar and sentence structure I had at the time, but I had the confidence of youth and the determination of a teenage golf fiend backing me up. Only four years previously, I'd still firmly believed I'd be the next Seve Ballesteros, so believing I could get paid thirty quid a week for writing reviews of Guided By Voices and Superchunk gigs perhaps didn't seem such a big leap of faith. I'd also already had my cheaply-produced magazine featured on BBC2's What The Magazines Say and mentioned on Radio One's Evening Session, witnessed Green Day dedicate a song to "the editorial team" (me, my girlfriend, and a bloke called Paul whose function was mostly to contribute some nice drawings and slightly ill-fitting reviews of "intelligent techno" CDs) at their Sheffield gig, managed to persuade several branches of Virgin Megastore to stock it (the defunct Sheffield store still owes me £4.40 to this day) and had the legendary DJ John Peel phone my house to congratulate me on a "good read". Perhaps an even more persuasive nudge in the right direction had come two years previously, when I received a letter from Jay Ferguson in Canada.
Jay Ferguson was not the former songwriter for sixties psychedelic jazz rock specialists Spirit and dirty 1970s rockers Jo-Jo Gunne of the same name, but the guitar and bass player – and one of the four songwriters – for Sloan, from Halifax, Nova Scotia: back then, a band who served as a kind of Canadian Cars-meets-Beach Boys answer to grunge. There were many bands I featured in Words I Might Have Ate that I tried to like more than I did or wrote about because I felt like I should write about them due to cultural pressure, but Sloan were not one of them. They'd been all-but-ignored by the music press, I'd missed them the one time they'd toured in the UK, and none of my friends had heard of them. Picking up their debut 'Smeared' LP in the bargain bin at Selectadisc in Nottingham a year earlier had been a lucky dip, but one that resulted in a sound that connected the feedback-heavy grunge bands who'd saved me from golf, and the 70s rock I'd loved in my pre-teens (the music I ultimately loved most, even though I hadn't yet admitted that to myself).
I'd sent Jay the first issue of Words I Might Have Ate in early 1994: a laughably amateur effort, printed straight from my dad's Apple Mac Classic and pasted in wonky columns,onto some old graph paper I had left over from school, with errors crossed out in pen and Pritt-Stick dirt abundant. Unthinkably, Jay had written to me – to me, just down a lane, not far from Eastwood, and some cows! – to say how much he liked the mag, and included a CD of Sloan's second album, 'Twice Removed', and a Sloan badge and car sticker. The opening song was called 'Penpals' and it was obvious from the lyrics – and Jay's letter – that Sloan were an all-round nice bunch of chaps, who did their best to answer their fans' letters. But they were also a proper rock band. Not a shambling, willfully difficult bunch of shoegazers or noise terrorists. A band who, in another era, might have been playing stadiums.
Jay and I kept in touch over the following years, finally meeting in person for a record shopping trip in London in the summer of 2000. While well-known in Canada, Sloan never become the huge, Cheap Trick-style worldwide rock behemoths of popular appeal that they should have – despite my efforts in The Guardian, The Daily Telegraph, Vox and Uncut – but, as the years went on, they, astoundingly, got even better. Sloan were my band, but my favourite moments listening to them were sharing them with others: driving across London to nowhere in particular on a sun-scorched day in 1999 with my friend Pete listening to 'Money City Maniacs', the greatest foot-on-the-pedal anthem of the last two decades, and showing him that it really was time to cut loose and abandon his House Of Love LPs. (Was the sunroof open on Pete's car? Did Pete's car have a sunroof? It seemed like it did, in my memory, perhaps just because 'Money City Maniacs' is that kind of song.) Watching them at Camden Underworld with a roomful of people who just seemed to care that bit more than people did about their other favourite rock bands. The moment at said gig where Chris Murphy, arguably the most "lead" singer of Sloan's very democratic four frontmen line-up and a man whose hair should one day be preserved as a national monument in Canada, invited two female Japanese fans to take the stage and handle guitar and bass duties.

SLOAN – Money City Maniac – MyVideo
It had little effect on me either way when I walked through London, sporting comedy-sized sideburns and passers-by shouted "Supergrass" at me, or when people said I looked like a lost member of another well-known band I cared nothing for, but when my friend Sue very generously said at Sloan's 2007 return to Camden Underworld that I didn't "look all that different to Chris, really" I could not have been more over the moon. Just listen to the actor Jason Schwartzman talk so passionately about his favourite Sloan songs in the below video celebrating the two decades since they formed. "The Good In Everyone is so nice. I dated a girl who didn't see the good in everyone. She was a whore," says Schwartzman. Quite simply, it tends to work one of two ways with Sloan: you've either never heard them, or you think of them more fondly than your own Godchildren.
So why do I love Sloan now, still, so much more so than almost every other band I loved in the 90s, with the possible exceptions of The Black Crowes, Jellyfish and Urge Overkill? Perhaps it's because the fact that they have four songwriters makes them four times better than other bands. It's because they somehow manage that elusive rock trick of both being literate and kick-ass, geeky and manly. I love Kiss, but not only does 'Sensory Deprivation' outrock 'Detroit Rock City'; it could beat it at Scrabble, no problem. It's a more restrained man than me who can resist singing along with the line "I'm a girl! I'm a girl! A-la-la!" during 'Penpals' even when the windows are open and the neighbours are probably wondering if they're getting a secret insight into the reasons for the break-up of my last relationship, or stop himself accidentally scissor-kicking a plantpot over during 'If It Feels Good Do it' (not that I did that this morning, not at all – and especially not twice). I still feel teenage musical emotions when I hear Sloan: the conflicting desire to have them all to myself, and share my love for them with any random member of the public I can drag off the street, tie to a chair, and force to listen to them. The soundtrack of my big two summers as a music writer – 1999 and 2000, the summers when I went to three or four gigs every week, when I was positively marinating in rock – was not courtesy of Macy Gray or The Flaming Lips or Primal Scream or some other record of the time I played a bit, reviewed, convinced myself I liked more than I did, then summarily never played again; it was courtesy of Sloan. I've long since stopped writing about music for a living, but when I hear them they remind me of why I started doing so in the first place: the desire to wave something you've discovered into the virtual face of other music fans, so they could feel the same joy from it that you did. If you haven't heard them, you're probably experiencing more sensory deprivation than you realise.