Cornwall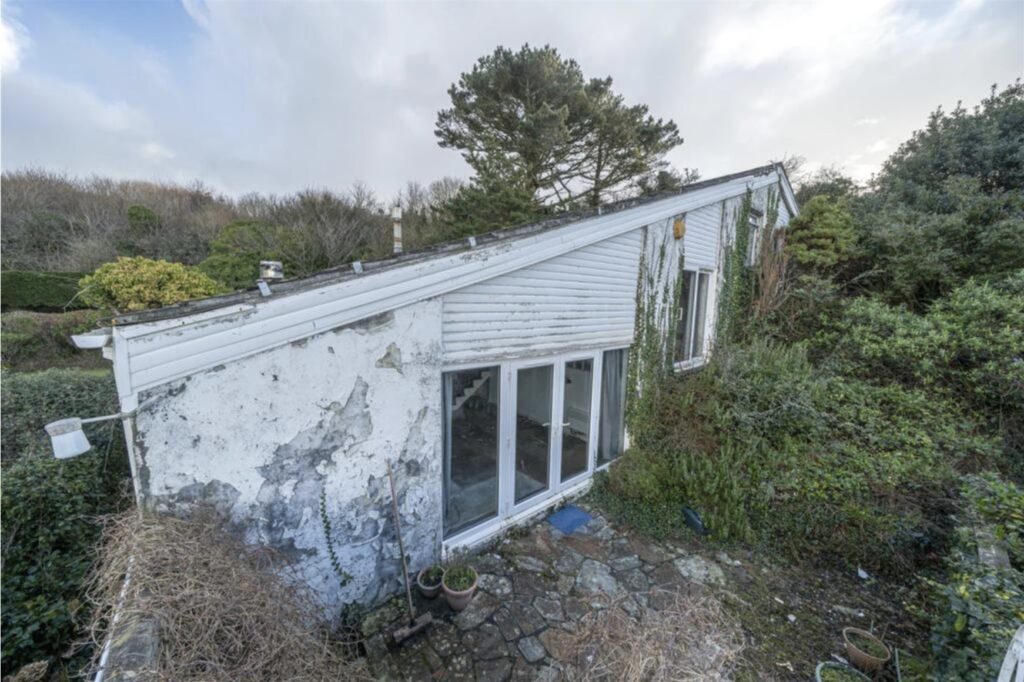 Sometimes I drive to see empty houses I can't afford. The more dilapidated the better is the general rule. It's a combined symptom of my obsession with abandoned buildings being reclaimed by nature and the arguably contradictory materialist part of my personality which is in awe of the bright architectural futurism of the middle of the 20th Century: the kind that was actually focussed on making people's domestic lives more fulfilling, rather than just shoving them under a roof amongst some brand new grey appliances and floors, with a patch of astroturf outside. This amazing 1970s fixer-upper, currently for sale in the Cornish coastal village of Downderry, only 40 minutes from the house I currently rent, is a classic example of one of these trips, which do me no practical good but which my more dominant romantic side thrives on. On the journey over there last week, I did the arithmetic: "If 1000 more people take out paid annual subscriptions to my Substack page in the next week or two, a production company buys film rights on my novel, I sell the rest of my record collection and rattle through that children's book I have been intending to write, I might actually be able to get a mortgage on this!" I lost concentration on the task at hand, suddenly realised I was surrounded by chickens because my SatNav had taken me down the drive of a farmhouse two miles away, and didn't arrive at my destination until almost all the light was gone, but there was enough remaining to peer through algae-stained windows and see the vaulted ceiling, the fitted bookshelves and what must have been, in 1971, the most state of the art woodburning stove imaginable. Avoiding a broken handrail, I climbed ornately tiled steps to the comically overgrown back garden. An eerie soundtrack was provided by the waves three hundred yards below me and a hammer somewhere inside the row of identical millionaire's boxes being finished off next-door. If this had been a film, I'd have been a missing person a second or two later. Foliage had totally swallowed a deckchair and already had the house itself between its molars, poised for its second or third bite. There were balconies somewhere amidst the brambles: three of them, one per floor, going up as steps, side-on to the sea. I wanted to know every story tellable by this building which, having once clearly known a lot of love, is now palpably starved of it. It was like the house equivalent of being in the company of someone who has given up washing their clothes yet badly needs a hug just to remember what physical contact is like. For me, the fantasy of such a trip tends to be enough: I don't want to live in Downderry, as beautiful as it is, but I am writing about this house here because I do want somebody better-off than me to rescue it, and all the great ideas that were once poured into it, before it's too late and they, like so many other bold and interesting ones associated with a bygone happy vision of the future, are obliterated without a trace.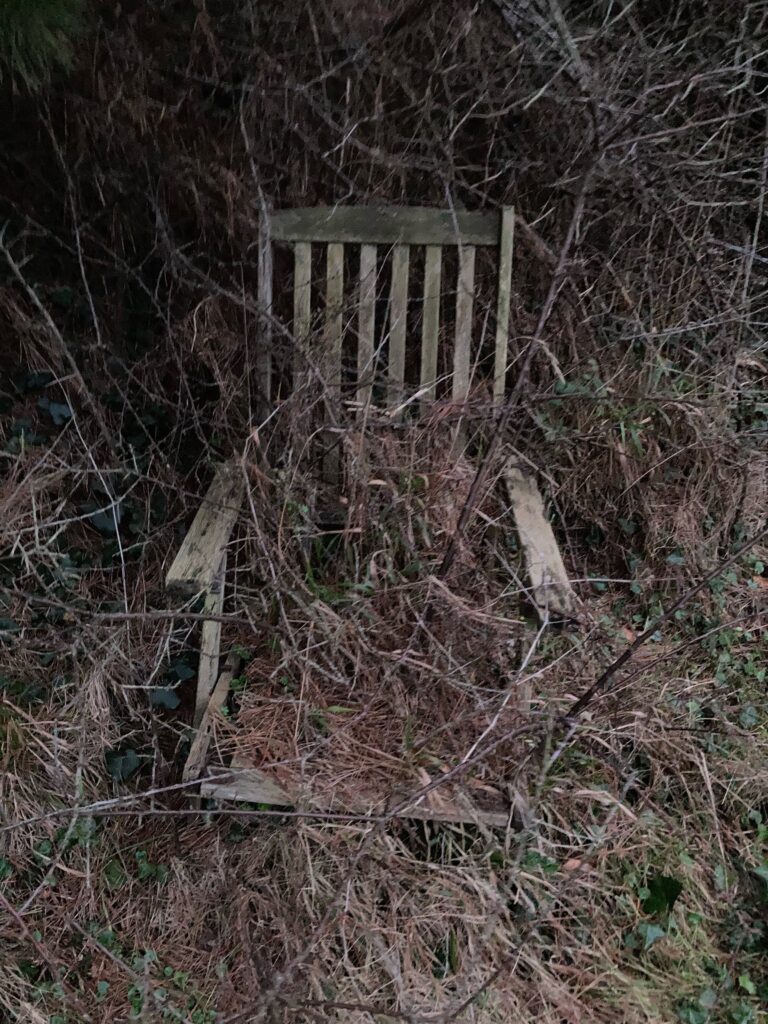 2. Suffolk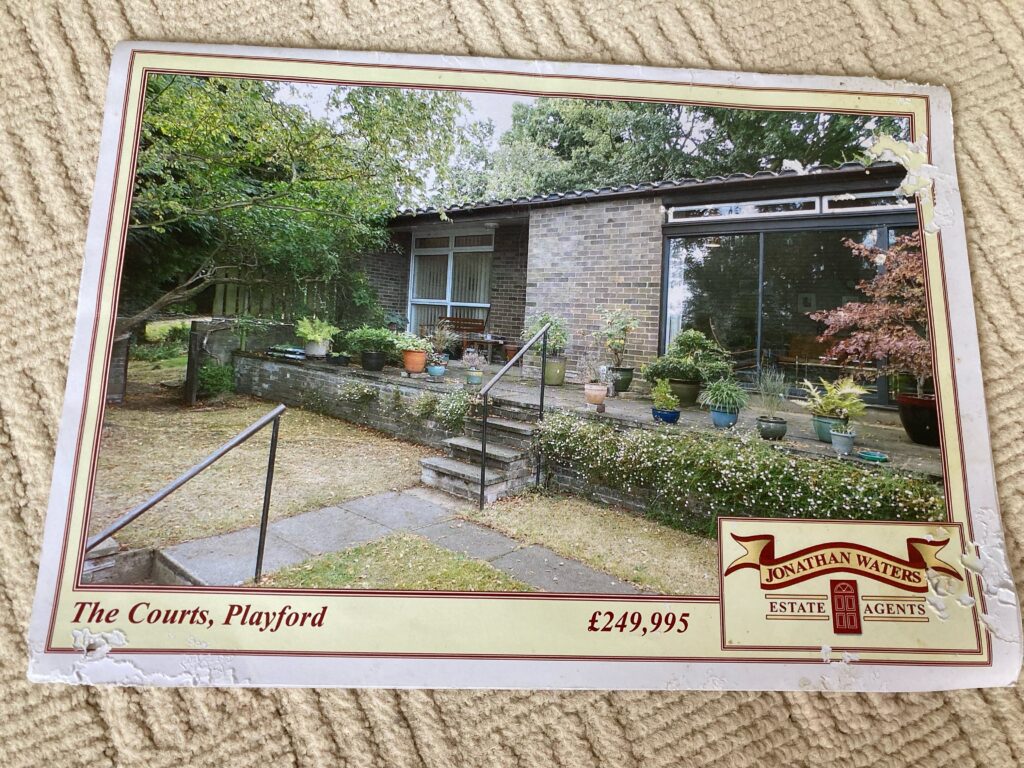 I saved the details to this house I went to see in 2013, apparently just so I could use them to torture myself a decade later. You can see that some mice from the garage of the house I ended up renting instead have eaten part of them, although not so much that the tooth damage obscures evidence of the selection of classic leather recliners and integral G Plan-style stereo cabinet in the living room, stylish exposed internal brickwork, carefully thought through exterior-interior interface and phenomenally private garden. I remember taking the most magical autumn evening walk along the estuary near Woodbridge, just a few miles away, at around the same time, and thinking, "I could happily settle down in a place like this forever." The estate agent, as I remember, possessed little clue as to what a gem the house really was. "As you can see, it's all a bit tired. I should imagine the vendor would be open to throwing those in," she said, pointing to the pair of Mies van der Rohe Barcelona chairs in the living room. I can't bring myself to write the figure it went on the market for, slightly spruced up, less than four years later, but you can find out by clicking this link. If only my journalism and books had given me total gross earnings of more than £3.61 during the previous tax year, I might have just about squeaked a mortgage on it. I wrote a bit about this on my website fairly recently, but ten years on there is something very raw about the unreachability of that moment, when I stood in that house, wondering if there was any possible way I could make it mine. Houses were already expensive then. Now a much more insane and schismatic chasm has widened and a small fall in prices this year isn't going to bridge it. There's no going back to autumn 2013. Instead, I'm here, less conventionally adult, less secure, more travelled, in possession of several dozen fewer fucks as I make my choices in life. More creatively fulfilled? I tell myself the Suffolk writer I might have become in that house is nowhere near as happy and stimulated as the one I am now because it is very possibly true but also because there is no other choice than to believe it.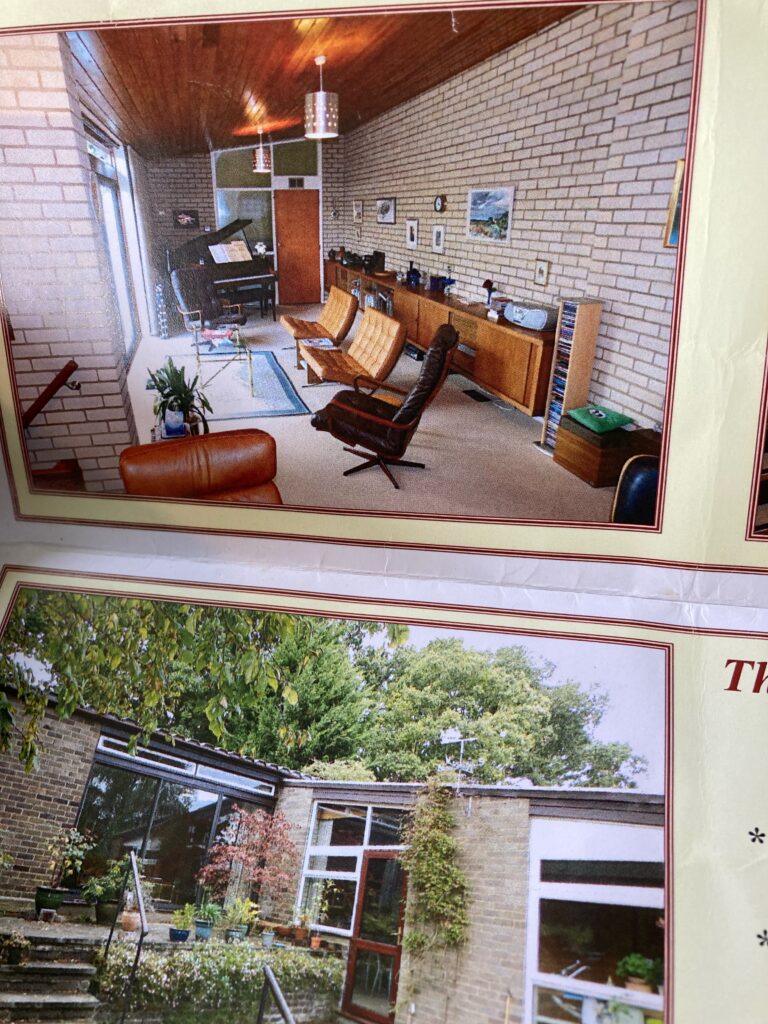 3. Bristol Outskirts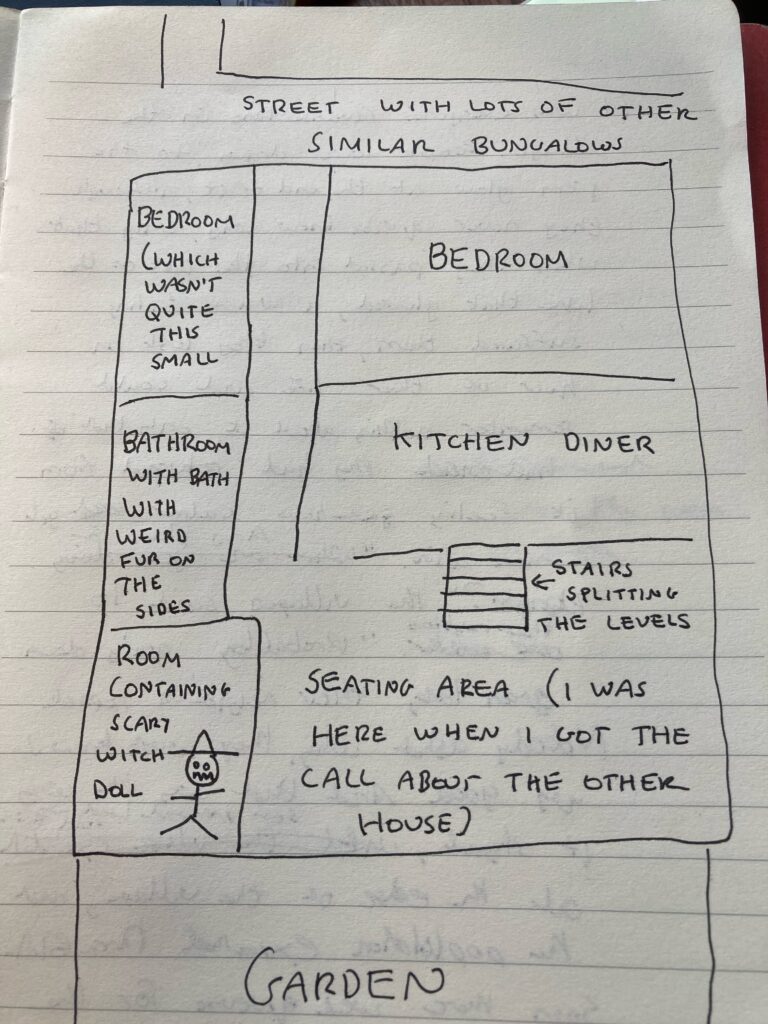 I went to see this bungalow in early summer, 2019. I don't have a photo of it, so I've sketched the interior layout in my notebook from memory. The viewing took place during one of the many periods of my life when I've felt frustratingly torn between the far east and far west of the country. There were other complicating factors to my indecision, including a potentially frightening recent health diagnosis for a close family member. While I was being shown the bungalow by the estate agent and was facing up to the fact of how much I couldn't afford it and how much more I couldn't afford the work that needed doing on it, another estate agent called to say I'd been accepted as a tenant for another bungalow, 240 miles away, in Norwich. It all worked out in the end, I suppose: I went back to Norwich that July, found it as interesting and enjoyable as anybody could while also feeling on a daily basis like a caged mountain goat, then ended up back where I really wanted to be, which wasn't actually the outskirts of Bristol but the edge of Dartmoor. Yet of course I still think about what I might have done to to this bungalow, as its split-level layout had the potential to be very life-enhancing, once you cleansed it of the palpable ambience of recently deceased person, rehomed the strange witch doll in the confusing little conservatory room and got rid of the disturbingly fecund pink furry carpet on the rim of the bath. I remember thinking how much nicer the estate agent seemed than his very pushy Norwich equivalent, who was to me representative of a recent go-getting Londonification of that city, told me he thought it "suspicious" that I'd offered to pay a few months rent in advance and, before I was finally accepted for the Norwich bungalow, had kept trying to persuade me to rent horrible, pretentiously decorated apartments and houses instead, because he said they would suit me better, owing to the fact I was "an author".
4. North Somerset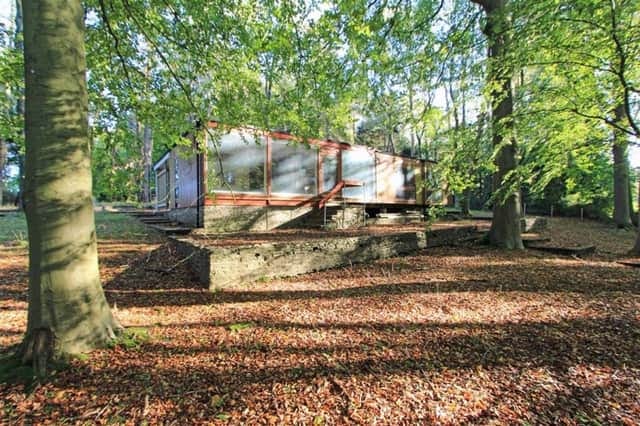 I became a bit unhealthily obsessed with this house, from a distance, about sixteen months ago when it was up for auction for £450,000. "What about pole dancing?" I said to my other half. "I once had a lesson and wasn't too bad at it. Maybe that would help?" Set in deep woodland close to the Iron Age hill fort at Cadbury Camp in North Somerset, it seemed like the perfect slice of midcentury America transposed to North Somerset and just waiting for my paintbrush, varied collection of car boot sale lamps and moderate sanding skills. I pictured the bands who would record in the studio I would convert from the existing car port, after I finally started Harvest Mouse Music, my long-planned psych-funk record label. Original wood-panelled 1950s walls, floor-to-ceiling windows, lovely country walks nearby, and all the pubs and gigs and record shops of Bristol within easy reach: the chance of a lifetime, if only I was one of those proper members of Generation X who'd carefully climbed the housing ladder and had a responsible adult's job. In truth, I had never actually been to the snaking no-through road where the house was, nor its surrounding countryside, only pictured it vividly while driving on the M5 or dreaming the dream of an edited future amidst simple yet stylish 1950s interiors. Last weekend I found myself close to the area and went to take a look, and it showed me just how much intricate and optimistic work my imagination had done, when my back was turned, in sketching the landscape around the building. Nearly all this work turned out to be inaccurate. Yes, the place was very leafy, yes it was close to major travel routes, but the roar of the motorway next door was a constant, and most of the remainder of the houses on the road were modern build zombie mansions, protected by electric gates. I didn't find the cool 50s house – I assume it's been knocked down, but hope I'm wrong – and might have looked for it harder, were I not slightly freaked out by the area's strange cold aura of exclusivity, which gave no feeling at all of potential community. I could not imagine myself living out my space age Topanga Canyon fantasy in this area, not in a million years, although apparently Carol Vorderman and Eddie Large from Little & Large once lived here and liked it a lot.
All the writing on this site appears free of charge but you can subscribe to it and help support it via the homepage, if you choose. Every donation is much appreciated, and helps keep writing appearing here more regularly.
I also now have a Substack newsletter and podcast, which you can subscribe to here.
My latest book Villager is out now in hardback or if you would prefer the paperback, you can pre-order that for March here.