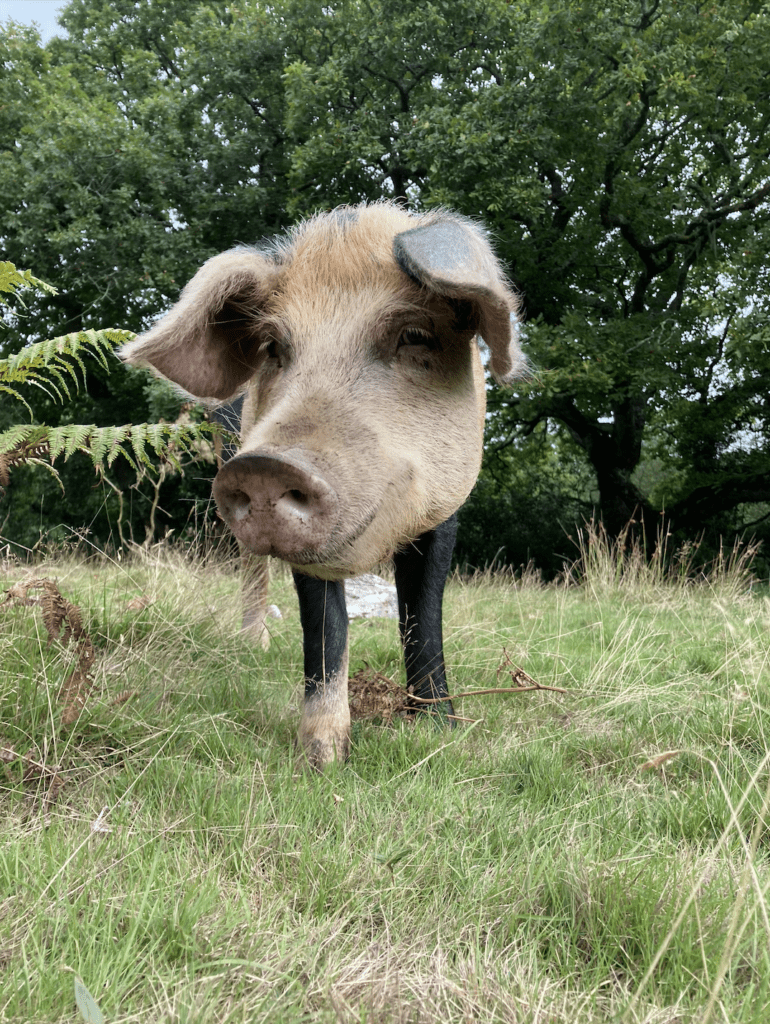 A lot is happening locally and it's not always easy to keep up. Some rescue hedgehogs were released and have been breeding industriously. A lady in the village up the hill witnessed a large aggressive rescue hedgehog push a smaller, more diffident rescue hedgehog into her garden pond, in broad daylight. The other night when we were driving along the top lane we stopped, after realising a baby tawny owl was blocking the road ahead of us. The owlet flew off but not before giving us an accusatory stare that seemed to last minutes rather than seconds. Another baby tawny – or actually there is every possibility it is the same one, considering its surplus of attitude – has been keeping our neighbours David and Steve awake in the early hours. "We wouldn't normally mind but it's got a particularly annoying and entitled squeak," they explained. Then there are the sheep – a small flock with unusually large personalities, who I often stop to give head massages to when I am passing – who have smashed down the wall of the field on the north side of the bridge, leaving an amount of damage most of those passing tend to assume is the result of a significant car accident. "Ok, but have you seen the pigs?" said my friend Keith, when I told him. "They're up there on the way to the Avon Dam. Around thirty of them. They're very tame. The farmer who bought the land has set them free on the footpath. He's from Dorset. So are they, I think. They've made a right mess of the place, churned up all the ground." It was an incovenient time. We had plans. I was waiting for an important phone call and there is no reception on the part of the moor where the pigs are. So we instantly headed out to see the pigs. Keith was not wrong: there were a lot of them, and they had made quite a mess of the place, although, to be fair, the place remained very very pretty, and still had a river, which the pigs were unlikely to remove any time soon. We stroked the ears of the little ones, and they were quite nonchalant about it. There was a slight feeling that they had been expecting us.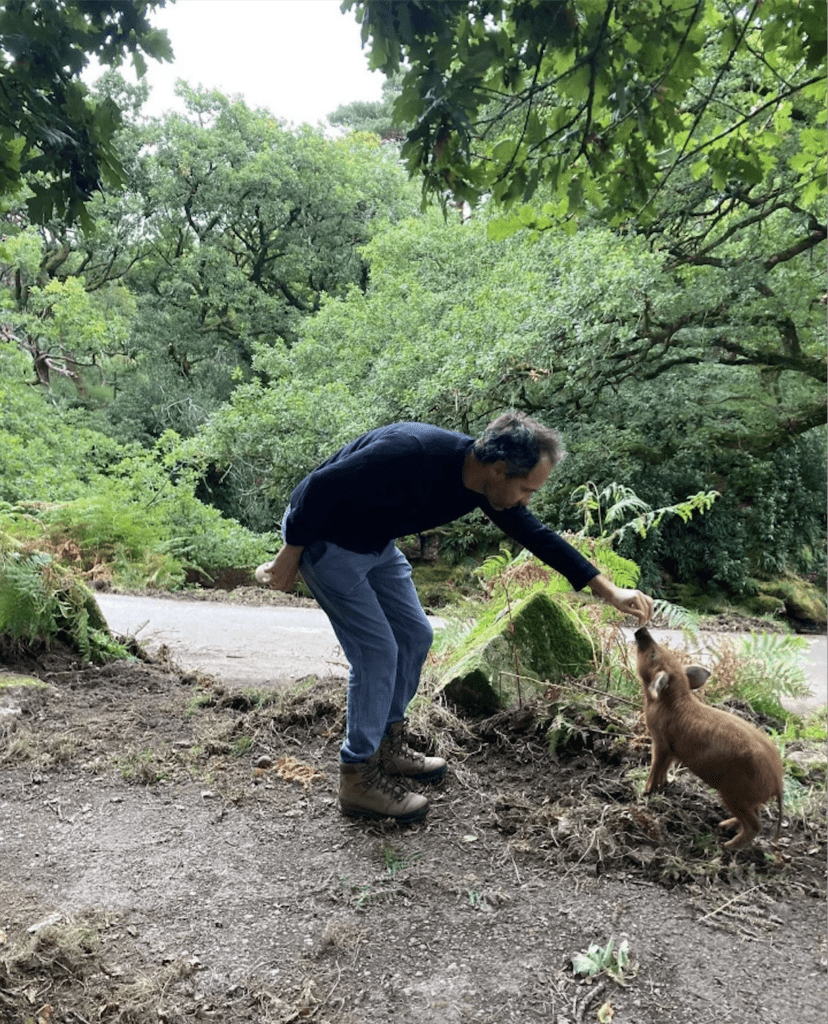 Keith is a name people apparently don't get called any more. It will have its day again, I'm sure. Keith Relf, the lead singer of The Yardbirds, was born, like my friend Keith, in the 1940s, which was the prime decade for Keiths. I think about Relf quite a lot, almost certainly more than most people do. Despite being one of the most famous British bands of the 60s and dying a dramatic rock'n'roll death – being electrocuted while playing his guitar, in 1976 – Relf is not a frequently discussed musician, which seems a shame. He co-authored some of the best Yardbirds tracks, including 'Shapes Of Things' and 'Happenings Ten Years Time Ago', which is actually the best song ever written, on some days, especially if the day in question is in summer and includes some weather. When I was first becoming obsessed with 60s music, in my late teens, I decided the Yardbirds had a very paltry number of quality songs, but the truth is that it was nothing to do with the Yardbirds being not good enough; it was about me being not good enough for the Yardbirds. They might never have quite made a truly great album – and an argument can be made against this if you include the US-only 'Little Games' – but in 1966 they were at the vanguard of everything great, stopping over in India to pick up new instruments on the way back from an Australian tour, pushing the early psychedelic boundaries as quickly and wildly as anyone. I think if I had been in the crowd watching the band play in the Michaelangelo Antonioni film Blow Up that year I would not have been able to maintain the stoney detachment of my peers. Relf, who looks pugnacious and terrierish in this performance, doesn't have the striking physical presence of Jeff Beck or Jimmy Page but the many changes in his face and hair over a few short years where a lot happened provide an interesting aesthetic barometer of the 60s. After The Yardbirds folded, he went on – with his sister Jane and Yardbirds drummer Jim McCarty – to make two brilliant classical-influenced folk rock albums with his next band, Renaissance, by which time, much longer-haired and bearded, he looks like he has finally fully grown into his head. Renaissance, featuring none of their original line up, later became a better-known and far more ordinary band. There is nothing ordinary about the incarnation with the Relfs at the helm, though. In 'Bullet', the final track on their debut LP, can arguably be found something more boundary-pushing and visionary than anything Beck or Page did after the Yardbirds: a fusion of eastern chanting, jazz, acid folk and the Middle Ages that sounds like it's being played in a castle above a swamp seething with many-headed beasts. Their performance of 'Kings And Queens' on the German TV show Beat Club is also phenomenal – a tightrope walk between sublime and ridiculous – but my favourite clip of Relf remains the video for The Yardbirds' 'Heart Full Of Soul'. I like how sincere he looks in it, as if he is thinking very deeply and earnestly about just how much soul he has in his heart as he sings the song. I also like the slight suggestion he has grown a temporary, experimental moustache to try to underline this sincerity, and the way there is a second version of his sincere moustacheface psychedelically superimposed over the first, and how this is juxtaposed with the image of Jimmy Page behind him, in purple velour trousers, ruffley shirt and colourful girly cardigan, pretending to play a guitar that he hasn't even bothered to plug in.
However much I still love the first four Led Zeppelin LPs, it is this version of Jimmy Page I find most musically fascinating: the pre-Led Zep one in those trousers, the one who also played guitar on Lulu's 'Love Loves To Love', 'Circles' by Le Fleur De Lys, and Johnny Hallyday's 'A Tout Casser', evolving into the longer-haired, louder one of 'Communication Breakdown'. It's probably still just about this incarnation of Page – constantly playing with his own expanding curls in front of the mirror – that Pamela Des Barres describes falling for, sleeping with and being rejected by in her enormously likeable but occasionally horrifying 1987 memoir I'm With The Band: a book that doesn't squish any of my desire to live in California in the 1960s, but doesn't want to make me live in the 1970s, anywhere, at all. My version of the book is the 1988 US paperback, with the clickbait tagline "Includes Candid Photos!", and Pam on the cover looking slightly Joan Collinsish and showing off the most 1988 hair imaginable. While reading it, belatedly, for the first time, this summer, I couldn't help think of Truman Capote's comment about Jack Kerouac's On The Road: "That's not writing; it's typing." I mean that in the best way possible, since for me it was a far more enjoyable book than On The Road, possessing a lot of what that novel promised but didn't deliver. The sense of an excitable Pam bashing away on her keys is part of an optimistic, irrepressible energy that rolls you relentlessly forward with her as she breaks into the garden of Chris Hillman from The Byrds and fantasises about being his wife then hangs out intimately with Jim Morrison then, assisted by Frank Zappa, forms her own groupie gang, the GTOS (Girls Together Outrageously), and – despite the way she's sometimes treated by her flings and boyfriends – ultimately made me far more keen to be her than to be any of the rock stars she mixes with. Dropped into the breathless "and then I did this…" flow of the narrative is the occasional snippet of poetic imagery that knocks you off balance with its unexpected beauty, plus what must have been, for some, an early guide to some underrated 60s music that was was just about to experience its critical renaissance. Here she is on Gram Parsons (1946-73): "The last time I saw him blundering around, he was wearing a spangly cape in the lobby of the Troubadour, his beautiful hands dangling at his sides like forgotten flowers." How good is that?
I've had short hair for a while now. To my slight surprise, none of my long haired friends have yelled at me, I haven't stopped liking any of the films or music I liked when I had long hair, and the world hasn't exploded. "YOU LOOK BETTER THAN YOU DID EVEN THOUGH YOU'RE OLD NOW," my dad told me, when I saw him recently.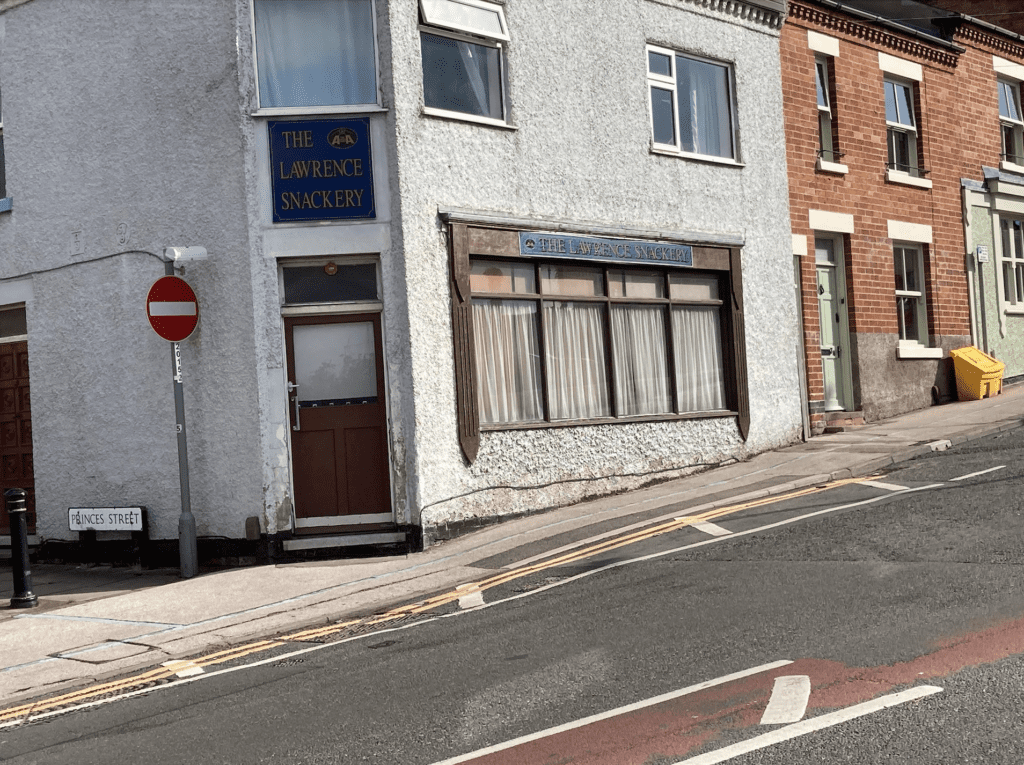 The western border of Nottinghamshire feels like a fitting place to walk in the untidy days of early September, just before nature gets the decorators back in. It's a place that tries to impose a tidiness on its landscape – nowadays most often via housing developments, heavily ornamented gardens and geometrically penned livestock – but always ends up looking a little scruffy: weedy empty lots, metal fences of a grey that echoes that of the interiors of many of the adjacent houses, Buddleia spiralling out towards boxes of electrical equipment that do not have time to explain to you what they are, only that they will annihilate you if you get too close. Like me, the novelist DH Lawrence grew up around here, before, unlike me, relocating to New Mexico and Italy, but has since moved back to the area, and in recent years has quietly taken care of the day to day running of the Lawrence Snackery on Mansfield Road in Eastwood. I had hoped to buy a drink from there, being thirsty at the end of my walk, but it looked closed, possibly permanently, so I went across the road to Morrisons Petrol Station instead, which was convenient, since I had arranged to meet my mum there. She'd said she needed to get a couple of things from the branch of Ikea down the road. "I'll be an hour at the most," she had told me. I knew that meant two, which gave me time to walk from the beautiful Greasley Churchyard, over to Cordy Lane in Brinsley, where we lived until I was ten, then back to either Eastwood or Langley Mill, which boasts an incongruously great record shop. The place had its own smell: lightly singed and metallic, very different to the odour of the habitat where I live now, and very different to Nottingham city centre, which I had visited the previous afternoon, and which smelt more pungently of ketchup than it had at any other point in the 47 years that I have been visiting it. Messy conversations spilled onto the street to match the foliage. A couple, eighteen or nineteen years-old, walked reluctantly along the pavement ahead of me, as if not walking at all and in fact being nudged from behind by the horns of an invisible moose. "Leave me alone," said the girl. "I won't leave you alone," replied her boyfriend, while being briefly nudged into oncoming traffic by the horns of the moose. I admired the preserved headstocks of Brinsley pit, one of two collieries within half a mile of our old house. When you're an imaginative child sandwiched between two sets of headstocks, dystopian sci-fi visions are a given. "Why do you want to walk there?" my mum had asked earlier. She and my dad never felt connected to this place: most of their life was spent at their jobs in central Nottingham, down the road in Kimberley, where most of the rest of the family lived, and still live, or walking on weekends in the Peak District, a few hills and slag heaps away. But I can't help it: this place is part of what shaped me, back when I was made of putty. The headstocks, the dens I made on the slag heaps, the twitchels I rode by little bike along, the Ford Capris driven past our house by the men with the neat moustaches and little flicky mullets, the cattle flies on the summer windowsills, the nice kids who lived at the farm across the road and whose gang I joined and whose hay bales I leapt into and who, when I think about them now, make me see that part of my childhood as a 1980s Nottinghamshire answer to The Go-Between directed by Ken Loach and scripted by Enid Blyton, in collaboration with Arthur Scargill.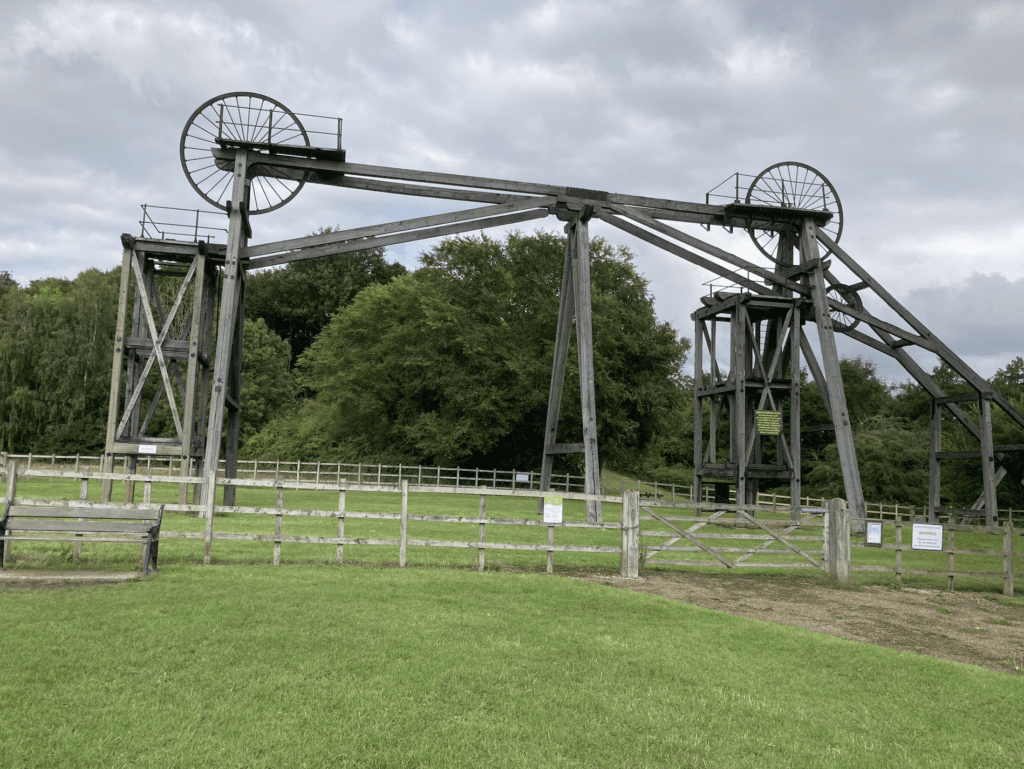 We moved to Brinsley in 1975. Four months prior to that, I had killed music by being born. I was born, music died. Don't tell me the two events weren't connected. I know what I did and I live with the guilt of it every day. But there is an argument that it wasn't entirely my fault. Music had been ill for a while before that.  Also, music has done pretty well since my birth, despite being deceased. My generalisation abouts its death ignores many loopholes and sub-clauses, which might be seen to disprove my theory, and which I wholeheartedly support. I love disco, I love 'Desire' and 'Tonight's The Night' and Donna Summer's 'Hot Stuff', I love 'Marquee Moon' and Talking Heads, I love Prince and The Pixies, and Salt'n'Pepa's 'Push It' and Pulp's 'Razzmatazz', and 'Hot In Here' by Nelly and Taylor Swift's 'Blank Space' and Wolf People's 'Steeple' LP and Morgan Delt and Goat and Childish Gambino. But there's something a bit… icky kicking in as 1974 and 1975 are reached: a feeling that a lot of people who were making great records in 1966 are now making very tired, jaundiced ones, and that a lot of people who were making great ones in 1970 are now making very cocainey ones. The records themselves don't look as good: because of the 1973 oil crisis, they've got flimsier. The art isn't as imaginative or ambitious. The cardboard isn't as expensive. And from that point – until the 2000s, when record companies began to overcompensate by making them too heavy – they'd stay that way. But I wonder if there's a little more to it than that, whether it's as much about me, and my place in history, as it is about the dip in creativity that's evident as the mid-70s are reached. In the musical past of my daydreams, May 19th 1975 is the last day I didn't actually have the aesthetic inconvenience of actually living through. Everything after that, however artistically and opimistically I edit it, is dogged by the problem of reality infringing upon the process. But the years directly leading up to my birth remain a mysterious wonderland, and I think that is a big part of their appeal. I have seen the same phenonemon with people younger than me, too: people, for example, born around 1992 who probably would be very into, say, 'Hounds Of Love' and 'Sign o The Times' anyway simply because they're fucking amazing but who are even more into them because they were created in that not quite touchable, enigmatic time a few years before they did. I get it. But even though the 80s gave us 'Hounds Of Love' and 'Sign o The Times', the 80s are not as good as the 60s. No way. There's not even an argument there, so don't @ me.
When I am fantasising about living in the 60s, I am often imagining that I am there, with all the records I have from that period, but with the benefit of being able to see a lot of the bands play live, to experience the cultural excitement that went with that, get tossed around in the fast spin cycle of mid-20th century fashion. But of course that's just a fantasy, and when lost in the fantasy, the big factor I tend to forget is access. Imagine if I was living here, where I live now, on Dartmoor, or where I grew up, in semi-rural Nottinghamshire. How would I hear all but the most mainstream of these records? How would I find out about 'I'm Five Years Ahead Of My Time' by The Third Bardo, 'Third Eye' by The Dovers or 'Visions' by Jennifer's Friends or even an early Sly And The Family Stone single? And, if I was lucky enough to find out about any of them, where would I buy them? I distinctly remember sitting in my mum and dad's living room in 1983, in Brinsley, taping the top 40, because if I didn't tape it, I'd perhaps only be able to hear the best songs on it once, possibly ever. There was a huge amount of mysticism and frustration to it. Of course, I was only seven or eight at the time, so that added the mystery of not knowing the shops where the records were sold or how I could get to them. But I doubt, as a teenager in the same place in 1966, it would have been much easier. Provinciality would have been a much bigger factor in musical taste than it is now. My dad – who is called Mick, the other most 1940s male after Keith – was born in 1949 and, being a person who prefers to reject what mainstream culture forcefeeds him and do things his own way, hitchiked to London from Notts at 16 and saw Roland Kirk and Sonnie Rollins and the Stones, two years after he had hitchhiked to Brighton to see the mods and rockers fighting on the beach. In 1966, he went on a fan trip to the Berlin Jazz festival organised by the Melody Maker where he met Dexter Gordon and ate at Japanese and Yugoslavian restaurants with French and German hipsters in their 20s and 30s. He also was lucky enough to have music-loving friends back in Nottingham who were slightly older than him and had cool underground record collections. But there are endless great 60s records I've told him about that he never heard at the time, and probably never would have had access to. As the former Whistle Test presenter David Hepworth said to me when I was talking to him on the Word In Your Ear podcast recently, people know far more about 1960s and 1970s music now than they ever did at the time. And, even if you did live in one of the places that the music 60s happened in their most colourful and intense way, if you knew somebody who knew Grace Slick or Paul McCartney, or hung out at the Indica Bookshop, or were in the right place with a bulging wallet not longer after the latest ship came in carrying the newest and best Atlantic and Stax 45s, how could you have possibly kept up with the breakneck creativity, all supported by a willing supply of record company cash that will probably never be witnessed again? If I could put a date on the beginning of my obsession with the music of my parents' generation that my parents missed, it would probably be some time in mid-1993, when I went into Selectadisc on Market Street in Nottingham and bought 'Forever Changes' and the first Stooges LP, owing to the fact I vaguely remembered someone saying something intriguing about them in the NME. That makes very nearly 30 years – albeit with a few lulls – of tenacious digging around in the period between 1964 and 1974 (aka The Real Sixties) for me, two thirds of it with a significant chunk of help from technology, and I'm still not caught up. With all that in mind, how could you reasonably expect a person living in the actual time – even one situated right at the cultural coalface – to catch up as they lived through it? They'd have to be superhuman, supercultural AND omniscient.
It's always a surprise to me to find that the sea at my favourite Cornish swimming spot isn't green, because in my memory it's always green, and not just slightly green, either; really really green. A couple of weeks ago, I jumped from some rocks high above it, making my body as thin and sharp as I could as I hit the water, and the velocity flipped me upside down beneath the surface, so I was almost doing an inadvertent handstand on the seaweed coated rocks below. I felt really green afterwards. Another time I swam over to another rock and loitered a couple of feet in front of some cormorants, watching them watch the horizon. They seemed totally fine with it and only flew off when a motorboat rounded the peninsula. I felt green then too. This is in contrast to when I'm swimming in east Devon, where the sea makes me feel red, and south Devon, where it makes me feel an icy blue, even when it's not cold. It's all the same sea, so precisely where do these changes in texture and feel occur? It's a question more people have probably asked a lot more this summer, as the government has permitted raw sewage to flow into it, at various points. A question people have probably asked more, in our bigger world, where everything constantly flows into everything else, through all the puncture holes. Where is the exact point where you cross a border and a place becomes definably a good place, and no longer a shit place?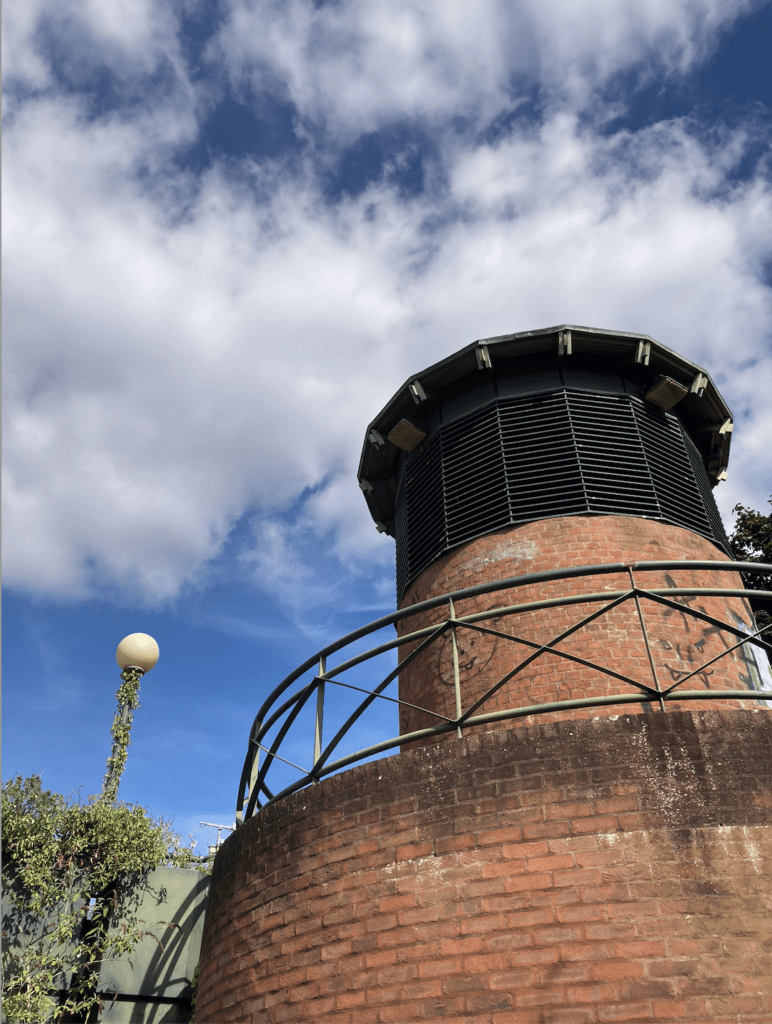 The other day I parked near the tip and walked a couple of miles into the centre of Exeter. There was no point to it, other than getting my head a bit more around Exeter, which is something I struggle with, even though I like Exeter, and am now very familiar with it. I looked in the bit of the tip where they sell things that people shouldn't have thrown away to see if there was a mid century Italian lamp or rare late 60s funk single there but there wasn't. I noticed that they were no longer using skips for garden waste and had instead arranged it into a lengthy, open area, which was becoming a surprisingly attractive and varied herbaceous border. A mouse was squashed flat in the low-ceilinged underpass that goes under the railway line and I wondered what had squashed it. A cyclist? A very heavy cat? On the canal, some kids in wetsuits were jumping in, and their supervisor told them the places not to do it from, in case something sharp and rusty was under the water. The water didn't look green, or at least not in a nice way. Wild clematis was threading its way through the windows of an old abandoned boat which from what I can work out is called Claire. I passed The House That Moved, the 15th Century timber frame house that, in 1961, after a campaign to save it by local historians, was jacked up on metal wheels and shifted 70 metres from its original standing place on Frog Street to its current home opposite Stepcote Lane and the excellent Book Cycle shop. I thought about how Exeter was a place where nearly all the most interesting or beautiful architecture was hidden and had to be looked for quite hard, which is how I used to think of Norwich, which now seems ridiculous, since most of the most beautiful or interesting architecture in Norwich is right in front of your face immediately, saying "Stop everything, gaze at me and behold my magnificence." I passed the catacombs, built to prevent a growing number of grave robberies in Exeter in the early 19th Century, and often overlooked, now, and back then, with only 14 of their 1400 spaces for corpses ever being used. My return route took me past the arguably more architecturally impressive Cathedral And Quay Car Park, which I often think is my favourite car park, because of its futuristic tourists, the ivy that is allowed to run riot all over it, and the way its roof has been entirely commandeered by swaggering skate kids. "Hi," the skate kids called out to me as I passed, and looked up at them sitting on the ledge. "Don't worry. We aren't going to jump." There was a palpable feeling that this was it, the last properly good Saturday of the year, and we were all out in it, doing our thing. Lots of people were talking, singing on bikes, gesticulating, and – in sharp contrast to every time I'd been out for the best part of a fortnight – none of the conversations were about a very old privileged person who'd died recently. Near the canal, some plywood strips had been piled up or leaned against a couple of walls and half a dozen cyclists were having fun riding up and down them. It took me a moment to notice that one of the bicycles had a spaniel attached to the back of it, in a little canvas house. She acknowledged me with an almost imperceptible nod as I passed.
Order my latest book, Villager, with free worldwide delivery.
You can subscribe to this site and support pieces like these by visiting the homepage.