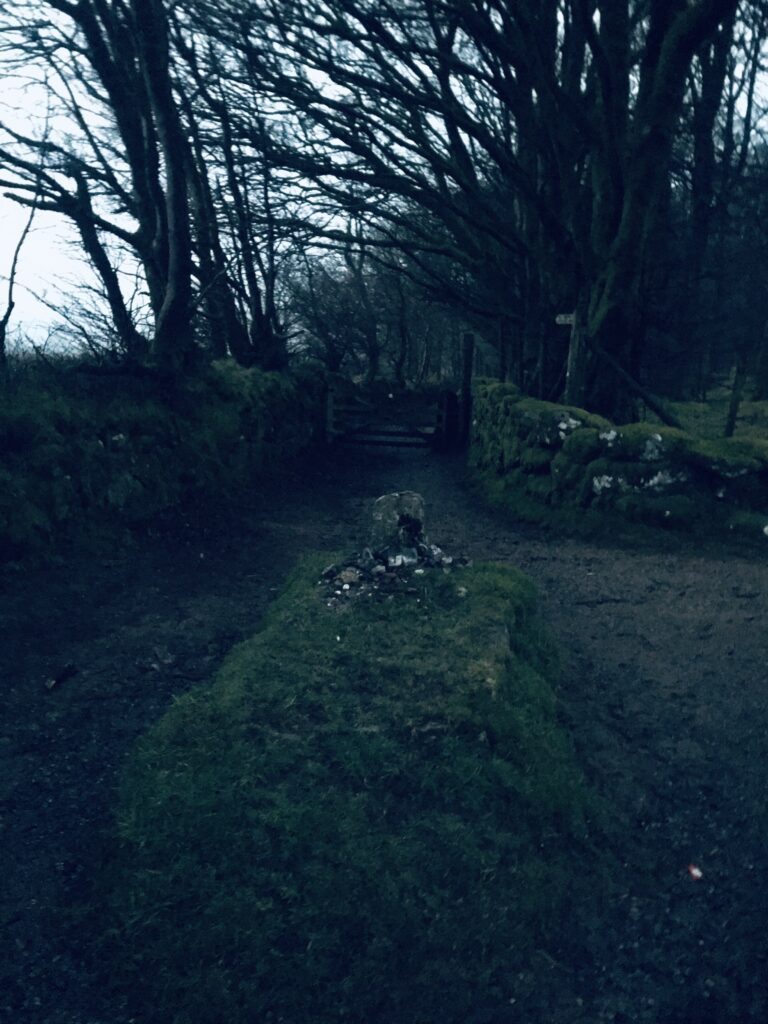 A few years ago I was talking about ghosts to a lady in a pub about six miles off the southern edge of Dartmoor. She told me she didn't believe in them, personally, herself. "There is one scary thing that happened to me, though, that I can't explain," she added. Around half a decade earlier she and a friend had been driving across the moor on the way to a house party in thick blankets of fog. Increasingly disorientated, and unable to find the house, they stopped the car to check their map. At this point, the lady's friend, who was driving, looked in the rear view mirror and spotted a figure in a white dress hovering several feet above the road behind the car. Terrified, they peeled out of there, eventually finding the party, in a different part of the moor. It was only the following day that they realised the place they'd stopped had been precisely opposite Jay's Grave, the raised, approximately human-sized piece of earth that infamously contains the body of Kitty Jay, an eighteenth century working girl from a farm in the nearby village of Manaton who it's said committed suicide, at the age of just 16, after being messed around by a young fuckboy at the farm in question.
I was out on the moor the day before yesterday, in the mood for a long walk, but hadn't intended to go anywhere near Jay's Grave. My intended route was from Widecombe – where I was doing some research for my novel – up along the fighting dog's arched spine of Hamel Down to the Bronze Age remains of Grimspound village and back via Soussons Warren and Ephraims Pinch, over to the west. The weather was foggy and by the time I'd climbed to the highest point of the fighting dog's spine the visibility had reduced to just a few yards and the silence felt like having cold cushions pressed to both ears. I'd done a very similar walk a couple of times before and knew where I was going well enough to not have a map with me, but after a few more miles of straightforward fogwalking something inexplicable happened: I took a left turn off the main path, intending to head for the medieval village of Challacombe, but, after following that path for just under a mile, came to a place I know well, and know for absolute certain to be in the opposite direction: Natsworthy Gate, a luminescent mossy spot much more redolent of the east moor, not all that far from Jay's Grave.
I am not a navigationally challenged person and I have pored over my OS map numerous times in the 36 hours since then, trying to work out where I made my mistake, and can find no logical answer. The rest of the walk was one of two very confusing, possibly even inexplicable, afternoons I've spent on the moor this winter: I walked what I thought was south but was in fact north, traipsing past bent abandoned metal and tyres through valleys I didn't know existed to a field containing a staring bull, overlooked by a smattering of disapproving concrete homes. An eerily silent border collie appeared at a gate and escorted me off the premises to the nearest tarmac. I thanked the collie and patted its head and its benign expression vanished, giving way to a tiny growl and a glint of fang. I knew the time, in the innate way that a person with a trusted body clock knows the time. It was 4.36pm. But when I looked at my phone – mysteriously down to just 3% battery – it told me it was 5.36pm. I knew the way back from here, but knew it was long, around six miles, if I was to stick to the lanes, which was the only sensible course of action. By the time I climbed the hill between Swine Down and Heatree Cross and approached Jay's Grave, it was almost pitch black, and my whole body ached. I'd been thinking, as I often do of late, about social media tourism: about what magic we might be sucking out of formerly wild stretches of landscape by overphotographing them and overvisiting them, but right at this point, in the dark and the fog, I could feel all the deep old magic of the moor, all of what it could have been on a night in the mid-1700s. I photographed the grave – the picture you see here, considerably lightened with modern editing facilities – and the split second I did so my phone battery died. Raised above road and path level like that, in the murk, it looked horrifying – very different to the place I'd visited on a bright autumn day in 2018, while recording an episode of Clare Balding's Ramblings series for BBC Radio 4, when I'd left my Caffe Nero loyalty card as an offering. That was me attempting to be funny, of course, to do something obtusely and surreally outside of the normal tradition of leaving flowers and coins on the grave, to tickle the stark ribs of the past with my flippant and indulgent 21st-Century culture. We bring versions of this to all these old dark places with our technology and our well-developed sense of irony. But what I thought as I walked past the grave now in the dark, what I knew innately, is that it was all nonsense and diversion and none of it changed the fact that this had once been a very sad place. A girl was under that mound of earth: a girl who had died in terrible circumstances. A girl. Not a sheep, as some in the early 1800s had claimed, because in 1860, James Bryant, the owner of the land, had the grave excavated and pathologists confirmed the bones were those of a young female.
The other very confusing time I had out on the high moor this winter happened around eight weeks ago. On that day, it was also foggy, but icy too, and after an hour of hiking my hair was crusted with frost. As I followed a familiar path, the land tilted, the fog seemed to swirl and sparkle, and I was not where I should have been. The day was similar in that I felt I'd been flipped in a total opposite direction by some unseen force – possibly the Dartmoor piskies, who have taken so much delight in confusing weary hikers for centuries – but the difference between that day and this was as distinct as the difference between the effects of weed and alcohol. That day, I felt spaced out and slow. This day reminded me more of a night in London in my early 20s when I'd lost an hour of a night in a club due to falling asleep, without fully realising I had. I was sure I had not fallen asleep at any point of this walk but as I reached Kitty Jay's Grave I was as weakened as people can be by darkness and booze and insomnia, and weakened on top of that by how long and tiring the walk had been. And I credit that weakening, and not just the terror of the place itself and the fog and the night, for the shiver that passed the whole distance up the left rear side of my body – the part of my spine where I've had problems for the last few years – as I passed the grave, and for the way I couldn't stop turning to look behind me as I climbed the hill away from it, and for the way, when I stopped to tie my shoelace, that I made sure I did it facing the direction I had come from. But I cannot credit it for the plume of white I saw between two trees behind the grave: a plume of white that held steady, three or four feet above the ground, and could have been down to the trickery of the failing light, but did not seem to have any logical place in the meteorology or texture of the evening, and seemed so anomalous to the patterns and shapes of it all. I rounded the bend to Hound Tor – two giant shadowy stone dogs, keeping watch – and could not resist a couple more looks behind me, at nothing. There was still a long way to go to get back to the car. I had a stone in my boot. Something barked from somewhere thick and mossy and impenetrable a mile to the east or west – a deer, probably, but not definitely – and everything that had ever happened felt all there all around me in a way that it can't in the daytime.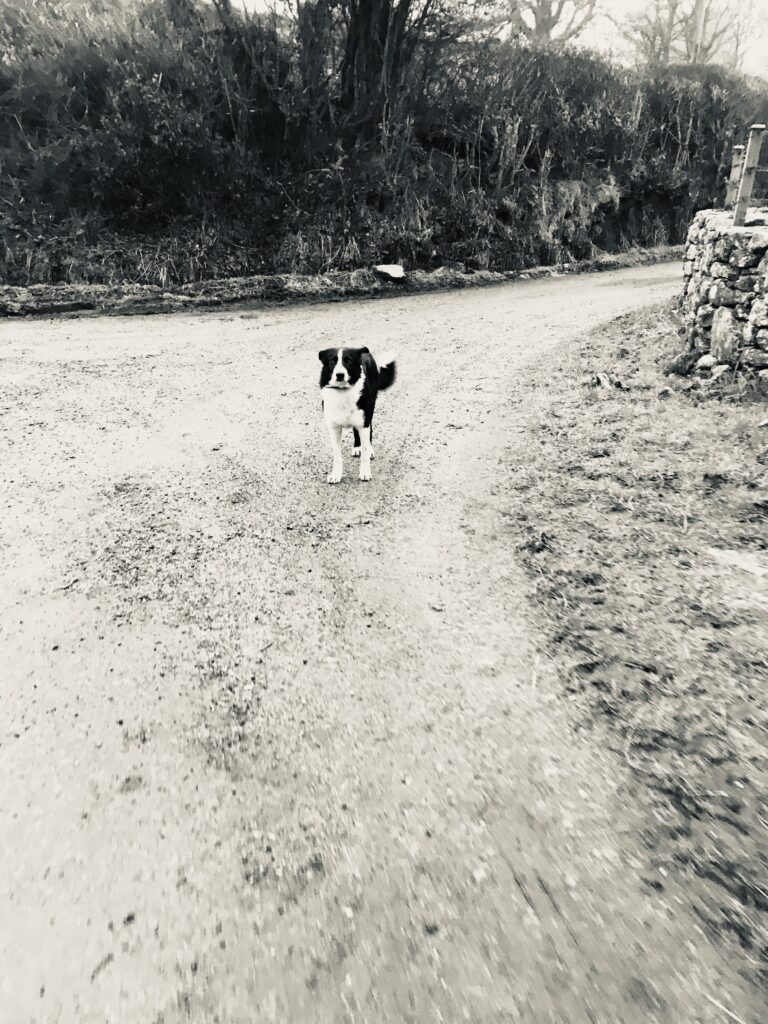 My first ever novel, VILLAGER, is now up for funding. I'd be delighted if you were able to help with its funding by reserving a signed first edition hardback – with your own name printed in the back – here.
My new book is out on now. It's called Notebook. If you're thinking about purchasing it, I recommend the wonderful 142 year-old independent bookshop Blackwells or my favourite bookshop of all time Scarthin Books. Blackwells also do inexpensive delivery outside to the UK.
If you'd like to subscribe to this website, you can do so via the homepage.