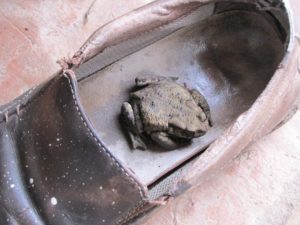 I had driven up from Norfolk to Nottinghamshire to see my mum and dad. Not long after I arrived, my dad took me to one side. "TOM, CAN I HAVE A WORD?" he said.
When my dad says, "TOM, CAN I HAVE A WORD?" it usually means one of three things: a) he's about to ask me if I've completed my tax return, b) he wants to know if I've got my car ready for winter yet, or c) he wants to warn me to "WATCH OUT FOR FOOKWITS AND LOONIES" next time I go out. This time, though, his agenda was different. He led me into the porch and pointed to a rack that contained various gardening footwear – some of which, from what I could gather, dated from as far back as 1946.
"I'VE GOT A TOAD LIVING IN MY SHOE," he said.
I bent down to look at his slip-on gardening loafers: the same gripless shoes he'd worn, in defiance of my mum's wishes, to climb and prune a tree in the pouring rain fifteen months ago, as a consequence of which he had fallen to the ground, fifteen feet below, and broken his spine, only narrowly escaping being paralysed for the rest of his life. Sure enough, tucked inside the shoe was a small, greeny-brown toad. It looked very content – complacent, even. Stuck to the toe of the loafer was a Post-it note with the words "TOAD IN SHOE!' scrawled upon it.
"I WROTE THAT SO I DON'T FORGET AND TRY TO PUT THE SHOE ON," my dad explained.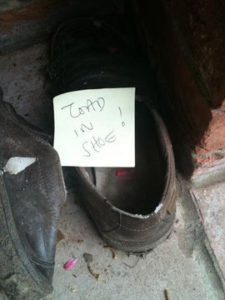 We strolled around the garden, and he showed me some courgettes he'd grown recently – one of which he was especially proud of, due to its bendy shape – and the netting he'd put over the pond to keep a meddling neighbourhood heron from stealing his koi carp. "IT'S AN ABSOLUTE BASTARD," he told me. "IT'S STILL HANGING AROUND, EVEN NOW." Last week, he explained, the heron had caught his favourite fish, Finn, then dropped his lifeless body from the air. I sensed from the chalk outline in the exact shape of Finn's body that he'd drawn on the flagstones next to the pond that he was taking the loss hard, and I found it difficult to come up with the right words of comfort.
"He's in a better place now."
"WHAT? IN THE GROUND? UNDER YOUR MUM'S CORDYLINE PLANT?"
"No, I mean fish heaven, or wherever it is they go."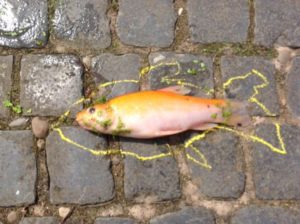 We moved over towards the shed. "THERE WAS ANOTHER TOAD TOO," said my dad. "THAT ONE USED TO LIVE OVER HERE IN THE COMPOST HEAP. I USED TO PUT A BLANKET OVER IT AND TUCK IT IN AT NIGHT. HAVE YOU FIXED YOUR CONSERVATORY ROOF YET? WHATEVER YOU DO, DON'T GO UP THERE AND TRY TO FIX IT YOURSELF. KEITH HARRIS AND ORVILLE DIED DOING THAT."
Later that evening, my mum fed me a stupendously tasty meal, combined, apparently, with at least three other stupendously tasty meals to compensate for all the times I hadn't visited recently. Meanwhile my dad talked about the writer Martin Amis, who is the same age as him, and the different opportunities the two of them had had in their lives, due to their contrasting roots.
"WHEN MARTIN AMIS WAS EIGHT HE SAW HIS DAD SHARING PROFOUND THOUGHTS WITH PHILIP LARKIN," my dad said. "WHEN I WAS EIGHT I SAW MY UNCLE KEN SHARING SOME CHEESE WITH HIS ALSATIAN, BRUCE."
Somehow, in the way these things can when my dad is speaking, this led to an anecdote about the walk he'd been on with my mum in Leicestershire the previous week. "WE STOPPED FOR A NAP IN A FIELD BUT I WOKE UP BECAUSE A COW WAS LICKING ME," he said. "I THOUGHT IT WAS YOUR MUM KISSING ME BUT IT WAS A COW LICKING ME."
I didn't see my parents for another month or so after that and, when I did, it was at my house in Norfolk, where they'd kindly offered to help me with some work in the garden, which had got a bit out of hand with after a long period of hot but rainy weather.
"IS THAT WHERE YOUR CAT IS BURIED?" my dad asked, pointing to a seven foot by four foot area of soil I'd recently dug out.
"No, it's going to be my vegetable patch," I said.
"DO YOU MIND IF I GARDEN IN MY PANTS?" I could hear him asking my mum a few minutes later. He'd wrapped his t-shirt around his head in the form of a bandanna, and was topless. "MY MATE DAVE BLACKWELL SAYS IF YOU HAVE ONE OF THESE YOU'RE INTO WIFE SWAPPING," he said, pointing to my pampas grass, and beginning to chop it back.
The noisy gardener/quite gardener dynamic had worked for many years for my mum and dad now, but I did wonder if, somewhere in the back of my mum's mind, there was a fantasy parallel existence where she and the BBC Gardeners' World presenter Monty Don sat beneath a weeping willow, sharing lemon drizzle cake and calmly discussing deadheading. I think perhaps my dad was aware of this too, as was suggested by the occasion my parents had actually met Monty Don, at a spoken word event he was hosting. Afterwards, in the car park, my mum had come within inches of reversing their car into the famous gardener, while my dad – distracted by some exotic nearby foliage – was supposed to be guiding her out of a tight space. "SORRY ABOUT THAT," my dad had told Monty Don. "SHE BLOOMIN' LOVES YOU. SHE WOULD HAVE BEEN HEARTBROKEN IF SHE'D KILLED YOU."
We all worked hard on the garden that day, so deep in our work that we didn't notice the fading light until it was gone altogether. After we ate, we were all very soon deep in the kind of satisfying sleeps that only lots of physical excercise in the outdoors brings.
"I'VE FED THE CATS," my dad told me the next morning, as I arrived in the kitchen. On the counter were three empty food sachets: three times as much as I normally gave my cats The Bear, Shipley and Ralph in the morning, in addition to their dry food. On the floor were a variety of seven or eight dishes, only three of which were actually intended for cats. "THE BIGGER ONE OUT OF THE TWO BLACK ONES TRIED TO EAT THE OTHERS' FOOD.'
"Thanks. Yes, that happens a lot."
"NOT THIS ONE." He pointed to The Bear, who was sitting on his favourite stool, looking a bit bemused. "HE'S A GOOD ONE. IS THAT THE ONE YOUR MUM WANTS? YOU SHOULD GIVE HIM TO US. I THINK I'VE LEFT MY CHOCOLATE UNDER THE CUSHION ON YOUR SETTEE. I HIDE IT FROM MYSELF UNDER SETTEE CUSHIONS SO IT'S FUN TO FIND LATER. SORRY IF I'VE MADE YOUR SETTEE STICKY."
I inspected the coffee pot on the kitchen counter: in the bottom of it was a thick slick of coffee, suggesting that my dad had ground the same amount of beans I do in, say, a fortnight. I knew the caffeine wouldn't make much difference to him. In the comic book series Asterix, Asterix has no need for the magic potion that Asterix's tribe drink; having fallen into it when he was a baby, he has since been permanently under its spell. My theory had long been that something similar had happened to my dad in his childhood with an unusually large urn of coffee, meaning that he now operated permanently on the level that most people reach only after about six or seven cups of the stuff.
"I'VE BEEN UP SINCE FIVE," he told me. My dad tells me he's "BEEN UP SINCE FIVE" a lot, but in this instance the information was superfluous. I knew he'd been up since five, as I'd been up since five too, having been woken by the sound of him loudly clucking at nextdoor's chickens.
"HAVE YOU SEEN THE GARDEN TROWEL ANYWHERE?"
My dad often drinks whisky before bedtime, but this never seems to have any effect on him the next day, and he's at his most garrulous early in the morning. I'm a Morning Person too, but I'm slower to get my head together. When he comes to visit, I can sometimes find it a bit much.
"CAN YOU PUT ROLLING NEWS ON THE TELLY FOR ME?" he continued. "I ALWAYS WATCH ROLLING NEWS AT THIS TIME WHEN I'M AT HOME. EITHER THAT, OR I LISTEN TO SOME BLUES OR JAZZ REALLY LOUD. DID I EVER TELL YOU ABOUT WHAT MY MATE JEFF WOULD DO IN THE 60S? AFTER A BATH HE'D PUT ON HIS ELECTRIC BLANKET AND LIE ON IT SMOKING AND LISTENING TO HOWLIN' WOLF SONGS UNTIL HE WAS DRY. WHEN YOUR MUM FIRST CAME TO MY HOUSE I BORROWED PHIL DAY'S COLLECTION OF JAZZ LPS AND PRETENDING THEY WERE MINE. SHE DIDN'T EVEN NOTICE. DOES THAT TOASTER WORK? I COULDN'T GET IT TO MAKE TOAST."
This would have been discombobulating enough on its own, but seeing, in the middle of it, a small toad hopping across the floor in the direction of the cat food dispenser, made it more so.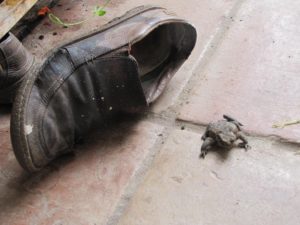 "FOOKIN' HELL," said my dad. "LOOK. IT MUST HAVE BEEN LONELY AND WANTED TO COME WITH US. I SAY, JO, COME UP HERE AND GER A LOOK AT THIS."
After my mum – who has always been a great friend to amphibians – caught the toad in her hands, and I went to fetch my dad's gardening loafers from a box in the hallway, she recalled that she'd checked the shoes thoroughly before packing them the previous morning, and found them empty. "It must have hopped back into them between then and when your dad packed the car," she said. The three of us stared at the toad, and assessed our options.
'IF YOU PUT IT IN THE HALL IT COULD BE TOAD OF TOAD HALL," said my dad.
Over the following months, other amphibians would come to live in my dad's shoes and trainers, including a frog, and two more toads, one of which, when it arrived around Christmas that year, caused speculation regarding whether it was the original toad, finally home after a laborious journey along the A17. But, on closer inspection it was definitely a different toad, slightly more lurid and smug-looking. My mum and dad did think of keeping the toad indoors and taking it back to Nottinghamshire, but in the end we let fate decide: we put it back in its shoe house, and left the loafer outside my backdoor overnight. In the morning, it was gone, never to return. This all happened in summer 2012 and, since it seemed like a young and lively toad and its kind have an average lifespan of 10-12 years, I have no reason not to believe it is still out there, living in another – hopefully more comfortable and modern – item of footwear.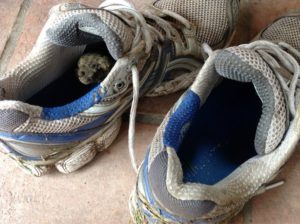 This is an edited version of a story from my 2013 book The Good, The Bad And The Furry.
My latest book is Ring The Hill. (I've linked to amazon there, as it's an easy way of scanning the reviews of it, but I would much prefer if you were to use a purchase of it as a chance to support an independent bookshop in a difficult period. You can find your local one here.)
April 20th is the deadline for getting your name printed in the back as a supporter of my new book Notebook. You can pledge for a special first edition hardback here. 
Times are hard for so many people right now but I intend to keep writing for free on this site, more regularly than ever, as opposed to writing for mainstream publications. If you would like to help me keep writing, you can take out a subscription via the home page. Thanks for taking the time to read this.