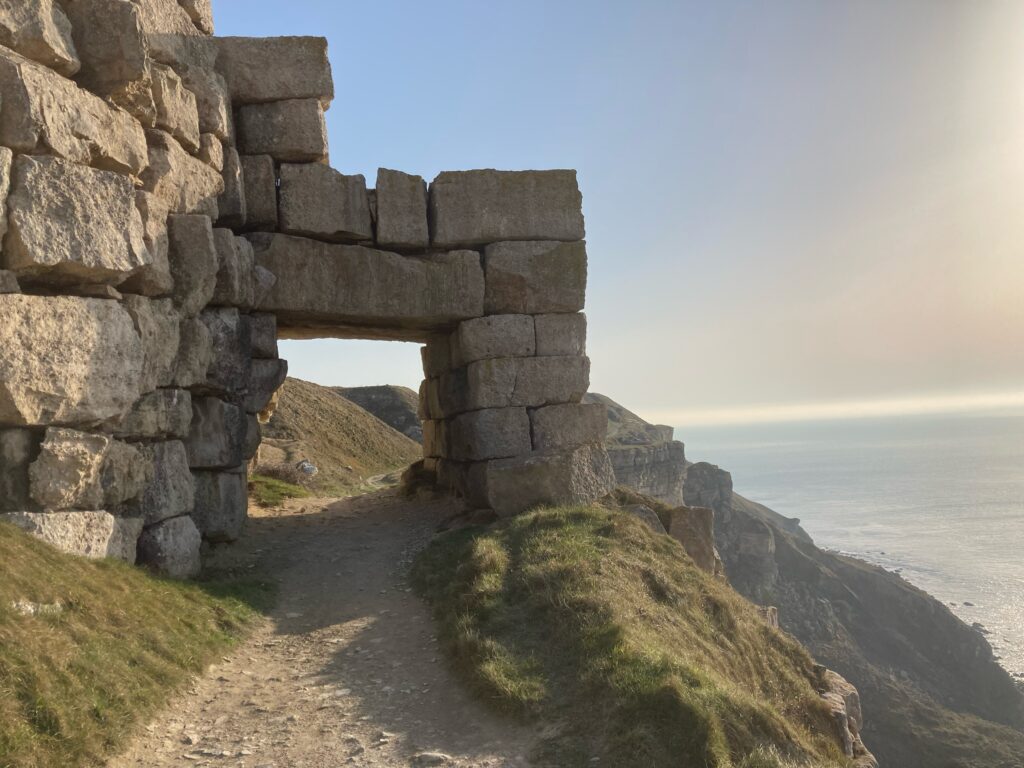 "You did that," said Pete, pointing at the headless rabbit having the last of its throat torn out by jackdaws. "I told you you shouldn't have said it. It was you! I bet you feel terrible now." We were on the Isle of Portland, in South Dorset, and as we walked beside a school we'd initially suspected was yet another of the isle's prisons, with bright blue skies and unprotected sheer drops to our left, and crisps in our mouths that weren't available outside America back in 1996, I thought about how different this was to where we first met, 26 years ago, which was on a plane to New York, where Pete and I had been commissioned by a music paper to respectively photograph and interview a band while staying in a famous bohemian building, but then I thought about how the view to our left now wasn't a lot different to the view out the window to our left as we first got acquainted on that equally beautiful day: the fiercest of sunshine reflecting on swirled deep blues and fluffy whites, just off the west coast. Also Pete was living in London back then and a thing they say about Portland is that there's more of Portland in London than there is in Portland, owing to the amount of the island's stone – and yes let's call it an island, rather than an isle, because even though it's connected to mainland Dorset by a thin strip of Chesil Beach's shingle, it very much retains the character of an island – that's been quarried and taken away to the capital since Inigo Jones first discovered its potential as building material in the early 1600s. Not quite as glamorous as staying in the Chelsea Hotel, though, perhaps, walking on Portland. Unless you find glamour in exploring a grey, almost totally treeless landscape of fenced-off, abandoned eastern European-looking churches, correctional institutions, monotonous post-war terraces and forlorn wallabies enclosed behind wire alongside assorted chunks of broken concrete.
All I'd said was "rabbit". But that's the one word you don't say on Portland. "Bunnies" is fine. "Underground mutton" and "long-eared furry things" are also apparently frequently-employed tolerable variations. But not "rabbits". I'd been warned beforehand so I had no excuse. The superstition apparently dates from around a century ago when quarry workers would blame the long-eared furry things for landslides and rock falls, many of which had led to the death of their friends and colleagues. If a rabbit was seen, workers would often be sent home for the day. People still know the dangers and take the appropriate precautions. When the Wallace And Gromit film The Curse Of The Were-Rabbit was released in 2005 the dreaded word was left out of advertising posters on the island, with the phrase "Something Bunny Is Going On" being used as a stand-in. And now look what I'd gone and done, in my heedless, flippant arrogance.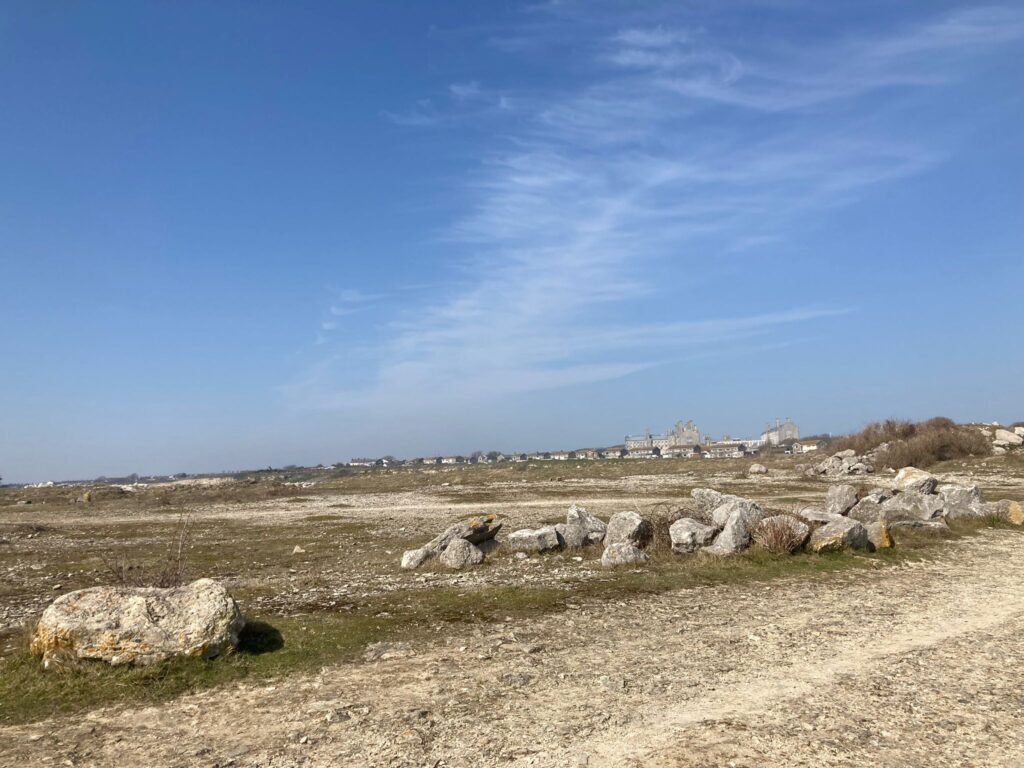 Before we saw the deceased long-eared furry thing, Pete and I had been walking on the island for over three hours and hadn't seen any other underground mutton, alive or dead. We had, however, in addition to the melancholic wallabies, met alpacas, chickens, shire horses, jackdaws, a pair of extremely confrontational geese, four of the biggest rats I've ever seen and – on the steps down to Ope Cove – a surprisingly personable March lizard, possibly looking for another March lizard to box with, as March lizards do, in their infamous spring mating rituals, which so many artists and printmakers have depicted in their work. The unpredictable nature of the animal life here mirrored that of the architecture and terrain. You never know what's around the corner on Portland. One moment on the east coast I felt like I was on a back street in one of Stoke On Trent's more affordable suburbs. A few minutes later, after passing a bowling green and various sunken rectangles of land resembling primitive subterranean football stadiums, Pete and I found ourselves in a mysterious landslip, surrounded by ancient gravestones, with a castle above us and an inviting turquoise swimming beach below. The west coast, meanwhile, is part central Bradford, part Greek island. Walking the circumference of the island is like reading a novel whose plot will repeatedly confound you every time you think you have the author's motives sussed. The place is total Juxtapositionland, Double-Edged Sword City. One on edge of the sword, for the children who live here: "This school I am at does quite well in the league tables but feels slightly oppressive and penitential." On the other: "Look at that fucking incredible coastline just outside the window!" As Pete and I talked about our contrasting experiences of growing up – the parts of it we thought were pedestrian at the time and didn't realise were unique and the parts of it we thought were weird at the time and didn't realise were universal – we wondered what life might be like on this island for a teenager. Sitting on a man-made stone archway close to the cliff edge as the sun goes down, sharing a spliff with the class bad boy. Experiencing your first kiss next to the lighthouse at sunset after a romantic walk from a travertine flow stone, looking out on an unbroken line of water that goes all the way to South America. "Normal," you'd perhaps think at the time. "Boring," you might conclude of this hollowed out ammonite paradise you live on, this land of dispiriting concrete and weirdly small sheep and grey pre-evacuatory ambience, seamed with the sparkling and spectacular, circled by racing, merciless tides which separate you from what other people think of as life.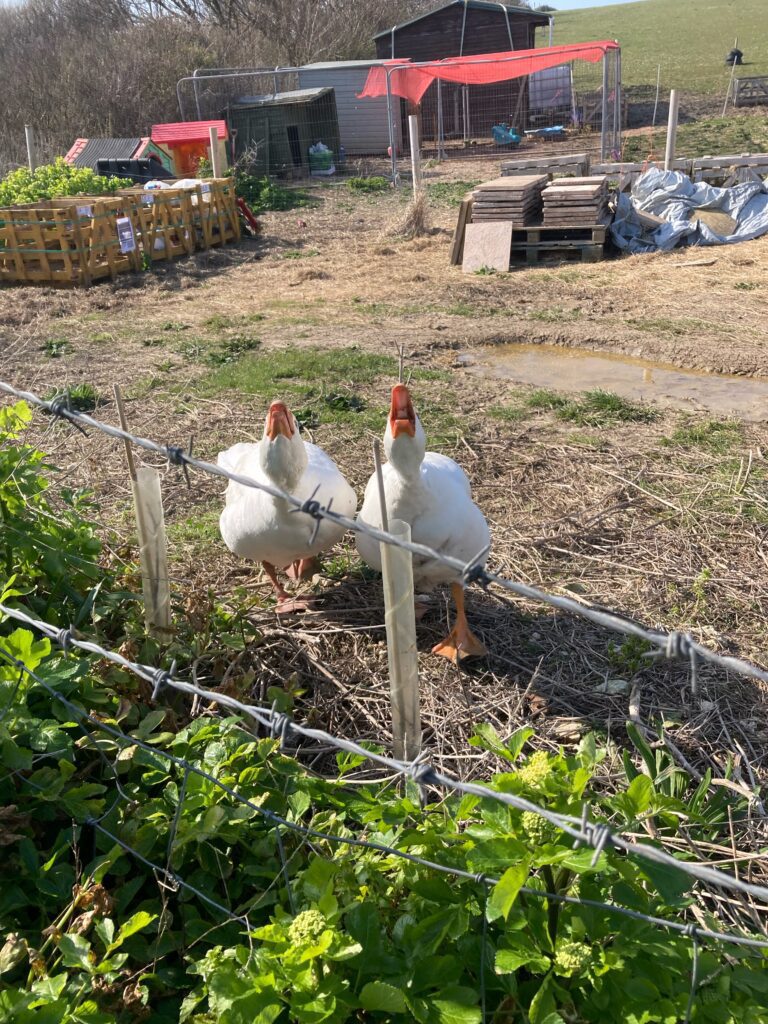 In Emma Tennant's atmospheric, hard-to-forget novel Queen Of Stones, a party of Dorset teenagers get lost on a charity walk in the thickest fog ever recorded in the region and go progressively feral, acting out sacrificial rituals in the dark places beneath the clifftops we have been carefully treading. It makes total sense that Tennant chose to set those final scenes on Portland, and even more now I've actually been there. Gazing east, as I have drip-dried from swims off the dry cabbagey shores of Chesil Beach during the last few summers, I would never have guessed how utterly other the island is. What I want to know is: why had I not been told about its character by anyone, in my many years living in the South West? Have I not made it quite clear enough how drawn I am to culturally muddled stretches of post-industrial coastal landscape, rife with folklore? I was under the impression that I had but maybe I'll be more lucid about the matter in future. Thomas Hardy described Portland's inhabitants as "curious and well nigh distinct people, cherishing strange beliefs and singular customs." In 1906's Highways And Byways In Dorset Sir Frederick Reeves called it "a dismal heap of stone standing out into sea, with the ravenous, ship-destroying 'race' in front of it." Pete and I saw the place on the most glorious of spring days, and it was still face-slappingly, artlessly bleak. The primroses currently sprouting on grassy banks all over the south west were conspicuously absent. Any tree we saw had the slight look of having wandered here by mistake. What is Portland like in actual Weather? How would we have felt then, stumbling across the long-eared furry thing: the most viscerally dead of dead animals I have ever seen, even deader than the deadest dusty pelt on the side of a country lane? How different would it have been then, trying to find our way back to the car just to the east of that, where the sculptures in the rock are reminiscent of a brutal forgotten religion? How would we have dealt with the part of the path just after that, which just falls away, down the cliff, into the waves, with virtually zero warning? We laughed about the way my complacent chatter had ushered in the terrifying dead thing we saw in that way people do sometimes laugh at silly supersitions, but the laughter was a protective blanket of sorts, and there was a ragged edge to it which flapped in the clifftop breeze, and if I make a trip to Portland again, as I very much hope I will, I will be carefully avoiding the "R" word for its duration.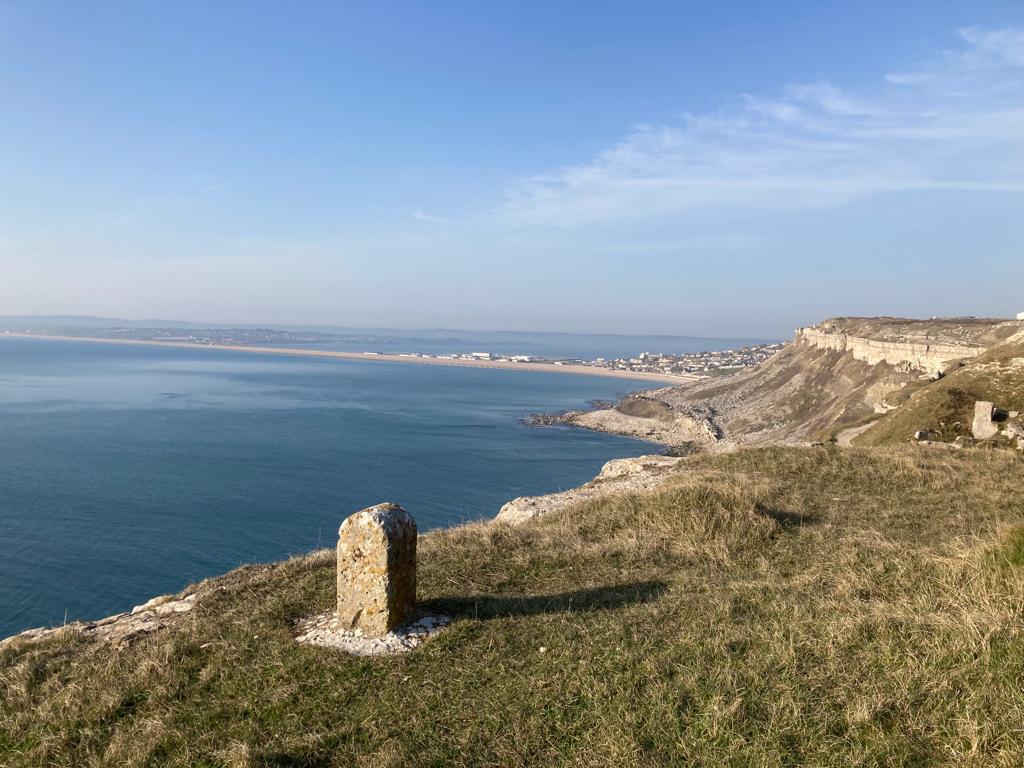 My debut novel Villager will be published on April 28th. Click here if you'd like to order a copy.
You can take out a subscription to this site on the homepage.
Click here to listen to my new podcast.