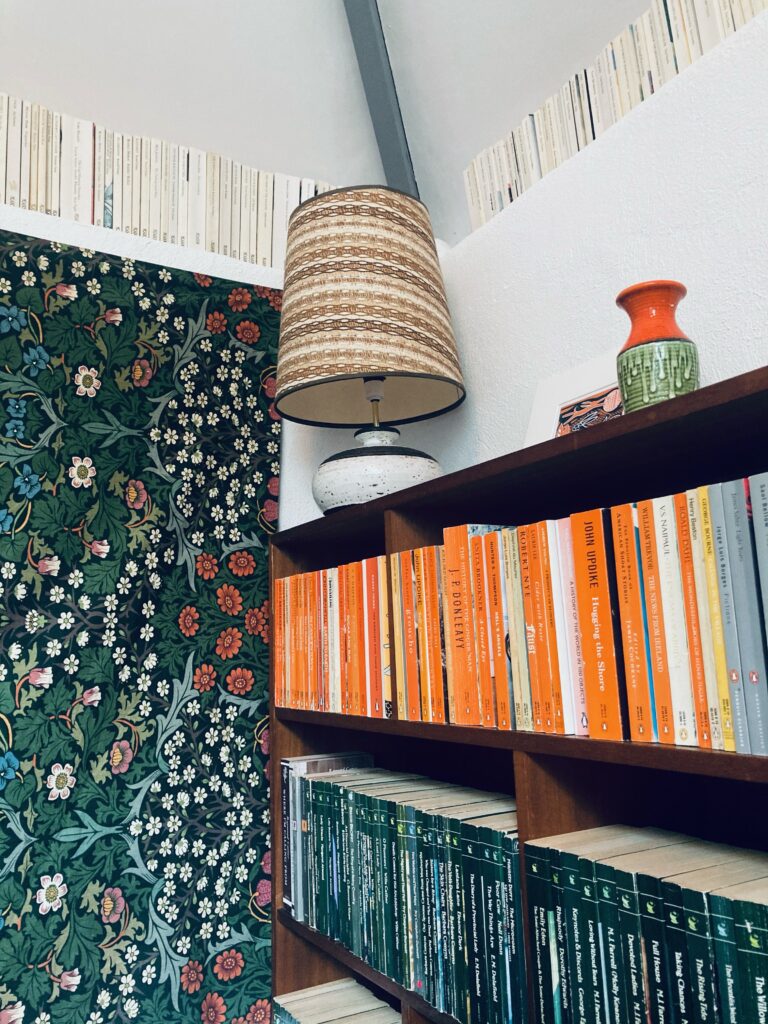 Do I read to write, or write to read? I have asked myself this question numerous times over the last decade or two, and I don't think the answer is ever going to be clear cut. What I can say is that nearly all my reading is in some way dictated by my writing, and that something I repeated to myself on increasing occasions as I came towards the end of the shaping of my most recent book last month was, "Oh my god, I'm nearly done: I'll be able to read again soon! Woo-hoo!"
Of course, I had been doing lots of reading while writing the book, but it had been a different kind of reading; very specific, less immersive or at least immersive in a different fashion, and almost all in some way research-based. If I'm writing a biggish book with a run-through narrative, and have progressed past the halfway point, I find it difficult to do another kind of reading: finally picking up, say, A Glastonbury Romance by John Cowper Powys, or even that not especially gargantuan early Louise Erdrich novel I've been dying to read for so long. My brain, being not a particularly big one, seems unable to hold too many other worlds inside of it in addition to the one I'm in the process of creating, and I definitely found this even more as I wrote my first piece of long form fiction. But as that is happening I also become aware that a need has started growing in me: a need to recharge my batteries, to shut the fuck up and start learning again. That shutting the fuck up phase is the one I've been in for the last few weeks and I've been enjoying it hugely (although it has led to a short pause in pieces on this website, for which I must apologise). I am on a particularly good run of books right now. Just before that, though, I had been on a distinctly less good run of books. Kind of worried I'd lost my knack for reading them, even.
I notice these phases happen to me every so often: I seem to have a Midas touch for four or five books in a row, feel almost like I'm dancing on air as a chooser of excellence, or it's all a bit of a slog and I'm wondering what's deficient in me, why I'm not engaging with books society has told me I should love. I don't think these phases are totally random; I think it's also about points in your life when you're less or more intuitive and in tune with your own needs. When you add audiobooks into the mix – as I do, nearly all the time nowadays – there are also more potential pitfalls. A book might actually be one you'd enjoy but you'd never quite know it because the narrator is so ill-fitting, seems to have no emotional investment in the work or sounds less like they're reading and more like they're gearing up to give you a really pretentious massage. I recently listened to quite a lot of the thirty one and a half hours of Don DeLillo's Underworld, which had brilliant narration from Richard Poe, but which, after seventeen plus hours, led me to the same conclusion I came to when I first tried to read it, in 1997: that the opening chapter at the baseball game is a small masterpiece but nothing else about it comes close to hitting me square in the feels. The difference between now and back then is that I find it much easier to muzzle the small voice in my head that says that because I gave up on a novel as intellectually weighty and feted as Don DeLillo's Underworld all my rights as an author will soon be revoked.
What I needed after the clinical, disinfected atmosphere of Underworld was something totally undeniable and alive: a book that grabbed me by the lapels and – in the most eloquent way – yelled in my face and left droplets of saliva on my cheeks, and I found precisely that in Kevin Barry's recent short story collection That Old Country Music, which is that rare artefact: some fiction that becomes even better when its own author reads it aloud. I soon felt my actual reading mojo rising boldly from its slump: I raced through Sylvia Townsend Warner's The True Heart in that lovely way you do when an author seems to be speaking to you with a voice that's from a far-off time and place that is somehow simultaneously entirely in tune with your brain, I lived vividly in early 60s LA via Eve Babitz's Eve's Hollywood and in late 60s London via Jonathon Green's oral history of underground culture, Days In The Life. Apparently surfing on the energy of this, I currently seem to have a knack that often escapes me: that of choosing all the best New Yorker fiction podcasts, stories by Jorge Louis Borges, Louise Erdrich, Jhumpa Lahiri and Steven Millhauser being among the eight I've lapped up in the last week. What a phase like this reminds me is that it doesn't actually matter, as a writer, a reader, or even as a human being, if you're not reading all the box-ticking books you're supposed to. You're never going to be able to read everything you want to or feel you should, and all that really matters is that you're reading good writing (however you personally define that) which entertains you, fulfils you and broadens you. Great Expectations and Hard Times are the only Dickens books I've read in full. I liked one of them a lot and thought the other was ok but a tiny bit long and annoying. I might never get around to reading the four hundred or so pages of David Copperfield I haven't read and, much as society might make it sometimes seem otherwise, there will probably not be an inquiry about that in the event of my death.
"But do you ever read something just for fun?" a couple of people have asked me recently. I know the place that question comes from and I understand why it gets asked. There aren't a lot of thrillers or trashy romances on my shelves. But I think it's a more complicated and personal question to answer than it might have been earlier in my writing career. Who I am and who I am as a writer are far more unified than they ever were back then. It's not a forced thing that everything I read is a choice dictated by where I want to go with my own writing and learning; that's just the way it organically becomes after a while, and it's a central – if not the central – part of the enjoyment of it. "Fun"? It's always fun, when I have my reading mojo on, arguably as much fun as you can still have with your clothes still on (or not, if it's a hot night). People are often also surprised that I'm not reading more stuff that's ostensibly in the same area as my own books. I don't read as much modern nature writing as people sometimes assume I do. One of the difficulties I find with social media is that I'm constantly trying to find polite ways of responding to people recommending books to me that I read over a decade ago or books that on a surface level sound like a book I might have decided to write. I want to move to new places in my reading, constantly push outside of my obvious sphere, bring in influences from other literary planets. To me, that's growth and change and learning, and growth and change and learning are increasingly what's most important to me as a reader. Which also means they're increasingly what's most important to me as a writer.
I recently spoke to the folk singer Nic Jones, who told me, while writing Penguin Eggs – a record cited again and again as the quintessential English folk record and the pinnacle of its kind –  he wasn't really listening to much English folk music; he was listening to jazz, and soul, Ray Charles, Bob Dylan, Django Rheinhardt and other great music from all around the world. The last thing Nic Jones would have wanted to have been recommended at that point was a record that sounded like Nic Jones. That makes a lot of sense to me, as a reader, and a writer, as well as a music lover. At the same time, I very much appreciate a book recommendation, and will always place more trust in somebody grabbing me and saying "You HAVE to read this!" than in any number of glowing newspaper reviews or literary awards. I also think it would be a mistake for me to write off a recommendation on the internet from a stranger, just because I've had countless other recommendations on the internet from strangers who have mistaken me for a different reader and writer to the one I am. This is how I discovered Sylvia Townsend Warner a couple of years ago: someone on social media telling me that, in my creatively restless wish to write lots of different kinds of books and not brand myself, instead of sticking to a more commercially reliable formula, I reminded them of her, and they thought I might enjoy her work. I do, very much, have learned a lot by reading her and now view her as a bit of a soulmate, in as much as a dead person who came from a vastly different background to you and wrote about very different subjects to the ones you write about can be a soulmate. Right now, I find that women writing in the middle part of the last century are frequently the people whose work I most desire to soak up. Townsend Warner, Elizabeth Taylor, Barbara Comyns, Grace Paley, Elizabeth Hardwick. But that's far from an exclusive rule. I don't intend to cut myself off from male writers – even very male, messily male, writers like Kevin Barry – and, as much as my tastes lean towards the midcentury, I'd be an idiot to cut myself off from contemporary writing altogether. That way I would never have got the enjoyment I have from Barry's latest two story collections. I also have been reading for long enough to realise one year's constituent part of a reading slump could be another year's smog-lifting revelation. Sometimes a book is just never going to click with you (and, after 24 years of trying, I do now suspect this is the case with me and Underworld) but sometimes you're just not at the right time in your life for a book and it's waiting there, in the future, to fully reveal its gifts to the different person you have become. I often make the mistake of thinking I've worked out the rules to my reading life, but I haven't. I'm still learning, and always will be. I very much hope so, anyway.
You can reserve a special first edition hardback of my novel Villager – which will be published next spring – here.
My latest book is called Notebook. I recommend ordering from Blackwells, who are independent, and do not cost the earth, even if you need it posted to an address outside the UK.
Have a listen to one of my audiobooks.
If you'd like to subscribe to this site, and support my writing, you can do so via the homepage.