The reason I swim is different to the reason I used to swim, yet the same. I originally swam because I wanted to carry on drinking beer and eating lots of crisps without beginning to resemble a balloon, and although that intention has not varied in the intervening years, it also feels like a long time since my reason for swimming was as simple as that, because if you do enough swimming, your reasons for swimming will inevitably evolve. Also, if we are being technically accurate, the original reason I swam wasn't because I wanted to carry on drinking beer and eating lots of crisps; It was because, when I was three or four, my parents attached some inflatable wings to me and placed me in a public swimming pool in Nottinghamshire. Kids started drinking very young in the village where I grew up, but at three I had not yet fallen in love with beer, although it might be argued that even then I had already started my inexorable decline into the crisp junkiedom that has left its permanent mark on my life.
For years, I thought I could swim, merely because I could move forward in the water without sinking, but what I was in fact doing was only "swimming" in the sense that a spaniel, paddling out into a lake to retrieve a stick or ball to the sound of its owner's congratulatory coos, is "swimming". Even in 2016, when I was attempting and sometimes completing some reasonably brave and lengthy cove-to-cove swims off the Devon and Cornwall coasts, this was the kind of "swimming" I was doing. "Look at that unusually big spaniel!" I can now imagine an onlooker saying, watching one of these swims from a cliff overhead. "His owner must have thrown his stick or ball really far out into the sea. Isn't he clever? Actually, he looks a little lost. I hope he is ok." But nowadays, having had lessons in the early part of this year, I can actually swim. I move through the water in a fairy streamlined way and, if I transfer to my upper gear, can do a length in a 25 metre swimming pool in about 22 or 23 seconds. This is one of the many benefits I have felt from learning to swim properly: I have discovered I possess gears. But mostly I don't use the upper couple, because it's not a race. This is another reason I swim: it makes me happier in my own space, less competitive, more comfortable with making decisions just for me. Besides, I'm still a bit rubbish in a few ways: I don't know how to tumble turn at the end of a length as I have never tried it, and I never worked my breathing effectively into my stroke, because – due to constraints caused by money and location – I was never able to complete my course of lessons.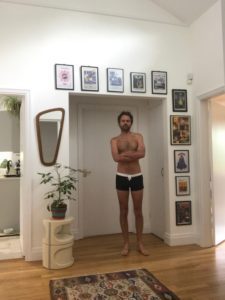 The reason I swim is because I had a deranged disc in my back last autumn, and while my back was being deranged, I got a chest infection and then, when the chest infection was almost better, but not quite, I got another chest infection, so felt like I had a chest infection on top of a chest infection, which obviously isn't possible, unless you have two chests, but that's definitely what it felt like. My deranged disc and one and a quarter chest infections briefly knocked my life off at least one of the rails it was travelling on and I wouldn't wish the same experience on anyone, but I am also grateful to my deranged disc and one and a quarter chest infections because they made me get more serious about swimming, and without them I might not have got serious, at least not in the same way. As soon as I was well enough, around December, I began to swim a lot: more even than I'd swum in rivers and the sea and lidos in the previous few summers, which were summers heavily characterised by swimming. This, and the lessons, have led me to where I am now, which is in the middle of a life that is not just strongly swimming-flavoured, but significantly altered by swimming. Yesterday I did 100 lengths. Today I took it easy and did 80.  I have never felt stronger or fitter, although the back injury is still there, somewhere. It's what people call a 'Lifetime Injury'. What it feels like is having a rusty bolt just above my hip on the left side. Some days the bolt comes a bit loose, but a lot of other days the bolt is tight. What is bad for the bolt is being in my car, or sitting in comfy chairs writing on my laptop, or carrying heavy shopping bags. I know that swimming helps keep the bolt tight, but if I push it just a bit too much, and use my upper gear, it can also loosen the bolt a bit, so it's a fine balance, and another reason I rarely use my upper gear. Additionally, using my upper gear would mean that swimming lasted less long, and I don't want it to, because unlike when I was swimming thirteen or even ten years ago, and even unlike nine months ago, after I messed up my back, swimming's primary purpose for me is no longer medicinal.
The reason I swim is that it entirely alters my perception. For a start, there is my perception of my own body. By comparison, say, 16 years ago, when my body was at its worst, or even five years ago, when my body was better but what in retrospect strikes me as still not too great, my body was only something I was aware of in the way you might be aware of a trailer attached to you with some old bailer twine. If something dramatic happened in the trailer – a large amount of metal being dropped into the trailer, or a party, where lots of drunk people in the trailer were singing, or the ensuing fight when the party got out of hand – I would always know about it, but other than that, the trailer was quite separate from me. I now don't even have a trailer, and I feel like I know my body much better. It helps, of course, that I'm happy with it right now, and feel like I've returned to some earlier version of myself that might have been, if I'd been better to myself when I was younger, and kept on the more athletic path I had been on in my teens and early 20s. I'm a fraction over ten and a quarter stone, have a 28 inch waist, my shoulders are broad, my stomach is flat and, because the swimming teacher I worked with used the Alexander Technique, I'm very slightly taller than I was a year ago. But ultimately this is not about that. It's about a heightened self-awareness, and it goes far beyond the physical. Since swimming a lot, I perceive my own flaws and motives more acutely, am more able to separate what I want from life from what I sometimes mistakenly think I want. I feel more aware of the true agendas of others, both good and bad. I feel more empathetic. I do everything – except swimming – a little more deliberately. I sometimes hurt more acutely too, yet I don't want to change that. How has swimming done all this? I am not quite sure, but it has become more heightened with more swimming, and is a way to live that I find myself embracing. The reason I swim is I have become less interested in a life where I am not swimming. That, to me, now seems like it would be the equivalent of closing a door in my mind leading to a favourite room.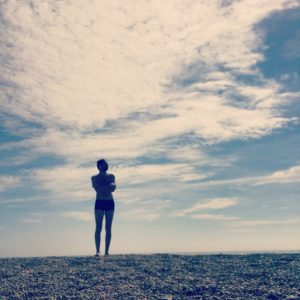 The reason I swim is because it confirms my faith in long cuts. We live in the age of the the short cut, the "life hack" if you want to put it in standard fuckwit marketing terms. "Hey, look!" says the Internet. "If you get enough followers, you can be well-off and successful without even becoming good at anything in order to get there." The Internet wants us to be lazy and greedy and cons us that the synthesised versions of happiness it offers are equal to the real thing. Swimming is the anti-Internet. It locks you in the present moment and, before anything good can come of it, hard work is essential. I worked possibly harder on my latest book than I have on any other but, at the same time, I worked equally hard on my swimming. Instinctively, I knew that each was as important as the other, even though I do not, and probably never will, make a living from swimming. I had the swimming regime of somebody preparing to front crawl to Calais. I didn't front crawl to Calais, but I thought more clearly while I wrote the book, and it led to a book I'm happier with. It was all exhausting, and I found the fact that it needed to be, and the fact that two tangible results have come out of it – a largeish book, and a physically and mentally altered me – very reassuring.
The reason I swim is never the first 25 lengths. It's something that kicks in after that, often not even until length 32 or 33: an elemental zone I go into, where I stop getting in my own way mentally and everything is watery and simple. For the first 25 lengths or more I'm still straightening myself out, prone to old bad habits. I kick from the knee, or don't get enough width on my weaker left side. But there's a trance feeling later on when I'm in a medium gear, sliding through the water, that I could permit to carry on forever. It's far more meditative than any formal meditation has ever been for me. It's easier than it once was because, when I started moving more effectively, it made me quicker, which meant that I could do more in the same space of time than I once could, which made my muscles more toned, which made me move even more effectively, and so on, forever. At its best, it's like the direct opposite of a vicious circle, and it makes me suspect that my swimming guru, Charlie Loram, and his mentor, Steven Shaw, might be touched with a sprinkling of genius. Doing this for nine months – plus the less intensive swimming I did for the years leading up to that – has brought me to the point where the reason I swim is not even mainly because of swimming's benefits or recuperative aspects; it's for the experience itself, which is the part of my day I have started to look forward to as much as any other. But I know that could change. Because that's another reason I swim: it heightens my awareness that everything is shifting all the time, and makes me more open to it. In a year, the reason I swim could be totally different. And that's ok.
My new book is out soon. You can pre-order it here.
My previous book is out in paperback this week.
I am also writing another book. You can help to fund it here.
If you wish to help support this site and keep me writing, you can take out a subscription via the home page.
From now on, I am trying to remember to recommend another artist or writer or musician alongside everything I write on here, so please check out the brilliant music of Gemma Khawaja.