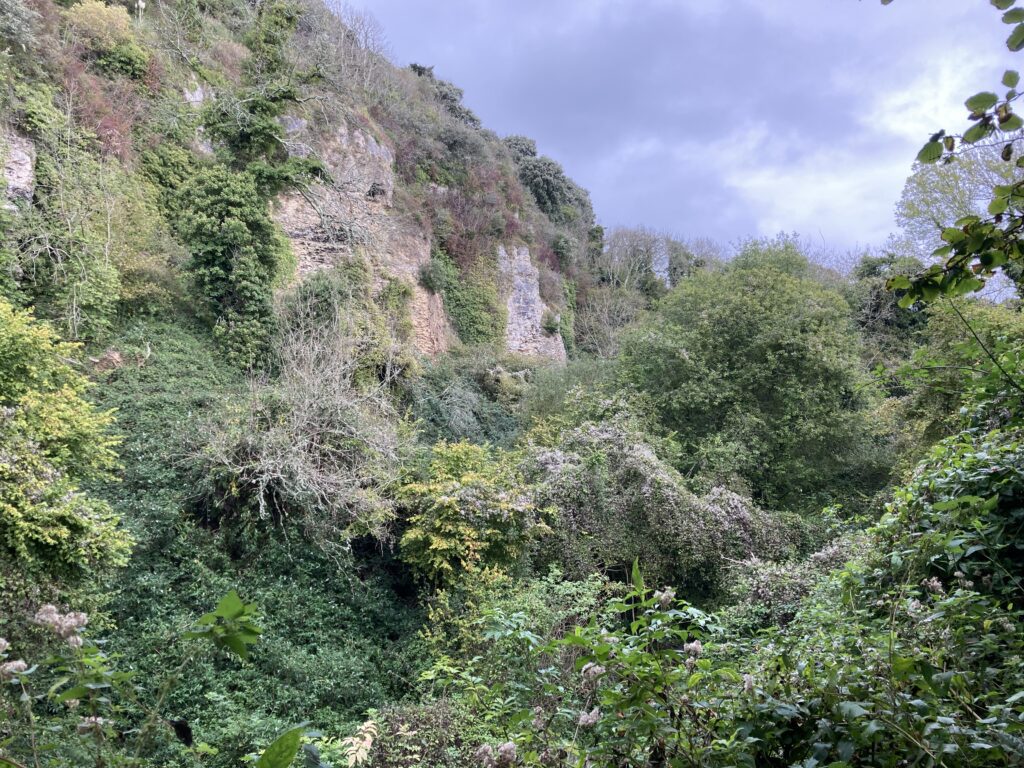 I wake up and realise today is a day I want to: a) grab the ever more brief daylight firmly in my hands before it slips away, b) see somewhere new, c) thrash out some of my creative future in my head, d) feel salt spray on my face and e) comprehensively wear myself out. With all this in mind, I decide to drive an hour or so east of home then walk sixteen miles to the Undercliff and back.
The fact that, getting towards eight years since I first moved to Devon, I had never visited the Undercliff had become a glaring omission in my local walking repertoire. The Undercliff is where you get your first taste of coastal Devon upon crossing the border from the east. Yet the Undercliff doesn't feel like Devon, or like nearby Dorset. It feels only like the Undercliff. It is a deeply odd, hanging otherworld which, in the words of John Fowles, in his 1969 novel The French Lieutenant's Woman, is "cut by deep chasms and strange bluffs and towers of chalk and flint, which loom over the lush foliage around them like the walls of ruined castles."
As it happens, I don't read The French Lieutenant's Woman until after I've walked to and from the Undercliff. On my walk, I kick myself for this, which I view as another glaring omission, but later realise it might actually have been to my benefit. Without Fowles's vivid descriptions to prepare me, the place's utter strangeness hits me harder. There are landslips all over the Jurassic Coast but none of them are quite like the area immediately west of Lyme Regis. It is land folded over multiple times, terrain turned inside out, tilted towards the sun then stridently, surreally reborn. It has its own sound system, a wild mixing desk all of its own. As I walk through it, heading east, the sea growls on my right, unseen, furious, seething at the deep dripping foliage that prevents it from annihilating me, and from the top of the steep sliced cliff on my right someone seems to be making music by wobbling a giant piece of cardboard. In my head, I hear the ghost of the sound of the cliffs on all the occasions they have fallen through the centuries. Yet I also feel like I'm in a tunnel of deep soft silence. Vines hang everywhere to the extent that, if I planned it carefully, I could probably swing all the way from Axmouth, at one end of the landslip, over six miles away, to Lyme. I have never seen so much hart's tongue fern in my life. The Undercliff is a place that licks at all those who tread through it. No surprise, then, perhaps, that it's so often associated with romance and sexual tension. It is where the wealthy fossil enthusiast Charles, central protagonist in the French Lieutenant's Woman, and the enigmatic Sarah, spurned by a French naval officer and gossiped about in town, have their first kiss. I know a couple who met here while hiking, stayed up all night under the stars, fell in love, never forgot the night, then, against all odds, refound and married one another decades later.
In 1867, the year in which The French Lieutenant's Woman is set, cottagers, pigherds and dairy farmers still lived on the Undercliff, but gradually the cliff falls of that century made it too inhospitable. On Christmas Eve 1839 people living on the cliffs noticed pieces of plaster falling from the walls of their cottages and heard the snapping of tree roots. The following day coastguards at nearby Culverhole Beach witnessed the unforgettable, terrifying sound of two cottages, an orchard and 45 acres of farmland smash and crumble down towards the sea, millions of tons of earth leaving a chasm three quarters of a mile long, 300 feet wide and 150 feet deep. Looking up at the still standing cliffs, a mile inland, I get wobbly knees thinking about the size of the earth that has shifted here, the thundering bulk of it. I walk on through this beautiful mess made by nature, this tumbled dripping paradise, and I am amazed at how long it stretches on for, how little sight it affords of the two conventional landscapes either side of it, how hard it is to enter and exit (when it comes to the former, my own method is to trespass through part of the ultra-posh Rousdon Estate). As Fowles wrote: "People have been lost in it for hours, and cannot believe, when they see on the map where they have been lost, that their sense of isolation – and if the weather be bad, desolation – could have seemed so great."
The weather is bad during my walk: relentlessly murky and anxious, with a dampness that seems to stick to your actual bones. Does it induce desolation? Maybe not. But I feel a bit ragged: soaked and spun by the topsy-turvy landscape I've been in. I'm in a preoccupied sort of mood, but not one that is any stranger to me: wrestling with the usual inconsistencies between what's good for my creative soul and what's good for my future security. A walk usually helps sort it out. In Lyme Regis, the midpoint of my route, I give some money to a pleasingly stern elderly bookseller for a couple of curious-looking novels written by a now-deceased person half a century before my birth, then rue my decision as, rucksackless, I spend the next seven miles only half succeeding in keeping them dry. I look at the books: nobody has ever recommended them to me but people said gushingly passionate stuff about them, sixty or seventy years ago. These are the books I tend to read. The evidence is all before me, all the time: books get lost. Whether some people passionately love them or not is often very little to do with it. Yet still I wonder, again and again, why it's so hard, to sustain a career by writing books.
On the way out of town, I see an elegant pink Georgian house on the hill. The place sticks in my head. It's the kind of home you want to know the story of, from beginning to end. Later, at home, my research will lead me to discover it is Belmont, the house Fowles purchased, for £18,000, around the time he was finishing The French Lieutenant's Woman. The advance he received for the book paid for almost half of the house outright. For the time, it was an unusually huge amount of money to receive for a literary novel. Also unusually, the book was groundbreaking and socially astute and vivid and dramatic and involving. Also unusually, the book was made into an excellent, aesthetically stunning, original, award-winning film, starring Meryl Streep and Jeremy Irons. Also unusually, people still read and love the book today, and probably will continue to do so for many, many decades. All these things happen to very few books. Most books find themselves cruelly buried, sooner or later, under the rush of history. We just happen to hear so much more about the ones that don't.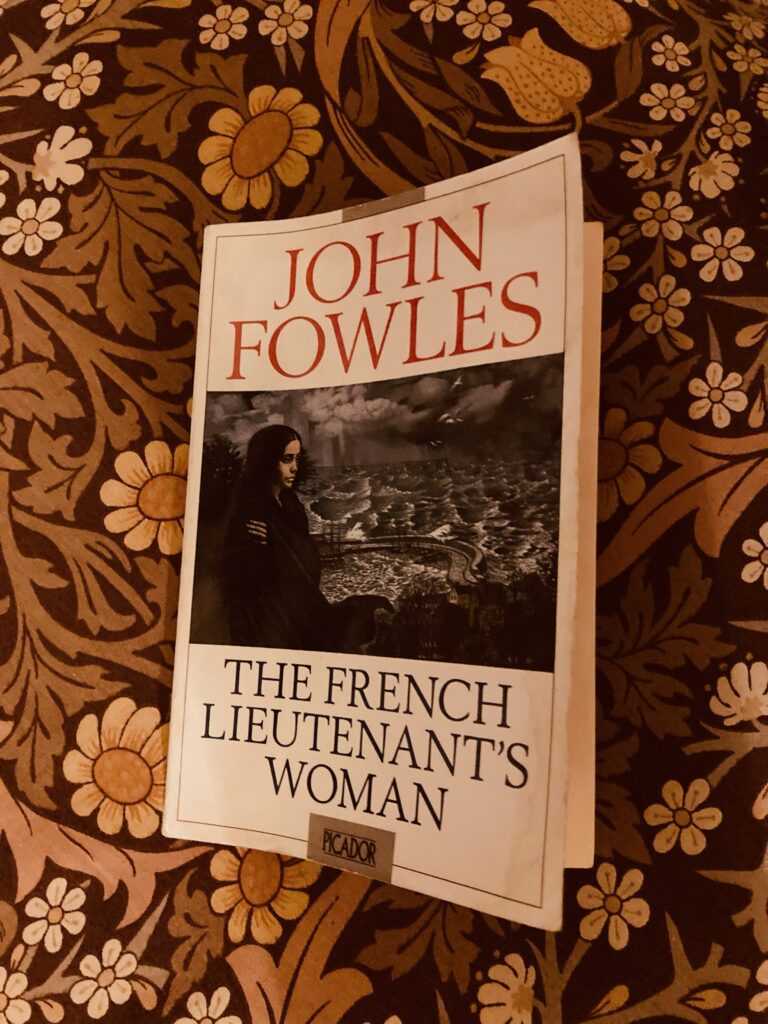 The route back inland to my car is all climb. I live in a place that's rarely outgradiented but this seems more steep and arduous somehow. I am put in mind of a plane ride from New York to London in the 1990s when I fell asleep while the plane's nose was still pointed upwards and dreamt that the pilot had forgotten to follow the curve of the earth and kept taking us up, up, up, forever. I hit fog at the top, which turns out not to be the top at all, just a figment of the top. I keep walking, higher, to the place I've parked, above this folded, terraced planet. The mistake you can make with Dorset, if you live in Devon or Cornwall, is thinking that because it's back in the direction of the capital, it's polite, manicured, not eerie. It's the mistake I made, before I started walking more here, before I decided to set my next novel here, before I started to realise the unique spooky otherness of its many quiet corners.
I keep walking, keep going up. A lot of things I pass seem to be sinking into the soggy earth: cars, sacklifter barrow trolleys, cultivators and other old farm machinery, children's bikes, three morose-looking cows blocking a stile. A much more gradual version of nature tidying up our mess with its superior mess than the version I saw in the Undercliff. I think about what gets buried and what survives. Art, objects, lives. I stagger to the car. I go home and read The French Lieutenant's Woman: it's as brilliant as I hoped it would be. A mid-19th Century book with a post-modern mid-20th Century narrator who regularly tells you that the characters in it aren't real, even though as you read you are aware that those characters are now probably as famous as anyone who actually lived in the Lyme Regis area in the Victorian era. I think about the actual lives lived in the Undercliff, now forgotten. I think about my own characters, who are just starting to show themselves to me, and how, if my most recent experience writing fiction is anything to go by, their lives will soon become, in a way, more real than my own. I think about how niche the world they exist in is going to be, how small and easily buried, what an illogical decision it is to make them exist, when I could make something bigger and simpler and louder exist. But then I remember that it's not a choice: I have to do this the way I need to do it. As for the rest, it's out of my control. And then another image emerges. A stranger is walking through a rainy, hilly landscape, many decades from now. In the pocket of their coat is a book that they are striving to keep dry. It's the one they bought from the dusty shop at the bottom of the hill. "I've never heard of this," the stranger thought as they picked the book up. "It looks really fucking weird. I might as well get it for Joan." I keep the thought in my head. I go home. I feel glad and lucky to have seen the Undercliff, just very marginally different as a result of it. I keep writing the book: the one I need to. For me, and for Joan.
My most recent books are Notebook, Ring The Hill, Help The Witch and 21st-Century Yokel. If you'd like to reserve a signed first edition hardback of my debut novel Villager with your name in the back ready for its publication in spring, you can do so here.
If you'd like to subscribe to this website for future writing, you can do so via the homepage.