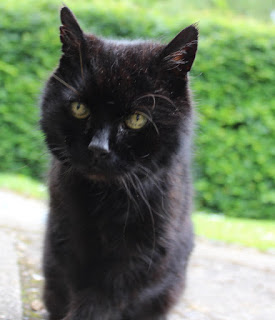 My cat The Bear died yesterday morning. I'm pretty sure I know the exact moment he died because at about 2.40am I woke with a full body jolt that felt like a benevolently intended electric shock and my house felt very different to how it had ever felt before. A few hours later, as the lazy winter sun was finally beginning to rise over the line of bare trees overlooking my house, I went downstairs and found him on his side in the hallway, lifeless. I wrapped him in the towel I'd been recently using to dry him after cleaning his increasingly matted fur, and buried him in the garden. I wanted to dig a grave for him under the yew tree in the spot where he'd loved to sleep for the last three summers, each of which had seemed like a miraculous extension of his long life, during which rain, clear air and sun seemed to be performing a magic natural spa treatment on his brittle old body. In folklore yews symbolise longevity and immortality, which would have been perfect for The Bear, but the ground was too firm underneath my yew. Instead I buried The Bear on the opposite side of my house, near my shed. I dug the hole deep, recalling that badgers had made their setts near here in the past, then remembered that my concerns were unfounded, since, prompted by dubious scientific "evidence" about the spreading of bovine TB, some bastards have recently shot pretty much all of the ones who used to live around here.
I remember writing about The Bear slowing down and my fears about losing him towards the end of 2012, not long after his seventeenth birthday, but I was wrong: The Bear wasn't slowing down then. When I look at photos of him from that period, and even at those from a year beyond it, what I see is a bright-eyed – if melancholy – cat with a shiny coat who was full of life and who most strangers mistook for a animal half his age. His actual slowing down was more a marked and painful thing to witness, although it was very gradual. First there was a hollow darkness around the eyes. Then an overactive thryoid gland that made it appear that overeating had the reverse effect on him that it has on most animals and people. After the weight loss came a pronounced arthritic wobble combined with unretractable claws that made it seem that he was tap dancing into any hard-floored room that he entered. He still moved fast, at any suggestion of food, exacerbating the campness of the wobble. 
In summer 2015, I realised his slight deafness had become a greater disability. What made me realise this was the time I was sorting myself some cheese on toast and set my kitchen smoke alarm off, causing my other three cats, Roscoe, Ralph and Shipley, to scatter but The Bear to merely sit at my feet, looking up at me in a way that seemed to say "Hello! Erm, did someone call?" The next, bigger stage of the slowing down didn't really occur until the end of this summer, when he lost the ability to groom himself and his arthritis reached another level of severity. Sometimes, he'd try to scratch an itch with his back leg, but not be able to reach, scratching thin air instead. If I was around, I'd try to find the spot and scratch it for him. I'm not sure that I ever got it quite right.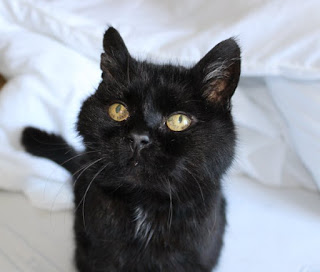 I will try not to write more than is necessary about The Bear here. My latest four books – the last ones I will probably ever write directly about him and my other cats – tell the story of his life pretty comprehensively. In order to give the third in the series a boost at a time when I was struggling financially and contemplating giving up journalism – a decision I've since made and firmly stood by – I set up a Twitter account for The Bear called @MYSADCAT. I knew that if this became successful it would come with its downside, as well as its ups. Strangers who live through the Internet to the extent that they cannot see beyond life lived on it became furious that I had placed photos of my cat in their Twitter feed and that I had exploited my cat to sell very slightly more books than I already did, for each of which I sometimes received a royalty payment of as much as 31 pence. And it is true: it had been very dreadful of me to go to each of these strangers' houses with a gun and train the gun on them as I shouted orders at them to scroll through a Twitter account and look at photos of my cat, especially when they had such busy existences and so much stuff they needed to get on with. It had also been dreadful of me to take photos of my cat as he followed me around my house looking at me sweetly, then transfer the photos to the Internet, accompanied by a deliberately absurd, carefully worded caption, when I had not even got my cat to sign any kind of contract or waiver. But those strangers were in the minority; as, much more so, were those who threatened to come to my house and kill my cat or announced they

 would celebrate his death. Mostly, I felt an enormous amount of love for The Bear radiating from my computer. A group of around two dozen bright, kind, lovely women who commented regularly on my photos of him and read my books became friends, then started to meet up in person, often supporting each other through tough times and personal crises. They named themselves The Bear's Army and proudly introduced themselves to me as members of it at my spoken word events. 
Because of this enormous love for The Bear, I am nervous that the amount of mourning for him might be unjustly outsized, and, perhaps, the messages of online sympathy for me. While I am of course grateful for the latter, they are unneccesary: I decided to be alone during the final hours of The Bear's life, and the few hours that followed them, but that was my own choice. I have plenty of friends around me who I know I can look to for support, if I need it. I've chatted to several of them and it's been cathartic and good. As far as The Bear is concerned, if he did have the intellectual, empathetic character I ascribed to him, I don't think he'd want you to mourn him. I think he'd want you to celebrate his life, maybe by doing a little something for someone else: refugees fleeing terrible situations or animals who have not had the luxuries he has had, since his awful start in life. I can picture people on social networks linking to this piece without having properly read it and saying "2016 deals its final callous blow", in that part joking but serious but part joking but actually serious way people do on social networks, but that's not true. This isn't a callous blow. It's just a natural ending to something good, that, as endings go, is as about as non-cruel as you could wish for. The Bear had an amazingly full and unusually lengthy life and for the last, prolonged chunk of it was clearly very content indeed, which probably explains his fierce will to stay here, in the land of the living. I tried to make it even better for him at the end, if that was possible. I feel certain that at my local village shop I am known as 'The Guy Who Buys All The Chicken'. They probably would never guess that I am a vegetarian.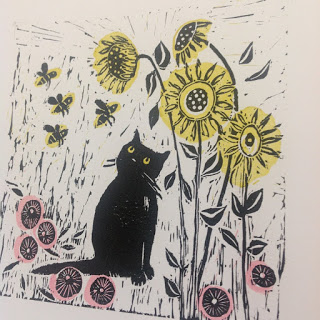 Linocut of The Bear by my mum
Cats are supposed to have nine lives. The Bear undoubtedly went through far more. A few weeks before his death, around the time of his 21st birthday, when he became old enough to drink in America but disappointingly unable to take advantage of that fact due to never leaving my garden, I made a list of the lives I could think of, which of course were only the ones I knew about, and not the others, which were no doubt numerous.
The time he was dumped on the hard shoulder of a motorway by his original owner

The time most of his fur fell out because he was allergic to fleas.

The time most of his fur fell out again because he was allergic to the treatment for the fleas.

The time he escaped from my old flat in London and was away for over a month and came back smelling of death and cabbage.

The time he got carbon monoxide poisoning.

The time my other, more thuggish black cat, Shipley, shut the lid on the cardboard box he was asleep in then jumped on the cardboard box.

The time feral cats ripped a hole in his throat then made rips in his ears so they looked like they had been clipped by a ticket inspector on a train.

The time he developed asthma, due to the hole in his throat.

The time my old nextdoor neighbour's elderly lady cat, Biscuit, broke his heart by refusing his gentle advances.

The time he somehow ended up on the opposite side of the river to my old house even though there wasn't a bridge.

The time he developed an overactive thyroid gland.

The time he fell in my garden pond.

The time he almost died from an abscess on his eardum.

The time after that when he was diagnosed with cancer, which then vanished.
I really thought 13 and 14, at the start of September this year, would signal The End for The Bear, and had prepared myself for that. Earlier in the summer, when he'd started to look more visibly elderly, I'd stopped putting new photographs of him online. He was a dignified cat and I wanted to preserve that dignity by not publicly charting his decline. I had also never wanted this to be a situation comparable to those experienced by other well-known Internet cats, even though I began to see how I could make it one, as I received – and ignored – emails from TV companies and newspapers about him, and others from strangers offering to pay for time in his company. I was always firm in my belief that the minor celebrity of his online alter ego should not have any effect on his actual life, other than in the form of extra chicken. The Twitter account existed because I wanted people to read about his life, read the books I'd worked hard on, and because I wanted to have the luxury of continuing to write many, many other books. That was all. I had seen another disadvantage to The Bear's online popularity, too: that for every person who read my books about cats and realised they were very different to other books in the notoriously syrupy cat book genre, and not entirely about cats, there seemed to be two other people who'd not read them but made a thinly gleaned assumption about what they were (and wanted to tell me about it). When the eardrops and antibiotics I gave him cured his abscess and, miraculously, the symptoms associated with the suspected tumour between his eye and jaw dissipated, I officially retired The Bear from the Internet. People still asked me every day if they could see The Bear but in all honesty I'd already gone on tweeting from his account for longer than I felt comfortable with.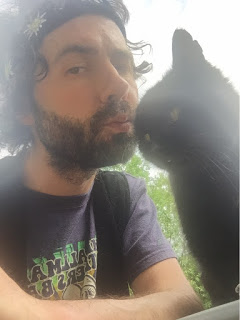 After that, The Bear had two very good months. Despite his wobblier and wobblier legs, he still jumped up on the coffee table and my bed. He still enjoyed being outside in the strong Devonshire sun and appeared to gain strength from it. But when he took a turn for the worse a couple of weeks ago I was aware there would not be yet another miracle turnaround. He could not go on forever, despite multifarious previous signs to the contrary. At the start of this week, I knew he was declining in a more significant way, and I suddenly became acutely conscious of the shining fur and muscularity of my three other cats, two of whom are 15 and a half themselves. It began to hit me how much time I'd started to spend looking after him, cleaning him and cleaning up after him. I thought about other elderly cats not lucky enough to have homes and decided to give my earnings for copies of my book sold this week to my local rescue centre, in the form of food. Immediately after his death, I took the proceeds of this, plus a bit extra, to the Animals In Distress shelter in the south Devon village of Ipplepen. The shelter thanked me, but I felt wrong for taking the credit; they should have been thanking The Bear. It was his idea.
Right now I'm struggling with a few of the standard feelings that come with the death of a beloved pet or person: an emptiness in the house, where a small comical and 

loveable

 and apparently deeply thoughtful presence once was. There is part of me that feels that by burying him only mere hours after I was stroking him in his favourite spot on his chest and making him purr, I have in some way thrown The Bear away, even though I know it's wildly irrational. I don't believe such feelings are untypical. Neither, probably, is the way my mind tends to dwell on its more upsetting final images of him. In fact, I think this is perhaps an important part of acknowledging what has happened. Overall, I'm doing okay and, mixed into the ache in my chest, there is a feeling that, above all, there is something to be celebrated here: a longevity so extreme and death-defying it made 

you

 laugh, a unique character, and an end that could have been far worse. Many would argue that kindness isn't in a cat's nature but if there was ever such a thing as a kind cat, it was The Bear. To my knowledge, he never killed or even attacked another living being. When other cats – and, on the odd occasion, seagulls – appeared keener for food than him, he willingly moved aside. When I was poorly or sad – and I know this is less unusual in a cat – he seemed to know, and move in closer. Friends who came to my house initially fell in love with Roscoe, Ralph and Shipley for more obvious reasons but left besotted with The Bear, enchanted by a polite, curious, almost philanthropic look in his saucer eyes. After seeing the state he was in on the night before his death, I had steeled myself and decided that the next morning I would take him to the vet to be put to sleep, that it was the best course of action for him, the only course of action. But I utterly, utterly dreaded it. That he saved me that agonising experience could be viewed as his final act of kindness: a last quiet gesture from one of the cat universe's gentler souls.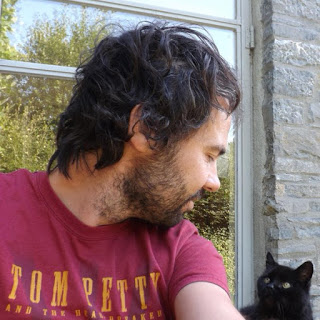 Read more about The Bear's brave, unique life
here
I don't write for any mainstream media publications and chose to put my writing on this site instead: around 200,000 words of it so far. I'd be delighted if you took the time to have a read of
some of it
. It's all free, but if you feel like donating a small monthly amount to help me keep going, you can do so either by
paypal or GoCardless
. You'll also find a subscription link on the home page if you'd like to sign up to be notified when a new piece is published.