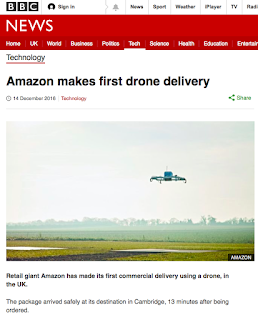 "Was informed that my package would arrive between 9.31 and 10.12 and that my drone would be Kevin. Package arrived at 10.43 and my drone was in fact Ian."

"Drone dropped my new iPod in next-door-but-two's garden pond, then fucked off back up into the sky. Jenny from nextdoor-but-two said drone flew in a slight zigzag, as if still pissed up from previous night."

"Drone went to the wrong door then complained that the distinction between functioning door and non-functioning door was not exactly obvious. I said it was quite obvious and that other drones hadn't had a problem with it. Drone stood its position and grew surly and resentful as if making several bitter snap judgements about my life."

"Please send a second drone. I shot my drone out of the sky, mistaking it for apocalypse. My aunt's Christmas bath salts were destroyed in the process."

"Drone left package in wheelie bin. Bin has since been collected and driven to the town of Newton Abbot. Have phoned Newton Abbot. Newton Abbot has said it cannot help."

"Drone delivered at night time during heavy smoking session with Pete. Pete freaked out at drone, believing drone was an alien craft from another galaxy, and began to throw pine cones and other loose garden paraphernalia at drone. Drone panicked, and flew into chimney. Chimney built in 1876 very solidly, by well-known local building firm better known for refortifying churches, castles and other large structures. Drone now dead, or perhaps just stunned. Please send help."

"Drone made slightly invasive comment about how often it delivers here."

"Drone said package looked and felt like an LP and asked if it was. Confirmed to drone that was exactly what package was. Drone asked what LP package was, specifically. Told drone it was Aretha Franklin's 'Aretha Arrives' LP, from '67. Drone asked if it was an original pressing. Told drone it was just a modern repress. Drone said it didn't really matter – it was a great album, whatever the case. Invited drone in to listen to LP and made drone two cups of Earl Grey. Listened also to Roberta Flack's 'First Take' from '69, and Marlena Shaw's 'Who Is This Bitch, Anyway?' from '75, before drone left. Saw drone in town next day, flying above Tesco, and waved to drone. Drone just looked blankly into middle distance. Can amazon ask drone if customer did anything wrong or if drone in fact saw customer, or perhaps give out drone's personal phone number or Snapchat to customer, if easier?"

Read my latest book, or the one before.

Why not take out a voluntary subscription to this site?