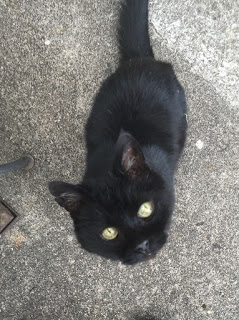 We often tell ourselves being a cat would make for a lovely life, what with the naps and the diminished financial responsibility, but in fact the world of a cat is a cold, brutal one. I sneezed in a record shop yesterday and a stranger a few feet from me said "Bless you!" and I said "Thanks" and she said "That's ok." It was really nice and could easily have gone on for much longer, if both of us had had nowhere else pressing to be. Compare this to earlier today, when one of my cats sneezed, and my other cat was like, "Do that again and I'll cut you." My cats get offended by me pretty easily. My large hairy tabby Ralph has been known not to speak to me for days, purely on the basis that I unfolded a metal clothes horse within six feet of him without considering how it would make him feel. Last week, when I didn't get to the shop selling his brother Shipley's favourite food before it shut and was forced to substitute it for an inferior brand, Shipley sat outside in torrential rain for a whole afternoon, just to punish me. But even this is nothing compared to the kind of dark resentful shit that goes down between the two of them and their female housemate, Roscoe: a carpet soap opera of bottled up grudges, petty office politics, stolen property (usually pen lids), backbiting and accusatory stares.
The exception to this amongst my cats is The Bear, and this is probably because he is not so much a cat as a polite, pacifist poet who happens to be trapped in a feline body and is making his best of a bad situation. The Bear has never gone in for the petty squabbles or attention-seeking power plays of other cats, and chooses to "meeoop" gently at me or nod subtly in the direction of the food cupboard when he wants to be fed. When Shipley has tried to square off with him or challenge him to an arm wrestle, his response has usually been to scuttle off and hide in the nearest cardboard box. When he looks into my eyes, as he does often, it feels less like he is asking for food and more like he is asking me for solutions to the world's problems. I haven't got any of the latter, so I settle for the former: usually as much of it as he wants, because he's nearly twenty, and I feel blessed to have been able to know him for the last decade and a half. Today I spent more on his dinner than I did on mine. Fuck knows what's in the stuff I got him but from what I can work out it comes with its own croutons.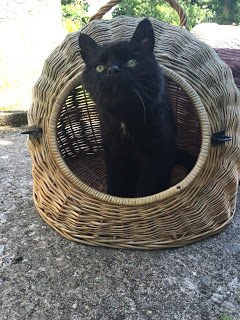 What has changed about The Bear recently is that he's gone a bit deaf, although this hasn't made him any less polite, just polite in a louder kind of way. His two main noises – the "meeoop" and his half-meow chirrup, both of which were always very soft and mild – have evolved into a completely new noise. This noise is quite hard to describe but I think the best way I could put it is that it's the kind of sound a particularly friendly bumblebee would make if it was a foot high and came to live in your spare room. The Bear, of course, has no idea he's being newly loud. When he meows at the fresh bowl of water I keep on the bathroom floor for him, which for some reason he seems to be in love with, he believes he is singing the water a gentle, private lullaby. He has no idea that, not far away, people are breaking off their conversations and asking "Who is that mournful old lady that I can hear wailing to herself? I wonder if she recently lost her husband." Another rather sweet effect of his deafness is that is seems to have completely nullified the lifelong intimidatory hold Shipley has had over him. Now, as Shipley appears alongside him, his reaction is less "Oh no! Hide! Quick!" and more "Oh, it's you! Hello!" In turn, this has killed the joy of the chase for Shipley, who will now often be seen calmly resting top-to-tail with The Bear under the yew tree in my garden.
The moment when I properly realised The Bear was going deaf was a few months ago, when I was grilling myself some cheese on toast and feeding all four cats mechanically recovered meat and the smoke alarm went off. This smoke alarm is the most industrially piercing I've ever had and, at the first sound of it, Roscoe, Ralph and Shipley hotfooted it out of the house. The Bear, by contrast, sat at my feet, looking up at me with an expression that seemed to say, "Hi. Did you call?" He always had very good hearing in the past, and would appear almost instantly, upon hearing the loud whistle I deploy to call the cats in. Now he can only just hear me when I whistle, but it doesn't really matter, as he's always around. The Bear looked like he might be slowing down and becoming an indoor cat at the end of 2013, when I moved temporarily to a dark bungalow without a garden in Norwich, but since I moved to Devon in March last year he's been very outdoorsy, preferring to sleep on either my back step or in a The Bear-shaped indentation in my lawn which I call The Bearhole, but he never actually leaves the garden. The fresh countryside air here in Devon is one of the things that I convince myself has extended his life, along with the rubs I give him in that spot on his chest he especially likes and the fact that I tell him "I love you, The Bear" every day.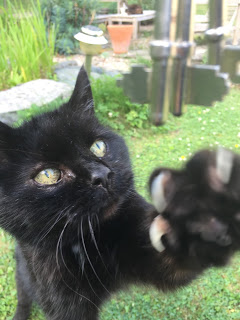 I had a garden party last weekend. It wasn't really meant to be a garden party. I'd initially envisaged it as five or maybe six people sitting on my lawn talking quietly about owls, but before I knew it someone was barbecueing corn on the cob and someone else – okay, it was me – was putting on a Chic LP back-to-back with 'Pump Up The Jam' by Technotronic. The Bear has become increasingly chilled out and sociable at parties over the years, but, unexpectedly, a couple of small kids came to this one, and I think they scared him and the other cats a bit, in their Pepsi-fuelled enthusiasm. I didn't find him for quite a long time the next morning, which was worrying, when you combine the facts that he can't hear my whistle unless I'm very close, he's never left the garden, and the vast undergrowth surrounding my house has never been higher than it is right now, at the end of a rainy summer. By the time I did locate him, under the sole bush I'd not previously looked beneath, I was pretty much vowing never to invite another human being to my house again, let alone ever have another party.
The Bear gave me a kind of "It's all cool, man" look but he was off his food for the next twenty four hours, which is unthinkable for him. He seemed slower and creakier – had he been injured in the night? – and I began to steel myself for the worst. In fact, I've been steeling myself for the worst with The Bear for years. Even if I'd not got round to steeling myself for the worst of my own volition, I probably would do anyway, due to all the reminders I get from a certain kind of stranger who periodically drops by my Facebook page and instructs me to. "Your cat is very old now," these strangers tell me, from diverse corners of the world (though mostly, it must be said, Middle America), perhaps mistaking me for a simpleton who believes that cats age like humans and 20 is the time that a cat will just be finding out who he is, falling in and out of love, and living it up on Spring Break. "I hope you're ready." There is no denying it: my cat version of David Attenborough is very old now, even older than the real version of David Attenborough, but he's happier than he's ever been, and only a day after his little dip in form, he was meooping his love song at his bowl of water again, enjoying a chest rub, chewing enthusiastically on a fresh chicken breast I bought him, then sleeping happily in The Bearhole. A few days on, he's back to 100% Bear. Yesterday I saw him hurl his arthritic body through the catflap with his paws out ahead of him, like some cat version of superman, then chase – but not kill, never – a moth.
And that's what he is in a way: Polite Cat Superman. Deaf Cat Superman too, of course, now, but in the end, he does not seem noticeably diminished by it. You could even argue it's done him as much good as harm. After all, the audible world is full of humans discussing unsolveable problems, which a cat, even an unusually sensitive and empathic one, can frustratingly do nothing about. And as for other cats: well, they just talk a load of crap anyway.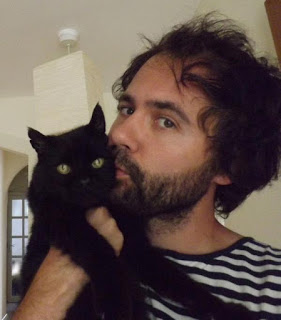 Subscribe
to this site for more pieces like this in your inbox.