I was waiting for a call from the vet to find out if my cat had survived an operation to save her life so I took myself out of the house and onto Dartmoor. It was no sane weather to be on the moor, but it felt like the right thing to do. As I walked I plotted a route hastily on my increasingly soggy and dog-eared OS map: six and a half miles, rising steeply from the flat land, past the appealingly named village of Owley, then around the back of the desolate expanse of Ugborough Beacon, returning over its peak. A short hike, by my current standards, but by no means an easy one.
I entered the edgelands of the moor via one of its most gothic gateways, beneath the tall Victorian railway arches supporting the London to Plymouth line. By my reckoning, by the time I returned, the surgery would be finished, and the vet would be due to call. Ahead of me the Beacon was hidden in plumes of occult-looking cloud. Gloopy churned mud slowed my progress: arable winter Devon encapsulated in each footstep. I looked forward to getting onto the high part of the moor, which, though much wetter, would have better drainage that would make the going smoother underfoot.
My phone rang when I was barely halfway to the summit, before I reached the part of the moor where reception became a figment of another world. It was Dermot, one of the two excellent vets who'd been working on my cat. He was partway through surgery and wanted to tell me that the infection from the dog bite my cat had suffered, and the resulting internal damage, was worse than he'd suspected. He felt it best to warn me now, due to the risks involved and the greater financial expense. The money had not been an issue for one second since I'd first rushed my cat to the surgery nine days earlier: I am far from economically secure and choose to do a job in which that situation is unlikely to change but I would have found a way to cover it, whatever that meant for my own future.
I listened carefully, learning even more about the inside of my cat than I had already since last Monday, which was a lot. As I heard about all the damage done to my sweet undersized cat by the large jaws of a dog let off its lead by its negligent owner in a place where it wasn't even permitted to be, the rain rat-a-tatted more heavily on my anorak. The two largest segments of darkness in the sky looked like a pair of bullies edging in on what pathetic slither of daylight there was. I looked up towards the moor, two droplets of rain ran down my cheeks and I felt like I was in a film scene put together solely to labour the point of what a relentless unforgiving bastard winter can be.
I am enchanted by the winter countryside: with the spooky myths that stick timelessly to it and the stark folk ballads that compliment it. I like to marinate in them, for a while. Utimately, though, I'm a spring and summer person. I struggle with winter's dark and, the more rural you get, the more that dark can overwhelm the senses. For some people the tough time is January and February. For me, it's always been December: that sensation, growing more acute as Solstice approaches, of each day being a narrowing wedge carved out cold chunks of black. This is why we invented Christmas, but Christmas has its limitations as an anti-depressant. I am fond enough of of the day itself but am not a fan of waste or forced jollity, which doesn't make me especially well-disposed to the build up to it. Once New Year arrives my spirits begin to turn in a better direction, all the way to April and May, by which point I'm so giddy in the sweet humming air that I want to climb every tree and kiss every bumblebee I lay eyes upon. I've been the same all my adult life, although it took me a while to properly recognise it.
I was perhaps more aware than ever of the darkness approaching this time: more conscious of my need to look after myself at the end of a tough year, more conscious that I live in a relatively isolated place, near friends but hundreds of miles from my family and the other people closest to me. I'd not been doing too badly but then on Monday last week the youngest of my four cats – Roscoe, who is actually a girl – dragged herself into the house bleeding from several parts of her lower body. It is at time like that you realise just how precarious you are in the height of winter. What if several other awful things happened too? Who was to say they wouldn't? How do other people survive through that?
A few weeks ago I went to a pub on Dartmoor – not one of my favourite pubs on Dartmoor, it has to be said – and apropos of nothing, a man tried to lure my friend Laura and me into his offensive impromptu lecture about the UK's current terrorist threat. We listened to his tiny misinformed viewpoint about the Muslim faith and his "Christian country" and did our best to change the subject, realising that saying what we actually thought – that he was a dicksplash, for instance – would change nothing for the better. I wondered what had made the man obsess about Muslim terrorists like this, here in one of highest parts of the UK's South West Peninsula above sea level, surrounded almost entirely by sheep, ponies and moss. Was it those Muslim terrorists I'd often witnessed sitting about looking shifty in the Bronze Age hut circles at Grimspound, plotting the downfall of western civilisation? Or perhaps it was the Muslim terrorists you constantly saw paddling down the River Dart these days, in their terrorist canoes, from the river's hard-to-locate source at Cranmere Pool? It was clear that it was his very insulation and separation from terrorist attacks that had made him more irrational and fearful. I could not relate to this, but I do often fear winter more irrationally when I'm slightly insulated from it. When I'm at home, protected from winter by a roof and central heating, it seems much more frightening, plays on my mind much more malevolently. This is part of why my method of conquering it is to face it head on. I walk through its gaping jaw, voluntarily, spontaneously, when I should be doing other stuff. When I do, the rain and wind somehow don't seem as scary as when they're hammering my bedroom window at night. Invariably, I feel better afterwards.
Some might argue that today I had chosen to look winter a little too squarely in the face. On a teeth-chatteringly cold day back in February I helped with the conservation of a Bronze Age stone row only a mile or two from here but next to this that lingered in the mind like a humming spring day. Leaving the farmland behind and approaching the Beacon what I saw ahead of me now was a dreary, drenched otherwordly landscape of gradually fading visibility. When hard-bitten veterans of the moor told me that there was a certain kind of Dartmoor weather you shouldn't be out on your own in without an experienced companion and a compass, the scene ahead of me was pretty much what they were talking about. I knew that visibility would only reduce itself as I climbed, and the already somewhat nebulous paths would become less defined still.
You couldn't even call this rain any more; I was walking through the middle of that occult cloud I'd seen earlier. It arguably seemed even more occult when you were inside it. In three miles, I had not yet seen another human, but ahead of me I spotted two black dogs near a dead tree. Before I got closer and made them out for what they actually were – sheep – my heart skipped a beat; not because I believed they were the Devil's Wishthounds of Dartmoor legend but because ever since the attack on Roscoe the sight of any dog has triggered a new unease in me.
I'd initially blamed Roscoe's injuries on another beast of formidable size: a giant, excitable stray cat, probably a Bengal cross of some kind, whom I'd hastily named
Uncle Fuckykins
and who for the last three months had been living in my garden and garage and making her life a misery. It was only when the vet had fully examined Roscoe that I realised the absurdity of my suspicions and how uneccesarily hard I'd been on the cheerful Fuckykins: these bites had all the hallmarks of dog – probably a big one, at that. She was extremely lucky to be alive and would need extensive surgery. Then I had a moment of clarity: I remembered, earlier that same morning, before Roscoe dragged herself through the cat flap, being awoken by the sound of a man running, behind my garden hedge, his frantic shouts of "Oscar! Oscar!" It was a very similar sound to the one I'd heard coming from the owner of a Short-Haired Pointer called Poppy who'd bitten me on a walk
last year: that of a posh, weak man who cannot control his dog. Of course, the unseen man running after the dog behind my hedge and the attack on Roscoe could have been a coincidence, but it seems unlikely.
A couple of positive elements of the story did at least emerge over the following couple of days. I was determined, if Roscoe came through this and returned home, to make her life as comfortable as possible, so, having taken her to the vet, I rang around and got hold of a cat trap from Cats Protection. A couple of days later, using some of the cat food that I think of as Posh But Smelly, I managed to lure a frantically meowing Uncle Fuckykins into this knee-high prison then transport him to the care of a nurse at the vet's, who ran a scanner over his back. No price came up for Uncle Fuckykins – I sensed that if one had it would have been extortionate – but the scanner did tell us that he already had a registered home. While the nurse checked her computer and left the room to telephone his original owner, Fuckykins leapt onto my lap and marched up and down on it, as if gently preparing to go into a battle. The news that came back from the other room was a combination of the surprising (his actual home was seven whole miles away) and the unsurprising (his original name was not Uncle Fuckykins). Much-adored and answering to "Mogs", he'd been missing since May, which probably explained why he was currently attempting to extract seven months of love from my thighs all in one go.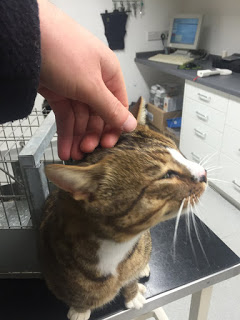 I felt uncomfortable about making an announcement about my gravely ill cat on Twitter, a place where sociopaths have sent me pictures of cats killed by cars and wished death on one of my other cats, apparently due to his thoughtless habit of being fairly well liked as a cat and sometimes being retweeted into their timeline. But there are also people on there and Facebook who are very much not sociopaths and who have got to know Roscoe through my last couple of books, and I ultimately felt they deserved to know. After I'd posted a screenshot outlining the incident, something happened that astonished me: without being asked, many of my readers got together and donated to the cost of her surgery via this website.
Roscoe came through her original surgery with apparent success and, five days later, I brought her home, along with two drains attached to her to catch the fluid from her wounds, and a small hospital's worth of medication. But something about her did not seem right, even taking into account the ordeal she'd been through. The following day, with a high temperature, she was readmitted to the vet's; it was found that the infection had re-entered her abdomen and the decision was taken to operate again. With every step of the way, I felt more helpless, more angry towards the owner of the dog, whose guilt – unless his conscience got the better of him – I would never be able to prove. She'd always been my most aloof cat (or perhaps just my most "cat" cat, in contrast to the three embarrassingly needy half-cats she lives alongside) but recently, possibly due in no small part to the reign of Uncle Fuckykins, we'd bonded like never before and she'd slept on my bed every night for weeks, burrowing into my side for warmth in a way that could be kind of annoying sometimes but which I now missed terribly. I hated to think of her alone, in pain, not knowing why she was where she was. As I pressed on through the mist, I was gripped by the conviction that I was walking purely for her. Yes, it might be safer for me to turn back, in view of the weather, but this was not about me.
With each step, the cloud around me was getting thicker. Another, even more indomitable Wisht Hound moved across the path ahead of me: a horse, this time. That's if it was still the path? At this stage, I was only using the trickle of water running down it as a guide. I was aiming for Squirrel Cross: surely one of the most sarcastic names on the moor, since there could be few less squirrely places in the British countryside than this. I gave thanks for that compass my parents had bought me last Christmas, for my moorland walks. That brilliant useful compass, sitting back on my desk at home.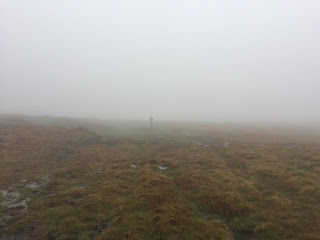 The cross loomed out of the gloom like an alien totem: half a cross, really, at best, with a worn stone face that reminded me part of Zardoz, part, incongruously, of TV's ALF. Four paths diverged from it, and I took the first left hand one, at a slight diagonal. After less than a minute, it vanished. For the next mile I used some kind of path instinct that's probably very primal but also tied to a trust that's perhaps grown out of seven years of completing at least one rural long walk per week. I could not have definitively said what I was on was "footpath", only said that what surrounded it was fairly definitively "not footpath". Prehistoric bird shapes swooped in the gloom ahead and the wind shrieked its character

assassination

in my ear.
I'd seen the Beacon scowling at me so many times, dominating the landscape on the stretch of the A38 between South Brent and Ivybridge, but I'd never imagined it could be this otherworldly and ominous on top, like that one planet people talk about in a sci-fi film but which nobody actually goes to because it's near devoid of life. The path began to go downhill: a sign that I would be out of here soon. I was surprised to feel a marginal tickle of relief. Earlier I'd been thinking, in a quite accepting way, that it wouldn't be such a bad place to die, Ugborough Beacon, and that at least I could do so knowing that my last book was my best one, even though I never got to write all the others which were supposed to be much better than that. The mist cleared and the turf around me widened out into what looked oddly like golf fairways. This was because they were golf fairways. I knew the golf course. I planned to play it in a couple of months, in another bout of self-punishment. I was almost back. I still had not seen another human.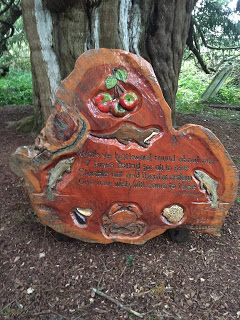 I drove home, opened my front door, peeled off most of my sodden clothes. Other clothes – clean – hung on radiators. They were on the radiators because Roscoe wasn't here to stretch up and pull them off the radiators with her paws then sleep on them. The phone rang. It was the vet. Roscoe had woken up from her anaesthetic.
They'd done their best for her and she seemed reasonably bright but there was a long way to go and only the coming days would reveal if the operation had truly been a success. I had been on walks of at least four miles every day since her accident. I remembered the toothache and backache I'd been suffering from for the last fortnight: mysteriously absent, for just a few hours, but now back with added interest. I ran a hot bath, thinking that it was time to rest for a day or two, and also of all the work I had been postponing. Early the next morning, though, I set off again, through steep crevices cut in the steep hills a few miles from my house: red earth paths and water lanes where you could be quiet and alone. I knew where I was going but it was only when I got to the churchyard in the village centre that I realised why I had truly gone there. Beside the lychgate at the entrance to the churchyard stands a yew tree estimated to be 1000 years old. Its gnarly limbs grow down around and on top of gravestones. Legend has it that if you walk backwards around the tree seven times without stumbling "one true wish will come to thee". It's the kind of thing I might not have done alone when I was younger, for fear of looking silly in front of a potential passing stranger, but I don't give much of a fuck about looking silly these days, nor about who sees it. After I'd completed the seven circuits I decided not to speak or think the wish, being of the opinion that the yew tree, or its mystical guardian, would be wise and intuitive enough to know, and would feel patronised having it spelled out in neon. I walked the seven miles home front ways, aching, with night chasing me all the way. I called the vet again: Roscoe was eating well, her temperature good. She was still very sore and weak but with luck, she might be home in four or five days. That was three days ago. Two more, and who knows? I might finally be able to stop walking.