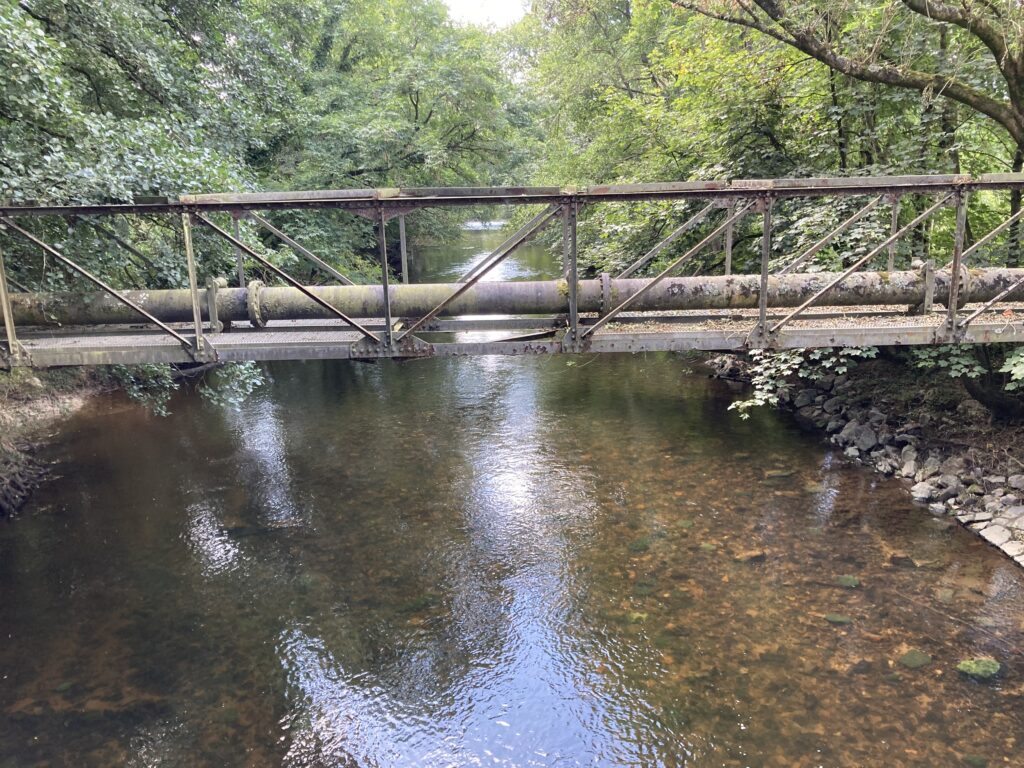 It was a grey drizzly day so, for no pressing reason, I decided to go to Newton Abbot. Several people had warned me about Newton Abbot – whose many local nicknames include 'Mutant Rabbit' – when I first moved to Devon, at the beginning of 2014. "Just whatever you do, don't live in Newton Scabbot," they said. "Don't even go there." So, being somebody who likes disobeying orders and is chronically interested in places, even allegedly grim and soulless ones, I soon began to visit Newton Abbot on a regular basis. But, in over seven years, I'd somehow neglected to walk the edges of the town, and try to gain the greater understanding of a place which that brings. I felt it was an oversight I needed to correct. In the drizzle, then in the sunshine, I walked along the River Lemon, past ruined industrial buildings whose purpose has long since been forgotten and the Puritan's Pit, a twelve feet-deep cavern where the Rector Of Wolborough, William Yeo, used to preach to his non-conformists after refusing to acknowledge the post-Restoration act of uniformity. I walked to the town centre and bought a 1970s bedspread for £4 and – for £10 – a super obscure scratched Algerian drone record from 1972 which played without so much of as a click when I got it home. A party of mourners spilled cheerfully onto the street from the Teign Cellars pub. Half a dozen young men, also dressed in black, all with severely shaved anti-sideburns, took a sandwich break behind a warehouse, looking far more mournful than the mourners. "I LOVE YOU MOM," announced some graffiti on the more attractive neighbouring warehouse, which, despite being in the process of being upended by at least one tree, still appeared to contain electricity and working offices. "Is this Totnes?" a man in the centre of town said. "No, this is Newton Abbot," replied a woman, unable to suppress a small chuckle. I felt glad of Newton Abbot for being Newton Abbot, certainly no less glad than I felt of Totnes – which lies three or four hills and worlds south west of Newton Abbot – for having a well-preserved medieval grid system and an imaginative brewery and an ethical dosa stall, but I worried about just how much Newton Abbot there now was of Newton Abbot. On every side of town, the living tissue of the land was being removed, leaving scars of bland rust-coloured soil awaiting the anointment of fresh concrete. I wondered about the farmhouses and cottages just over the next hill from these sites. Did they watch the green brow above them apprehensively, waiting for the inevitable day when the next lot of spacious but stylistically braindead housing hurtled down towards them? I went home, came back two days later, walked up into the imperious quiet of Wolborough Hill, where business owners confidently built vast homes after the South Devon Railway Locomotive Works arrived here in 1846: homes up little winding drives, homes separated from their neighbours by thick tree lines, homes with gates in walls, homes that say "I was built for a person who is unshakeable in their confidence that they are important and will live an important life" in a not dissimilar way to the way the homes of Hampstead and the Clifton region of Bristol say the same thing. Even here, right on the crest of the hill, just before a vista opened up towards Asda on the other side, a new development was in progress. A temporary wooden gate shielded some of the construction. On the gate was a photo of one aspect of the hillside. The photo's wish seemed to be to assure prospective buyers of the high class executive homes that, despite all this, there was still a bit of greenery left, so they needn't feel guilty about their purchase. I thought of Michael J Fox in Back To The Future, hiding Doc Brown's DeLorean near the new estate in the 1950s, and how I always worried that someone would find the DeLorean, even when I'd seen the film three or four times. I remembered a part of my life I often forget, when I was fourteen, and lived briefly on a new estate: a very different estate to this one, in a very different part of the country, which it now strikes me was the last inking in of a line of unbroken housing which stretched all the way from Nottingham city centre to my school, six miles to the north. I walked across the building site to my friend Louise's house on the other side and then to the bus stop. I was followed on this walk in the early days by my very sociable and adventurous cat Monty and then, when a few more houses were built, by a couple of girls who once pinched my bottom and seemed frightening and exotic, mainly due to the fact that they attended a different school to mine. After two more years, houses stretched all the way to Louise's, half a mile away. Saplings appeared on blank lawns, including the one my friend Ollie accidentally crushed in his Ford Fiesta when he had a hangover. An awful pub appeared and I secured a job at it. All of what had been here had been blandly and succinctly blotted out, as if it had never been there, so a line of men could wash their cars here on a Sunday morning in front of their identical front doors. But some of what had been here still was here, such as the mineshaft under our garden that later made it difficult for my mum and dad to sell the house. Now, in Newton Abbot, I thought about the Newton Abbot underneath the Newton Abbot I could see. I got my map out regularly. "Are you lost?" people who saw me looking at the map said to me on the edges of Newton Abbot, because Newton Abbot is the kind of place where people don't like to think of a stranger being lost. But I wasn't lost; I was just studying shapes and contours and names – Greatoak Cross and Milber and Coffinswell and Stubbins Cross and The Brake and Maddacombe Cross and Pit (disused) – piecing together the Newton Abbot under the Newton Abbot I could see, the Newton Abbot that, in the 13th Century, was the new town of the abbots of Torre Abbey, then in medieval times specialised in serge fabric and fellmongering, before its railway industry expanded the town's population ninefold between 1800 and 1900, when my great grandma, Kathleen, was born in one of the local workhouses. ("Once I knew a dear old lady who, when the icy air of unkindness froze her soul, would always say, 'I think I will go to Newton Abbot.'." wrote the author Mary Webb in the 1920s.) I walked to the Stover Trail, the cycling route on the site of the old Stover canal, where granite rails from the old Haytor Granite railway were recently exposed, and what looks to be some form of nascent industrial age rocket or giant rolling pin but is in fact a clay drill. It was sunny on this third leg of my Newton Abbot explorations and I wore my favourite old straw boater. A dog growled at me. "I'm sorry: he doesn't like hats," the dog's owner explained. A bin raged with plastic bags of dog poo, reminiscent of a poisoned river at the very last point before it overflows its banks. 'There's No Such Thing As The Dog Poo Fairy,' said a sign on the bin. Precariously on top of the dog poo bags was balanced a used can of spray paint. In the woods not far out of town it is said mysterious galloping is still often heard: the sound of a ghost horse from the old stables at nearby Bradley Manor, still looking for the rider who fell off it and broke his neck over three centuries ago. "I've got my appointment to have wires put in me for 24 hours," said a passing woman with an Asda bag. Further on, where enigmatic pipes bridged the river, a boy of ten or eleven was playing football with a creakily moving woman of well over seventy, who I took to be more of a nan than gran figure. The boy encouraged her to have a try at scoring from a free kick aimed at a nebulous goal. From her tentative run-up, my expectations were not high, but her moves were startlingly nimble, her ball control deft – cocky, even. She had clearly played at national, if not international, level in her youth.
You can reserve a special first edition hardback of my novel Villager – which will be published next spring – here.
My latest book is called Notebook. I recommend ordering from Blackwells, who are independent, and do not cost the earth, even if you need it posted to an address outside the UK.
Have a listen to one of my audiobooks.
If you'd like to subscribe to this site, and support my writing, you can do so via the homepage.