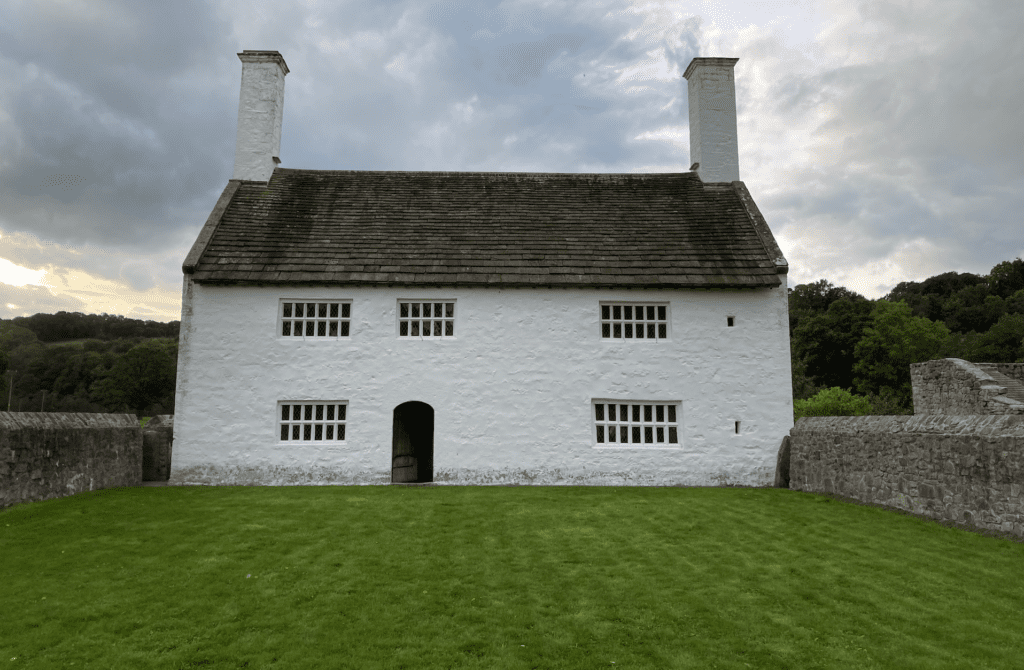 I have quite a lot of ivy on my house. I had quite a lot ivy on my house when I moved into it this time last year, too, but since then it's been hard at work, behind my back. "Do not mind me," says the ivy. "I will just quietly get on and call you if I need anything." It looks nice but it has a plan, which is to bring stones and tiles and timber crashing down onto all that is precious to me. But even that is part of a much bigger and more dastardly long term plan. I neglected ivy once before, at a house where I lived many years ago, and it came through the walls and ate my central heating, which cost a lot of money to put right. If you're a walker, particularly in the west of England or Wales, look at the ruined farm buildings you pass and the truth is plain to see: when all this is over, and all we have built is left uncared for by human hands, what will remain is ivy. Layer upon layer of the stuff. You can see a vast black curtain of it on the Welsh Tudor manor house Dolbeyldr, already starting to have its way with the place, on a photo taken in 1905. Back then, a girl called Margaret Williams lived at Dolbeyldr. In the orchard behind it, she and her family kept bees, pigs and sheep. To make her route to school more exciting, she would sometimes cross the river just beyond the orchard wearing stilts. But from 1912, when Margaret's family left Dolbeyldr, until the end of the 20th Century, the building was left unoccupied. Gradually, the ivy did its thing, and by the 1980s the house was roofless. This is how it remained until 1999 when the Landmark Trust began an epic project to restore it to what it once was: something uncannily close to the state you might have found it in upon visiting it just after it was built, in 1578, albeit with flush toilets, electricity and a modern kitchen island.
We arrived a couple of weeks ago at Dolbeyldr, in the underdiscussed county of Denbighshire, as you should arrive at any very rural house you're staying at in an unfamiliar landscape: in total darkness. Tired from your long journey, you think you're solely focussing on not driving into a field or river by mistake but another part of your mind, unbeknownst to you, is working overtime guessing at what else is around. Sleep becomes a mildly delicious wait to find out if you've got it right: a topographical Christmas Eve. The next morning, as you wander out the front door, it's never quite as you imagined. Dolbeyldr's immediate surroundings were more soft focus than my subconscious had guessed. The track leading down to the house is steep and heavily rutted but this is not mountainous, rocky country. That's just nextdoor, in Snowdonia, but feels further away than it is. The name of the house translates as 'Meadow Of The Rays Of The Sun'. It feels like a place suspended in its own reality, hung below the surface of normality in a hammock of green in quiet hills that people often overlook on their way to visit more famous ones. It feels like somewhere that could write a novel for you, in its own particular language, if you stayed in it long enough. Here in 1586, the house's first ever occupant, Henry Salesbury, did not quite do that, but he did complete his Grammatica Brittanica, a plea to formalise the Welsh language at a time when Henry VIII was insisting English should be the language of government: a widely-read book at the time but which is at present still awaiting its first star rating out of five on GoodReads.com.
In the days leading up to our three night stay at Dolbeyldr, my head had been full of buildings, crammed with tangled, conflicting notions of the meaning of the word "home", ponderings about the shifting nature of escape and tranquility, both in my own life and in the world. At Dolbeyldr, I inevitably thought about it even more, from a Dolbeyldrian perspective. It is a huge house, much bigger than it looks from the head of the valley it is in, or in any photograph. The lower of its two fireplaces isn't vastly different in size to the whole of the studio flat I used to rent. I could have probably held a decent-sized spoken word gig from the bath without any paying punters being squeezed out of the room. It was a delight to spend half a week here, soaking up its history – a dizzying history more than double the length of that of many houses I have stayed in and not incorrectly viewed as "old" – but I don't think I'd want to live at Dolbeyldr. I'd slide around like the last match in the box. The amount of space would be slightly embarrassing. The small green-tinged diamond quarry panes in the windows would leave me yearning for skylights and midcentury doctor's surgery waiting rooms. Then there'd be the heating costs, and the cleaning.
As a walker, I can't pass a ruin without climbing into it, examining it, taking its pulse. Had my childhood been spent in 1980s Denbighshire rather than 1980s Nottinghamshire, I would probably have made a den inside Dolbeyldr, just as I made a den on the spoil heap near the house where I spent most of my childhood. I would have climbed the tree that was at that point growing out of its westernmost end and come home happy, with bruised knees. I am 46 now, and that impulse to climb and explore is still there. Finding a ruin seems like an extra kind of celebration now. It's a discovery of one of the Ones Who Got Away, still evading the developers and renovators, the people who want to upgrade everything, again and again, forever. At the same time, my feelings about the matter contain some conflict. I am glad that the barn I rent isn't a ruin, that ivy is still quite a long way from killing it, that it was turned into a house during the final third of the last century, enabling me eventually to eat and sleep and watch Buffy The Vampire Slayer and listen to records inside it. I am possibly even more glad that Dolbeyldr isn't a ruin, since I am sure that even the awe that you might have felt stepping inside its spooky mid 20th Century incarnation cannot compare to the awe people have felt at the work and thought and attention to detail that the Landmark Trust have put into their restoration of it, just as they have into countless other projects where they have rescued old, unique buildings. In an era of far too many holiday cottages, being milked for all they are worth, it is one that seems genuinely worthwhile.
On our penultimate day staying at Dolbeyldr, I walked a few miles west of the house, above and through the Elwy Valley. During the nine miles of this walk, I saw precisely one other human on foot: a woman tending a bonfire in her garden. As a landscape, it's arguably not nearly as rugged as the one where I live, on Dartmoor, yet, on a different level, there's something innately more wild and lonely about the Elwy's surrounding hills. Around a mile in I awkwardly hurdled a hedge to dodge a bull, and very shortly after stepped on the stiffening, half-stripped carcass of a fox, its face still frozen in whatever final agonies befell it. It became a walk of indistinct paths, neglected footbridges, resourceful low budget gates, forgotten woodlands, esoteric mushrooms, carless lanes. Parts of Devon used to feel like this to me, a decade or so ago. I know that's because I was fresh to the land, and I forget just how fresh, and memory tends to do a bit of tidying up, but I know it's not just that. Devon has changed. Everywhere rural has changed, recently. But Devon more than most places. It has always seemed like an expensive place to live to me, as someone from the northern half of the country, but over the summer, house prices in my adopted home county increased by almost three times the national average, and house prices have been going up a lot everywhere. Arguably at no other point in history has there been more clamour for what newspapers oversimplify as "the quieter life". But the thing about a clamour for the quieter life is that it eventually has the aggregate effect of making the life where the quieter life is supposedly happening significantly less quiet. There are – there is no denying it – more people and cars here than ever, and it's not simply about a pandemic-influenced boom in UK tourism. I am sure the residents of much of Wales, and Yorkshire, and Scotland, and Cornwall, and Cumbria, and Northumberland, and plenty of other places where "the quiet life" is currently being sold by estate agents as a dream with no downside, feel much the same. So where is the true quiet place? I am wondering if it is a particular spot in the Elwy Valley where, after losing part of my leg in a hidden bog and getting shouted at by a sheep, I noticed that I had no phone reception and it had been two hours since I'd seen another living thing on two legs. But maybe I just chose the right day at the right time of year in the right kind of rain.
It's funny how something can become your thing without you really noticing, or consciously attempting to make your thing. My thing seems to be that I've become A Person Who Moves From A Rented House To Another Rented House Very Frequently. I did it in December 2017, and in March 2018, and in August 2018, and in July 2019, and in April 2020, and in November 2020, often over huge distances, often for reasons beyond, or not fully in, my control. It's been expensive, and exhausting, and inspiring. It's actually become so much part of the rhythm of my life that, as this summer ended, I felt something inside of me tense, begin mentally toughening myself up, ready for it to all happen again. A pipe under the floor of my house was discovered to have burst, and the feeling intensified. It wasn't until my landlady told me that she was very happy with me as a tenant, that she was having the pipe mended at her own cost and wouldn't be selling the house any time soon, that I finally believed that what I'd been psyching myself up for wasn't actually going to happen. That was a relief. But I also can't deny that there's a part of me that finds the thought of being somewhere new – really being in that place, really absorbing it – thrilling, knowing the colours it has previously injected into my work. I think of other paths I might have taken and two thoughts scare me in very different ways: the thought that one small decision, involving a house purchase, somewhere in my past, might have made my life significantly less financially fraught, and the thought that that because of that one small decision I would not gone down the same exciting creative paths I have. I might have to accept that the wanderlust is in me now. It is just a question of what form I allow it to take in the future. I had been hearing for a while about this weird thing called "going on holiday" which other people sometimes did. I gave it a go, at Dolbeyldr, and it was quite nice. I might do it again sometime. It certainly seems easier than filling out several forms to prove you're not a criminal and carting your entire life across the country once or twice a year.
It is important to have a quiet and safe place to write – and by quiet and safe, I don't necessarily mean "out of the way of civilisation", just quiet and safe. At the times in life when I haven't had one, I've felt comprehensively awful, and I am grateful to have one now, even if it's not officially "mine". I wonder how Henry Salesbury felt about Dolbeyldr, as he was writing his Grammatica Brittanica. Did he look upon the place as if it was truly his, forever? He had previously lived in Oxford. Did he call his meadow of the rays of the sun an "escape to the country", or, before moving in, feel worried that he would be outbid by cash buyers who had recently sold their flat in Twickenham for eight times what they paid for it in 2003? What would he have thought if he'd seen the house languishing four hundred years later with a tree growing out of it, or that its main living space would eventually feature a table with a book where strangers would sing the praises of the narrow spiral staircase or write "Rhyl is the biggest shithole in Christendom" (Simon and Julie, Feb 2007)? The Landmark Trust have given new life to an extremely diverse selection of buildings, but it seems unlikely the little barn where I live will soon be one of them. But it will undoubtedly one day be the home of someone else. They too will need to chop back the ivy, clean the chimney, get the boiler serviced, to stop everything falling apart. Maybe they'll write something here too and feel, like I did at times during my most recent book, that the house itself was having a strong say in what that writing was about. Maybe the house will be theirs in a more "official" way than it's mine. But, even then, it will only be that way for a while.
We lit the fire on our final night at Dolbeyldr, even though the weather was not cold. It seemed a vital part of fully experiencing the place. After all, it's not every day you get to pretend you're a wealthy 16th Century physician and humanist scholar relaxing in your solar under an arch-braced truss after a hard day of sampling apples and walnuts from your own personal orchard. It was obvious, from looking at that thick guest book – three thick guest books, in fact, to be exact – that wood has been a common theme for those who have stayed at the house, in the 18 years it has been with the Trust: walking amidst it, eating fruit from it, chopping it, burning it. The Trust didn't succeed in retrieving all the original Tudor era wooden screens (a bloke in Chester had one, but refused to part with it) but if you look closely at the one separating the foyer space from the hall, it's possible to see a couple of stick figures scratched into it. These are thought to date from the early 19th Century, supposedly depict a knight and his lady friend, and remind you of a point often overlooked in the study of history: people were often quite iffy at drawing in the old days, too. In a house this unusually old, you find yourself very aware of the transience of everything, the ceaseless revolving push of time, but in the end it was these two figures that made me feel it most acutely. They were what remained most vividly in my head, as I drove back to the place I currently call home.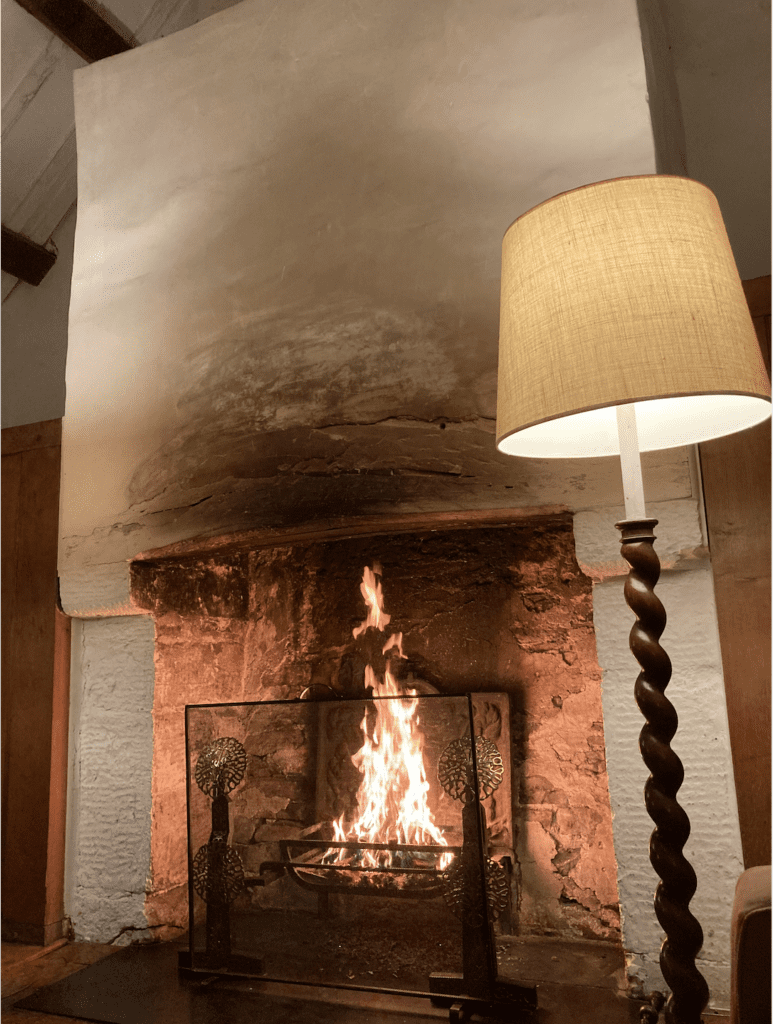 My most recent books are Notebook, Ring The Hill, Help The Witch and 21st-Century Yokel. If you'd like to reserve a first edition hardback of my debut novel Villager with your name in the back ready for its publication in spring, you can do so here: the deadline is this Sunday, November 7th.
I stayed at Dolbeyldr courtesy of The Landmark Trust. You can visit their website and view their other buildings here.
If you'd like to subscribe to this website for future writing, you can do so via the homepage.