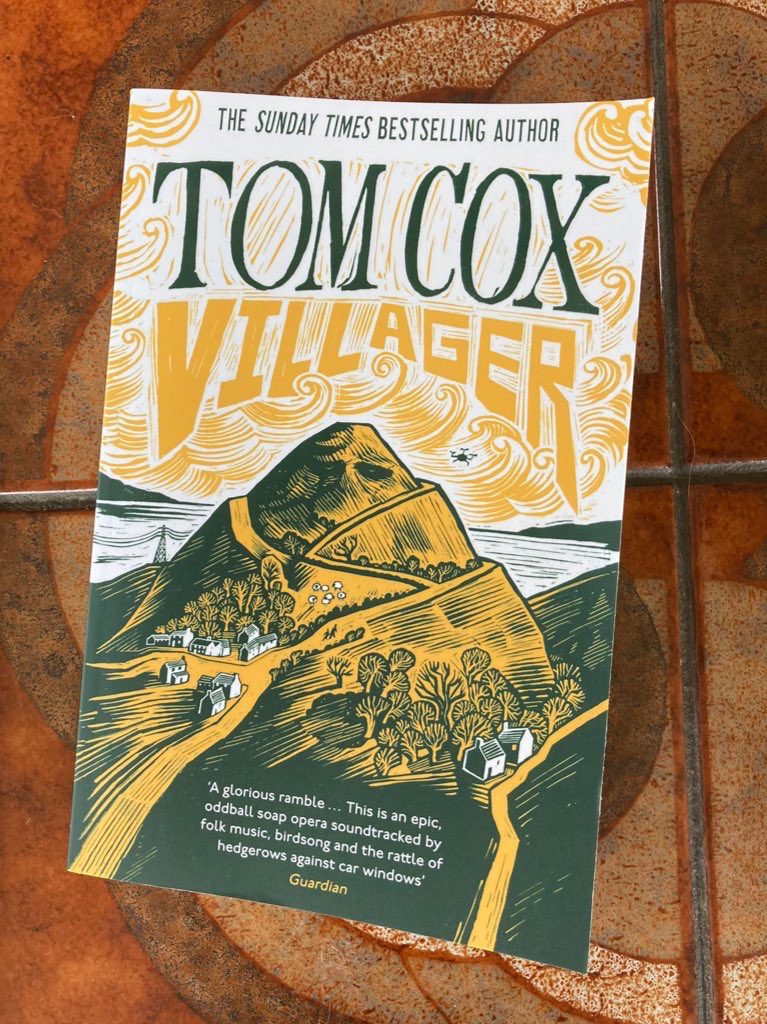 Hello! It's only just over a month now until the paperback publication of my debut novel, Villager: a psychedelic story of swirling time, earth magic, river spirits, wise stones, lost music and opinionated hills. It's my thirteenth book, the one I truly feel is my best, the one I always wanted to write but had to wait a long long time until I had the ability to and could be permitted to. A few of you have read the hardback now, but I am aware that a lot of people don't tend to read fiction in hardback (I am one of them), so thought I'd tell you a little bit of the background to the book and the ways you can get hold of it. I think the cover, which was designed by Joe McLaren, is really lovely (see above, although I promise it's even better in the flesh), even nicer than the green hardback version.
THE BACKGROUND
For years, I wanted to write a folkloric novel, possibly with a musical theme. Something full of mystery which tapped into the kind of earth magic whose vapours I felt rising to meet me on the countless rural walks I took, and which also potentially connected numerous diverse lives, over many decades. I remember first fantasising about it, in a very unformed young idiot way, as early as 2001. I started very basic, now almost certainly unrecognisable versions of it in 2006, 2009 and 2010 and even at times got beyond the 20,000 word point but scrapped all of them. It was for the best, although I probably would have cried openly in front of you if you'd told me that that at the time. The location altered, from Norfolk, to Devon. I almost began it again in 2017, but instead wrote my short story collection, Help The Witch (a slowburn book which has been more widely read than the publishing industry has told you short story collections are supposed to be and is sold out everywhere at the moment but is about to be reprinted), the patience of which in retrospect amazes me because I am by nature a very impatient person. Then, suddenly, it was 2020, and I was more than half the age most people who have lived a good long life are when they die. I realised two things: 1) I needed to write Villager now, or I might never do it and 2) it was vital that I moved 350 miles, back to the edge of Dartmoor, from Norfolk, to do it properly.
THE SETTING
Villager is set not on Dartmoor but on a fictional alternate dimension moor which just happens to be in the exact place where, in the real world, Dartmoor sits, scowling down at everyone who dares to gaze at it and wonder about its infinite secrets. The reason for this is that I had written a lot about the folklore and landscape and history of real Dartmoor in my non-fiction books, especially Ring The Hill and 21st-Century Yokel, and I felt it would be a more interesting challenge for me to invent my own folklore and archaeology and landmarks for a not dissimilar moor. I knew, as soon as I began the book, that this instinct was correct. But I am also glad that I moved first back to the edge of Dartmoor, then onto it, to write the novel. I could have written Villager using just my vivid memories of all the Dartmoor exploring I had done between 2011 and 2019 but by moving back there I made sure I was marinated in the atmosphere and moods of the moor, in its granite and ghosts and bearded slime, and I believe – even though moving that sort of distance during lockdown was a very difficult, expensive task – it was worth it, and is reflected in the ambience, detail and flavour of the book.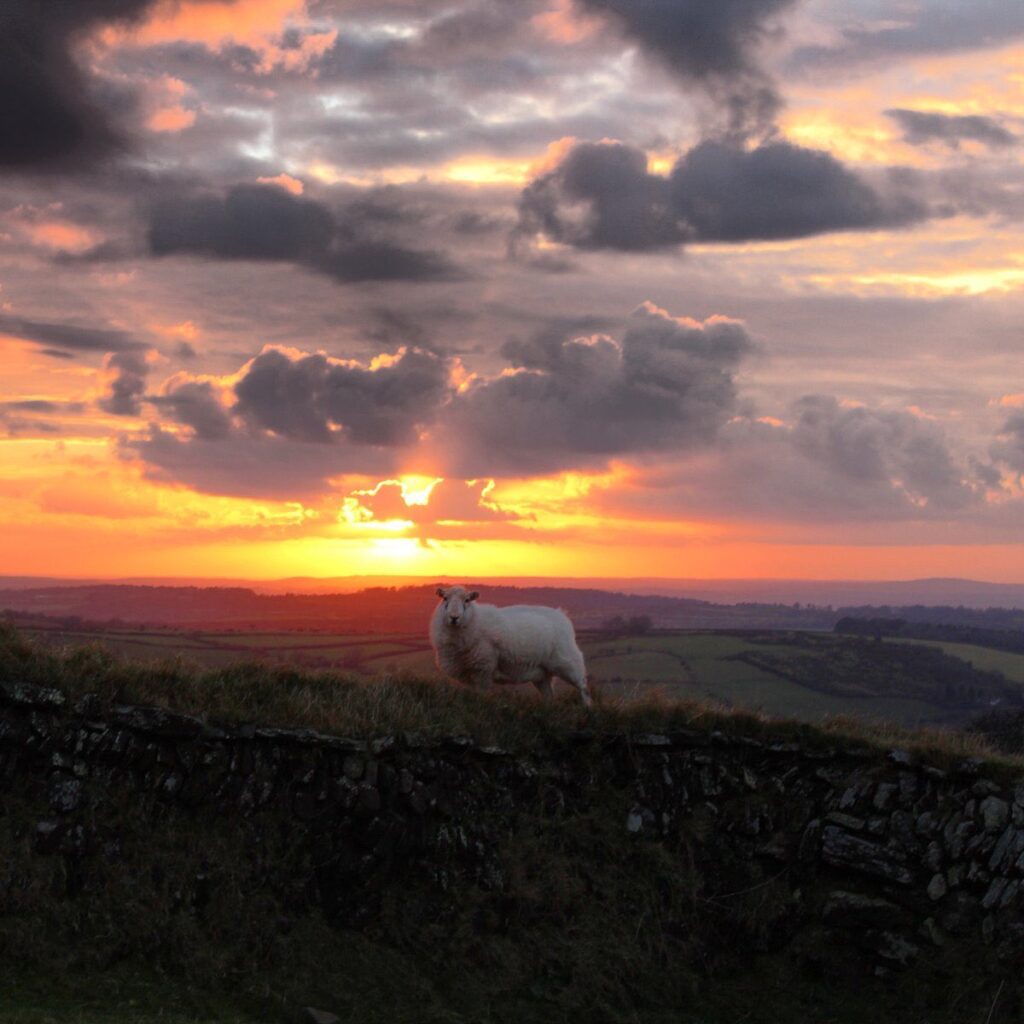 THE WRITING
Once I finally got down to Villager, I wrote it very quickly, in less than a year, in two rented houses, both of which inevitably found their way into the book: a very damp, and eventually flooded one with a walled garden opposite a stream, and another one beside a rushing, sometimes very frightening, river. It's a bit of a cliche in these situations to say you felt pulled along by a mystical force outside of yourself but a lot of cliches are just learned eternal truths and that is precisely what writing Villager felt like. It seemed to me that many of the decisions I made during the creation of the narrative were not decisions at all as it always felt like some source I had tapped into in a previously undiscovered part of my brain – or a divining rod connected to that part of my brain – was making those decisions and I was just happily letting that happen, and feeling more effervescent every day for it. No other book I have written has been a more exciting or satisfying experience.
WHY IS IT PSYCHEDELIC?
A few people, upon seeing the word "psychedelic" in the description of Villager, have assumed it's drug-related. I am sure some of the characters in the book have taken drugs (I haven't asked all of them as some of them are very secretive about their personal lives) but this is not what I mean by psychedelic, in this case: I think of Villager as psychedelic because I see it as a novel as many colours and, in writing it, I was thinking of some of the most mindbending records I love from the late 60s, and the way they experiment with sound and texture and seem to reach for something beyond this planet and sometimes even lightly grasp it. I don't know if I achieved anything quite like that but I did my best. The people who don't like the book have almost uniformly said their problem with it is the way it flits around in time, has many different threads and characters, and everything takes a while to link up, but that's fine, because I wrote it for people who like books which flit around in time, have many different threads and characters and take a while to link up. Those people include me because I'm really fucking selfish and write mostly for my own pleasure. A lot of the people who do like the book have said they began reading it again almost as soon as they finished it, so more of the other links they'd missed became apparent. I have to admit that this was all part of my commercially pointless plan: I thought of Villager as a hangout book, a place to be for quite a while, an entity that would probably not reveal all of itself until the second or third read. This – as a person in the publishing industry told me last autumn – is an unfair thing to ask in 2023, when people are so busy and distracted and have attention spans blown to pieces by algorithms and screens and soundbites. But I'm stubborn like that. I also wanted write the book I wanted to write, and not a tepid 0.5% alcohol version of the book I wanted to write.
THE MUSIC
Two of the main things that link the different parts of Villager are an old traditional folk song and an extremely rare and valuable lost psych-folk album, Wallflower, recorded by a Californian-British songwriter called RJ McKendree on the edge of Villager's fictional uber Dartmoor in 1968. I made both of these up, but I heard them clearly in my head as I wrote the narrative. After my frighteningly talented friend Will Twynham read an early version of the narrative, he and I cooked up the idea of him being McKendree and recording Wallflower, as he pictured it, exactly as it might have sounded in 1968. The result is phenomenal, every bit as far out and magical as the record I heard in my head as I wrote the book. The limited edition run of the vinyl sold out almost immediately, as did the cassette, but you can still purchase the CD here, and it is looking like there will be a repress of the vinyl available around the time of the paperback's publication. Music was a big part of the Villager, as it is of all my books, even if they aren't really about music, and here are three other songs – all quite significant to my research – which you might enjoy listening to as you read it:
WHAT PEOPLE HAVE SAID ABOUT IT
I crowdfunded Villager via a small independent publisher, and I have completely separated myself from the national print media since 2015, which means a book like this doesn't have big marketing power behind it, and is very lucky if it gets any attention in a newspaper. However, the Guardian reviewed it very positively, and here are some other things some very talented people said about it:
'Villager is a marvellously inventive and imaginative fiction. A tremendous novel.' – William Boyd
'I gallumphed through the pages of Villager as though it was on fire … Funny, thought-provoking and astoundingly clever … What will I be able to read after Villager? I'll just read it again, I guess. And again. Just cancel all other books.' – Adele Nozedar, author of The Hedgerow Handbook
'I was swept along in this novel's current, watching a landscape unfold to reveal the lives hidden in its crevices. A joyous tumble of animism, love, music and mystery that beautifully balances awe and irreverence: Villager left me with a sense of an ancient longing that is hard to shake off' – Zoe Gilbert, author of Folk
'Tom is such an original mind, and brave in his approach to writing, so it's no surprise at all that he has written a novel that surprises, delights and fizzes with imagination.' – Sathnam Sanghera
'An exquisitely detailed, many-voiced tale of people, place and folklore … a communication with lost voices rich in wonder, longing and exalted psychedelic flight.' – Andrew Male, Mojo Magazine
'Tom Cox's books are hedgerows. All about the journey and not the destination. They delicately link one stunning viewpoint to another whilst providing nourishment for the heart and soul, a safe haven for a host of endangered fantasies, musings and stories.' – Alice Lowe
'A relatable and compelling read … Anyone would love it.' Dorian Cope
'Villager rescues its reader from the complacency with which we experience the everyday. The book is as rich as the vast monistic philosophy that underpins it – a synthesis of folklore, nature and the curious psychedelia in ordinary experience that points to the truths in which we find meaning. Tom Cox is a master of effortless, fluid storytelling and Villager is alive with both gnawing edge and Cox's signature flavour of clipped, pragmatic humour which is perfectly juxtaposed with the unbounded imagination of Villager's world. It is a thrilling, comforting and entirely unique read, challenging the reader's sense of both what is familiar and what is alien. It's tender and dark and strangely comforting. I loved it.' – Laura Kennedy, Irish Times/Sunday Times
HOW YOU CAN GET A COPY
Pre-orders are massively important with a niche book like this: they mean bookshops order more copies, and it is less likely to be pushed aside and trampled on by all the books that get more money spent on their promotion and/or have been written by famous people. So if you are able to order before the publication date of March 30th, I really appreciate that. Here are some places where you can do that:
I realise Amazon is convenient for some people but I always encourage people to support independent bookshops with purchases of my book if they possibly can. I particularly like Scarthin Books in Derbyshire and Storysmith in Bristol, who have both done a lot to support my work. Blackwells are great and do free worldwide delivery. There is also Waterstones, of course.
The paperback will also be published in Canada and the US in April.
Thank you for taking the time to read this, and remember not to disturb the psychedelic dolls in the wall!*
Tom
* You'll find out